This has been the year of the red-carpet emerald – especially big teardrop-shaped rocks dangling from the ears. Awards shows haven't seen so much green bling since Liz Taylor reigned supreme.
Few stones embody the idea of sensual luxury like the emerald. Emerald's earliest champion was Cleopatra, whose mines produced many famous jewels.
Emerald is actually the rare green form of beryl, long believed to be the most powerful curative in the gem kingdom, for heart and spirit as well as body. In ancient Rome, emeralds were dedicated to Venus and believed to bestow faithfulness and undying love.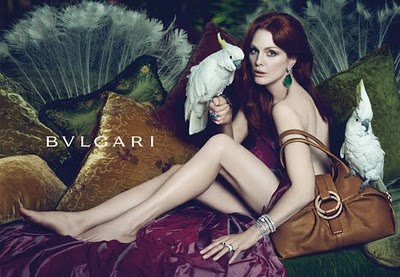 After the Spaniards invaded the Americas in the 16th century, Colombian emeralds became known as the finest in the world. Egyptian emeralds pale beside Colombian ones, which were traded throughout Central and South America for three centuries before the conquistadors stumbled onto them. Spain took over those mines and the luscious stones soon found their way to European and Indian nobility.
You'll find an impressive example of this era of emerald history at the Smithsonian Institution: the Spanish Inquisition necklace sports some of the finest emeralds from the original Muzo and Chivor mines in Colombia, cut in India in the 17th century. After making its way through the Spanish and French royalty, the necklace was bought by Harry Winston from the Maharaja's son in 1947. Katherine Hepburn wore it to the Oscars that year. Elizabeth Taylor also has some of the world's most spectacular emerald jewels, mostly given her by Richard Burton and designed by Bulgari.
Amazingly, even after centuries of active mining, Colombia remains the world's most important source of emeralds. About 100 emerald mines remain in operation there and continue to produce sizable, vivid green gems. A surprising new source of emeralds was discovered in North Carolina a few years ago. Only a few pockets have been found so far but they've yielded stones as fine as most Brazilian emeralds—and just as expensive.
Formed in volatile geological conditions, emeralds are usually full of tiny stress fractures. Emerald is actually quite hard but its flaws make it brittle and easy to crack. In fact, flawless emeralds are so rare they are usually assumed to be fake; inclusions have come to be prized as evidence of the genuine article. It's common practice to "oil" emeralds in order to enhance the color and disguise flaws.
Be careful with emeralds in cold climates and avoid storing them in-ground safes. Low temperatures can cause thermo-shock to opals and emeralds.
Related posts:
Elizabeth Taylor: jewels of a lifetime
Season of JAR: a connoisseur's approach to gems
Van Cleef & Arpels: glamour and invention
Lorraine Schwartz brings big gems, crazy glam to the red carpet
Related products: