Unlike the red carpet at the Oscars or other awards shows, the Met Gala red carpet is more about costume – as in theater costume – audacious, over-the-top. Last night's gala specifically celebrated Chinese costume – or, more accurately, costumes inspired by fantasies of Oriental exoticism. China: Through the Looking Glass is the exhibition on display now, to which the Costume Institute and its glamorous guests paid tribute.
The Met Gala's red carpet is one where pop divas can strut their stuff beside art and fashion world divas, and fashion itself can knock down conventional barriers for just one night. It's tempting to say the crazier the better, until you see the results and realize it takes a certain finesse to pull off good fashion theater.
Many of the outrageous get-ups we saw splashed all over social media in the last 24 hours were tied directly to the theme of fashion designs inspired by China – or, in some cases, from China. Others seemed to be channeling diva fashion from the 1970s.
Here's a taste of the Chinese glamor the exhibition celebrates, from Deco-era Hollywood when costume designers such as Travis Banton ruled the silver screen, to a 1997 gown John Galliano designed for Christian Dior. Banton took a Chinese fashion staple and gave it the Hollywood treatment. Galliano turned it into haute couture. Both raise the question many gala attendees faced this year: How do you accessorize a gown that has the jewelry built in?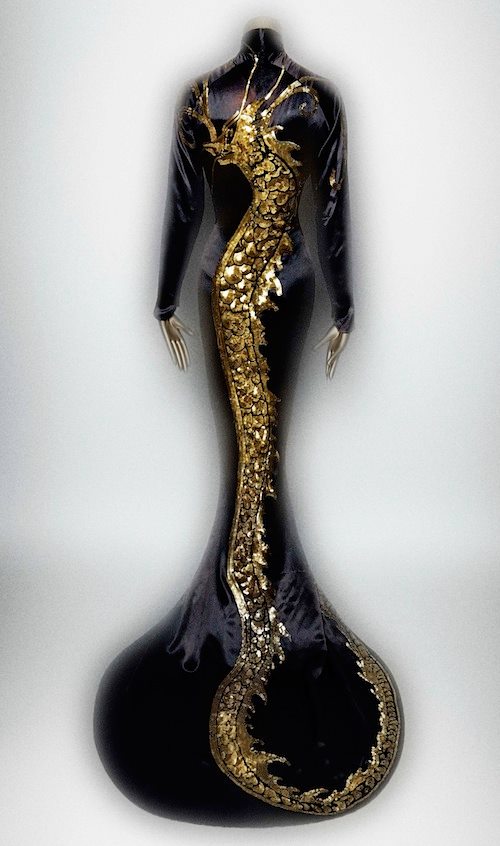 Answer, in the case of Galliano: Take your cue from the gown – a bit of gold bead. At last night's gala, Karolina Kurkova modernized that Chinese red with a short dress by Tommy Hilfiger paired with earrings by Fred Leighton made from antique Chinese mother-of-pearl gaming counters.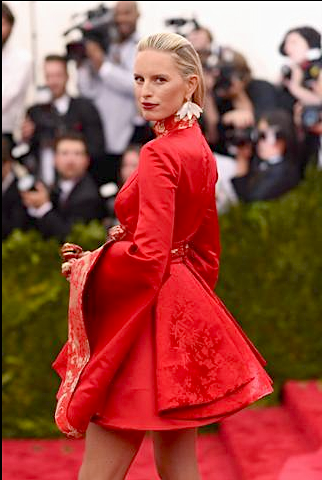 Chinese actress Fan Bingbing pulled her accent color from the gown itself, with fancy yellow diamond chandelier earrings from Chopard, just right with an embroidered cape and gown by Christopher Bu – very old Hollywood, China-doll glamorous.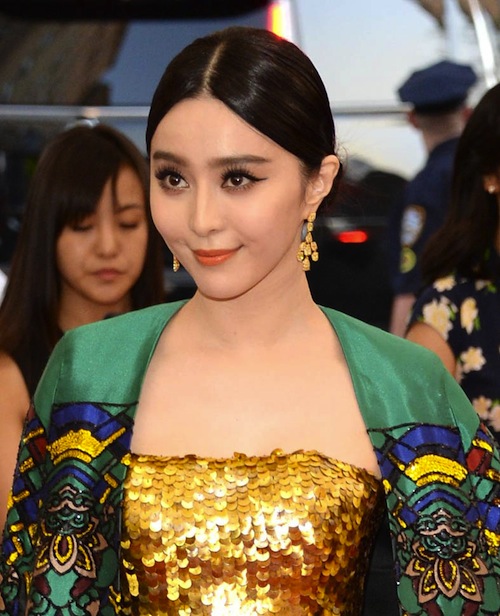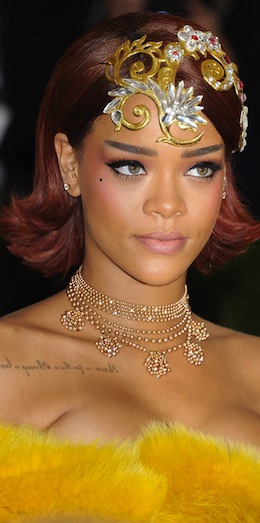 Rihanna also opted for a Chinese designer this year. Guo Pei designed her headdress and imperial yellow fur-trimmed cape that covered a dozen red-carpeted steps and required an entire crew to chase after her, spreading it like men-in-waiting. That's Cartier at her throat.
Fellow divas Jennifer Lopez and Beyonce vied for attention this year with transparent beaded gowns that seemed to pick up on the "gowns with jewels built-in" theme of the exhibit, but theirs were less in the elegant 1930s style and more over-the-top stage glam. ( JLo's ensemble pays tribute to the evening's theme with the red dragon motif in her Atelier Versace gown and Sutra fan earrings.)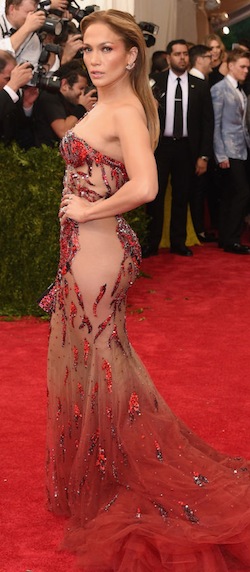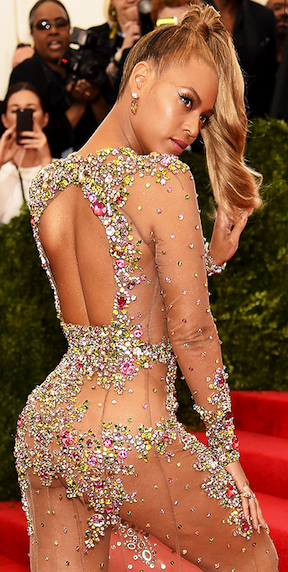 Both obviously have the body and chutzpah to wear dresses with just enough beading to keep them from getting arrested. Supermodel Naomi Campbell showed up in a more elegant version of this look – a sequined Burberry gown with plunging neckline and semi-sheer panels. Tame by comparison, yet oh so sexy.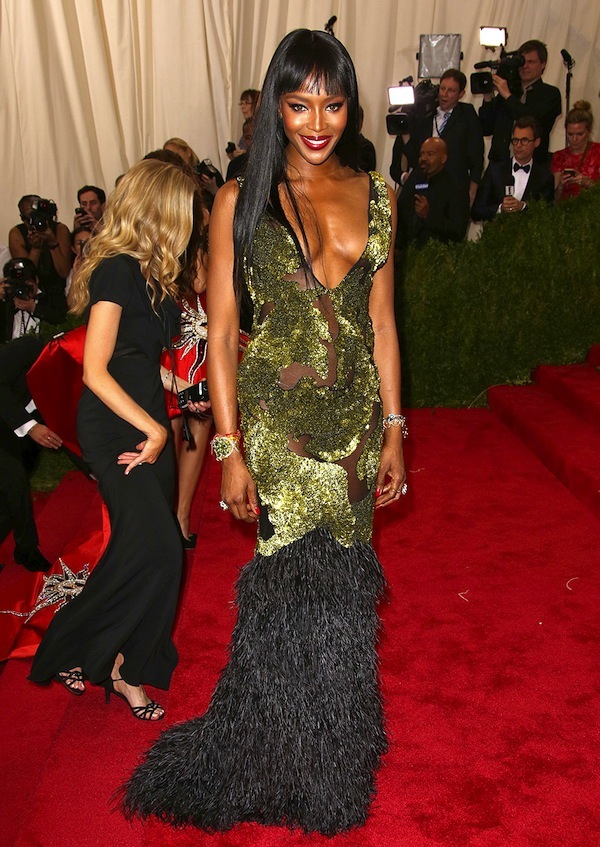 Naomi accessorized that glittery green-gold jewel of a gown with glittery green-gold Verdura jewels – a Turban ring of green tourmaline, diamond, platinum, a peridot-and-diamond bracelet, and a vintage brooch of citrine, emerald and diamond worn as a charm on a rope link bracelet.
That parade of peekaboo divas made me a little nostalgic though. Where had I seen that look before? And then it hit me: Cher. Here she is, with Bob Mackie, designer of the dress she's wearing…at the Met Gala in 1974.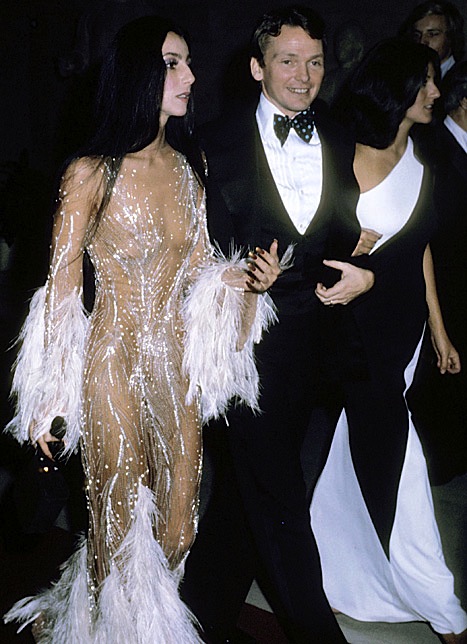 Lots of media attention today about how China: Through the Looking Glass is all about "appropriation," Western designers stealing their looks from – or is it paying tribute to? – China. It's a long-standing tradition in the design and fashion world. Last night, even the divas were stealing their looks – from the divas who ruled the red carpet 40 years ago.
I'm not sure how much Chinese aesthetics will be impacting fashion this year, but I bet we'll have many more moments of Cher nostalgia. Just as Madonna channeled Marilyn Monroe in the eighties and Marilyn Monroe, 30 years prior, channeled Jean Harlow and other blonde bombshells of the 1930s, I think we can expect plenty more tributes to 1970s-style glamor in fashion and jewelry.