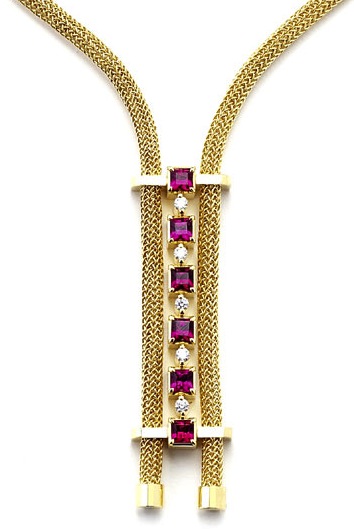 Michael David Sturlin had been a goldsmith for about 15 years when he turned to chain-making two decades ago. He was mostly self-taught, with the exception of some courses with European-trained goldsmiths at the Revere Academy of Jewelry Arts in San Francisco.
Sturlin still mixes his own alloys from pure gold, producing 18kt red, yellow and white gold, then crochets 20-inch lengths of wire using a needle instead of the traditional crochet hook. For years, he even cut his own wire. Now he has it custom-made from sheet he supplies.
"This kind of crochet is impossible to manufacture with a machine," says the Scottsdale-based designer. "The uniformity takes a great deal of patience and mindfulness. I don't even pick up my crochet unless I have at least an hour to work on it and preferably several hours. If you start and stop you run the risk of small variations in tension or loop size."
If this terminology sounds more like Grandmom on the porch swing than a trained goldsmith, it may be because Sturlin learned that part of his craft from Grandmom herself. "I make a round, hollow, tubular structure, similar to what my grandmother used to make out of small cut beads."
Growing up on a horse ranch, Sturlin was exposed from an early age to braiding, weaving and rope. Both his grandmother and great-grandmother were skilled at traditional handicrafts like needlepoint and crochet and taught the curious boy their basic techniques. It took a while to incorporate this in his goldwork but when he hit on it, it felt very natural.
"I made other styles of chain before focusing on crochet but crochet has a unique feel. Most chains are some form of loop-in-loop and that can be manipulated in many different ways and given a variety of appearances. But loop-in-loop chains, even if drawn down to the point that they're cord-like, still have a more segmented quality in the way they lay whereas crochet is a more-or-less continuous, interlocking structure."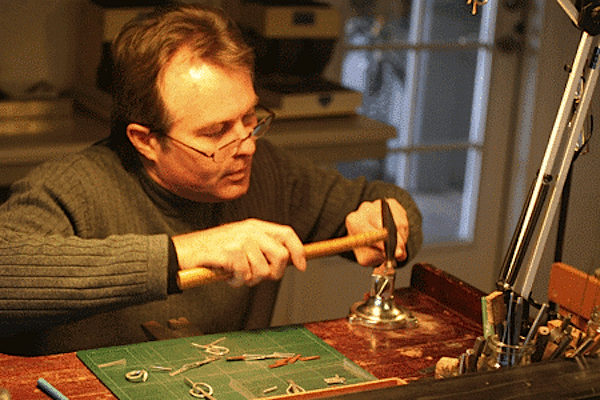 Sturlin fabricates the pendants and elements he attaches to his cord-like chains, occasionally casting a piece. Stone-setting is the final step. Like macramé, the finished chain has to be annealed to red-hot in order to soften it. "That part of the process is not at all forgiving," he says, and yet another reason not a lot of people do it. A piece of Sturlin's jewelry can take anywhere from 30 to 70 hours, the chain itself requiring one to three hours per inch.
"At first, some of my colleagues warned me that it might not be cost-effective," he says. "But I thought the aesthetic value would be attractive enough, and I've found that's true." Often, he says, his work is not fully appreciated until a woman actually holds the necklace in her hands—and, better yet, tries it on. His chains can measure up to 6mm in diameter and his braided necklaces of red, yellow and white gold weigh as much as 126 grams.
Sturlin's jewelry tends to be fairly minimalist in design but carefully balanced architecturally, which helps offset its bulk. "When a woman tries on one of my necklaces, within a minute or two, she's hardly aware of it," he says. "People shouldn't have to tug or reposition a necklace. My work has a strong tactile sense as well as a visual impact and I put a lot of thought into how it feels on the neck."
To see more of David's jewelry, find him on Facebook.
(This article was adapted from a story I wrote for Lapidary Journal.)

Related posts:
Lucy Heskett-Brem: gold weaver, snake charmer
Karen Gilbert: science and nature as muse
Rock star: pioneer Bernd Munsteiner
Related products: