A few years ago, we heard from G. Max Bernheimer, head of antiquities at Christie's, that we can own a piece of ancient gold jewelry for $1,500 to $3,000, less than we might pay for a designer bauble.
As Christie's prepares to unveil its 15th annual ancient jewelry sale in Rockefeller Center, I'm going to show you what kind of ancient jewels a couple grand will buy you now.
Let's start with rings, since they're probably the most prevalent form of jewelry from the ancient world and who wouldn't want a Roman ring? Preferably with an intaglio, carved by hand, of course, using a hammer and chisel.
The labor and craftsmanship alone, not to mention that slice of history next to your flesh, should go for a premium. These rings are actually Roman stones in a modern settings – and "Roman" covers a far stretch in this genre, given the similarity of materials and subject matter throughout ancient Europe. But look at the artistry $3,000 will buy you – unless you get caught in a bidding war.
There are quite a few impressive ancient intaglios and rings in this price range. Three grand probably won't get you this amazingly contemporary-looking Roman gold ring. Made in the 1st century A.D. with a bezel-set cabochon sapphire, this one is expected to go for $5,000 to $7,000: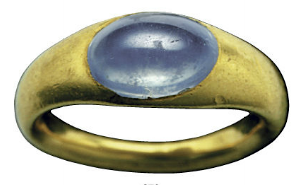 Three grand will also not buy you this this granulated gold Mycenaean earring from the 13th century B.C., but $5,000 might:
What will three grand buy you in ancient earrings? Here's a sample. I saw a slew of them in that range and, as you see here, some for quite a bit less.
…
And here is what $3,000 will buy you in ancient necklaces.
Interesting jewelry on offer this holiday season, all on view just a few blocks apart. For $4,000, you can buy a torque necklace made by a Mesopotamian 2,500 years B.C. or resin earrings designed by JAR. What a world, huh?
Related posts
How to buy ancient jewelry for $3,000 or less
Ancient gold jewelry: timeless beauty, technical mastery
What you need to know about collecting ancient jewels
Related products
Note: Buying through links on this site puts a couple bucks toward blog maintenance.