Joel Arthur Rosenthal designed a special collection of jewelry and watches to sell exclusively at the Metropolitan Museum with the Jewels by JAR retrospective (November 20 to March 9, 2014).
Rosenthal is known as a custom jeweler and the glittering extravagances you'll find on display in the exhibition routinely sell for double estimates at auction – often a few hundred thousand. You won't find a production line by him anywhere else, so this is big news.
It is not, however, the first time Rosenthal has sold a more accessible line to the public. He designed some anodized titanium jewelry in conjunction with the Somerset House exhibit in London in 2002. They sold for a few hundred at the time, but lately have been going for a few thousand at auction.
Someone commented on my original JAR profile that she attended that show as a 17-year-old exchange student in London and splurged on a pair of those molded, floral earrings. "I got the purple ones and ate noodles for a month!" she wrote. Another commenter recalled JAR's "Petal" earrings selling for $1,400 a few years later at the boutique in Bergdorf Goodman that sold his perfumes.
Not surprisingly, the price for JAR's costume baubles has risen again. Starting price at the Met is $2,000, and that will buy you a pair of titanium earrings with gold Venetian glass balls. Here are the official images followed by my own shots.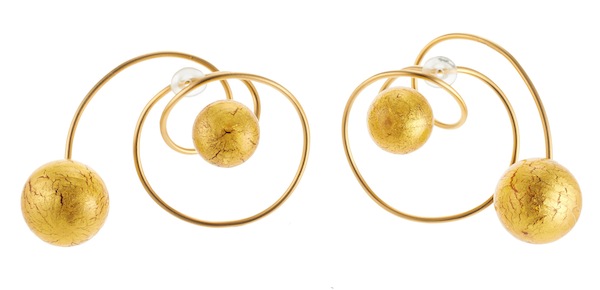 JAR is not offering anodized aluminum or titanium flowers this time but, for $4,000, you can pick up a pair of stylized resin "feather" clip earrings in purple or black. And for $7,500, you can get them in gold-plated aluminum.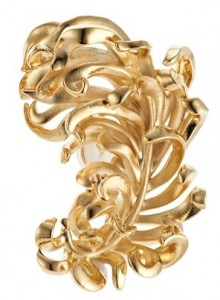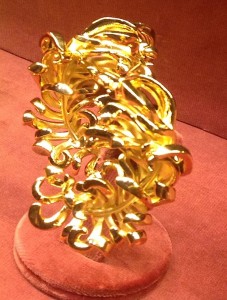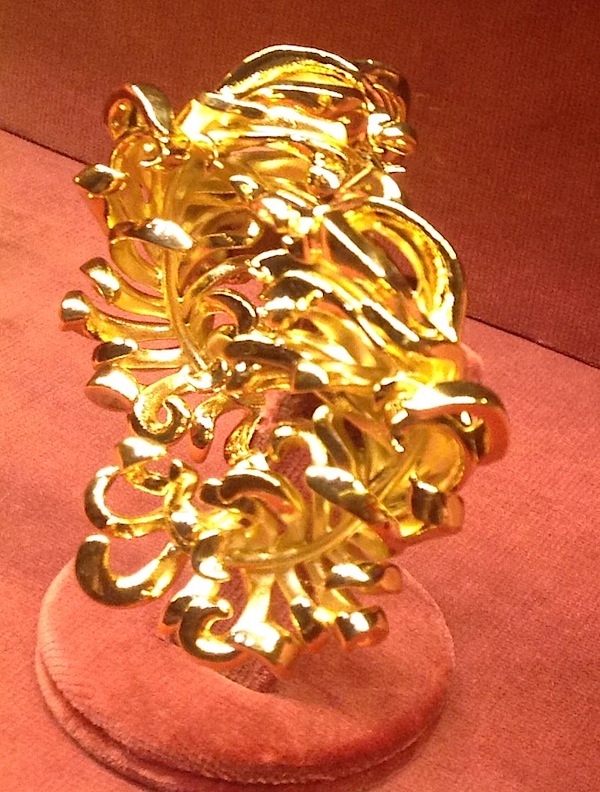 Here are the $7,500 "Tickle Me Feather" earrings in 18kt gold-plated aluminum.
That's the official shot on the left. That's mine on the right, which captures the high polish if not the elegant form. Would you wear these? I'm thinking: Not as wearable or as timeless as those old violet ear clips.
Now these…
Those are the JAR earrings I would choose, if I could get them for a month of noodles instead of $4,000. While the feathers seem a bit gaudy and don't really reference an important theme in JAR's work – there are a pair of earrings in the exhibition made of actual feathers, but they're a little scary – gardenias are a central theme.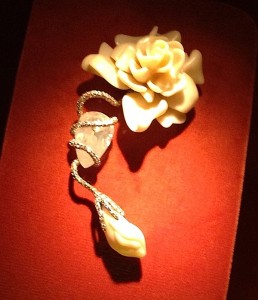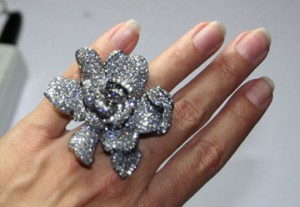 One example is the coral gardenia brooch from 1987 in the exhibit (left), with a diamond-studded stem wrapped around a pear-shape diamond in the style of Lily Safra's poppy brooch. There's also a pair of gardenia earrings in the Met show of agate, diamonds and platinum from 2007. Another famous JAR gardenia was the ring Ellen Barkin sold at Christie's in 2006, inspiring a scene in the first Sex & the City movie. I wore that ring the day before the auction (above right).
So, $2,000 to $7,500 is the price range for the jewelry. Seems like a lot for mass-produced costume jewelry, especially if these are not limited editions. The thinking is: Once the line is no longer being produced, the value will rise. It certainly has on the jewelry he created for the JAR boutique and Somerset show. If you want to invest in a collectible, this is not a bad gamble. Personally, I don't adore those resin gardenias enough to shell out $4,000.
But there's another option – watches designed by JAR, a comparative steal at $600.
Who wants a watch by JAR, when it's jewelry he's famous for? Well, he has designed a few timepieces apparently. Here are a few from the exhibition:
As you can see, JAR appears to have modeled his plastic costume watches on the 1987 marble-and-gold number on the left. Now, whether anyone is going to pick up on the fact that you're wearing a JAR watch and not a Swatch – well, I guess it depends who you're partying with. One plus to having such noticeable earrings is that your Met-attending fashionista friends may immediately recognize those crazy purple feathers on your ears and be duly impressed.
For $750 you can buy a newly-revised edition of the much-coveted original Somerset catalog and for $800 the fat new volume II (2002 to date); $1,400 (or $1,260 for members) will get you the pair. For the budget-conscious, the Met catalog is $26 on Amazon
, $40 at the Met. JAR jewelry and watches are sold in the museum store only, not online.
Gardenia earrings are my favorites among the jewelry but, for the price, the watches are mighty tempting.
Related products