Serpents followed me from the moment I landed in Vegas for Jewelry Week. Something to do with being in Sin City? Maybe. But the only sin I had time for that week – besides a little greed and possibly a bit of malicious envy – was lust, the kind you feel when people let you try on bejeweled serpents designed for rock stars and walkers of red carpets.
Last week, I took you through a den of snakes at the Antique Jewelry & Watch Show. I'm about to present photographic evidence that they followed me here…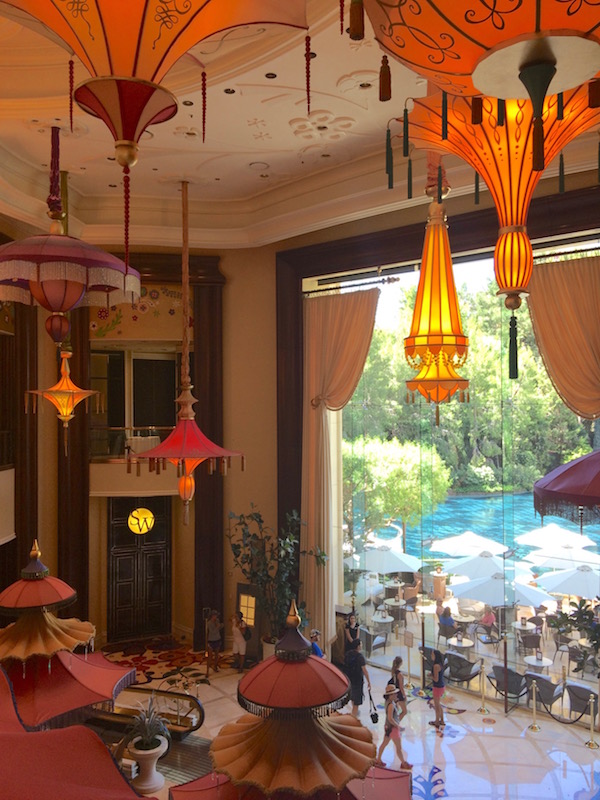 …to the Wynn, where the posh Couture Show was taking place, and continued to crawl all over me.
Today's bespoke designers are as obsessed with the snake as their predecessors. Maybe because it's a creature that wraps around limbs and conforms to the body, the snake lends itself perfectly to jewelry. That's no doubt one reason it's been around since ancient civilization, yet designers always find some way to give it new life.
At this point, the serpent transcends fashion, but the form it's taking most often this season is the embellished, gem-studded snake bracelet and coiled gold snake ring and earrings. Here are a few examples of the snakes I stumbled across at Couture 2016.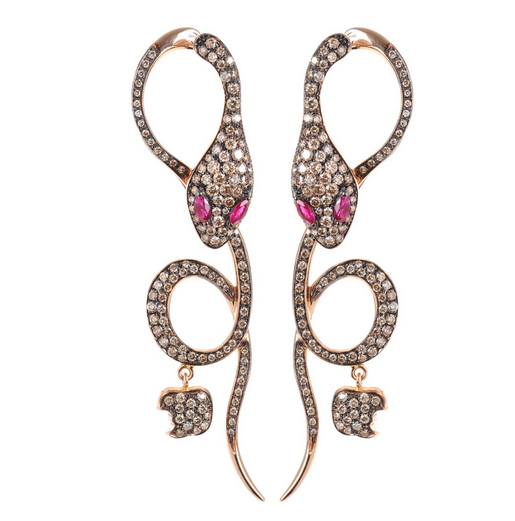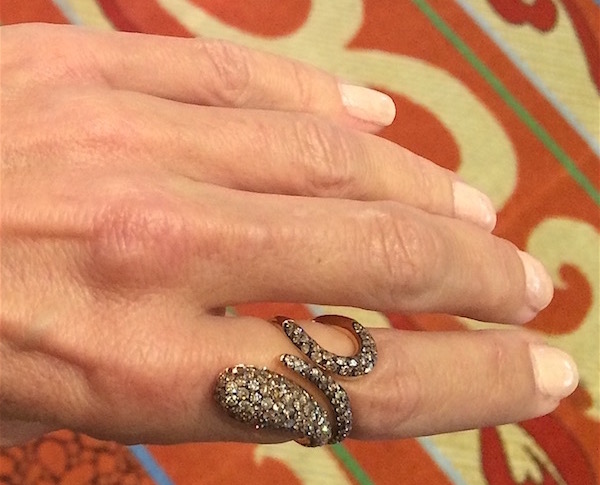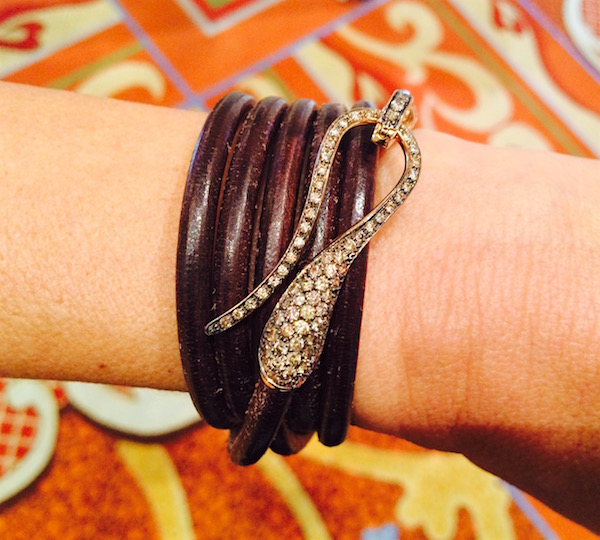 Earrings of brown diamonds with ruby eyes by Dada Arrigoni from the Malafemmina collection and (on me) a ring and bracelet of pavé brown diamonds, 18k rose gold, leather from her Elika collection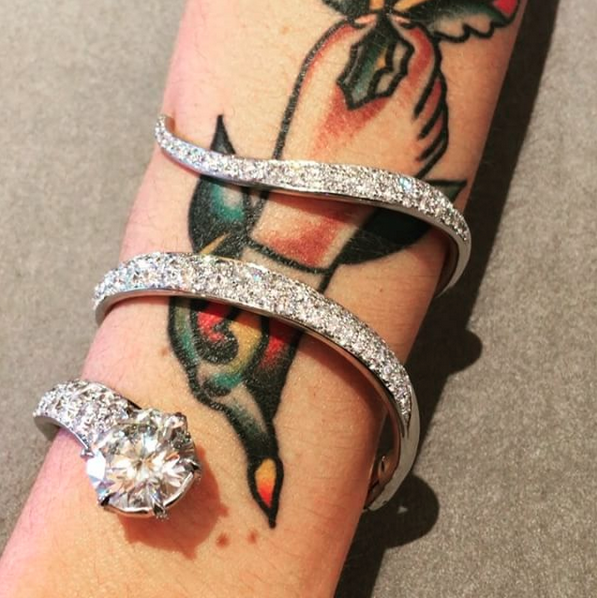 This diamond bracelet by Jade Trau debuted at Couture 2016, shown here on a Buddha Mama model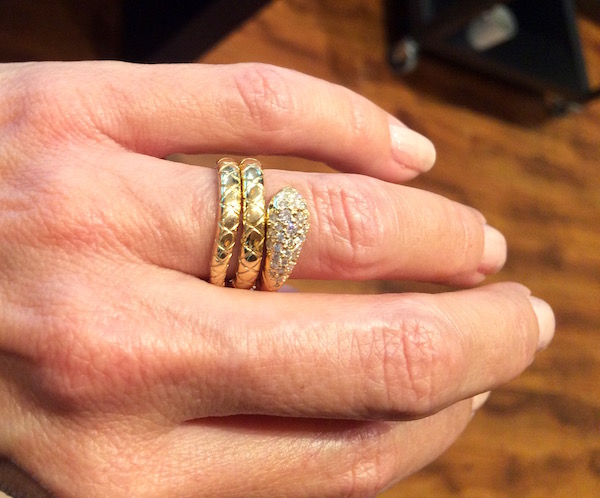 I tried on this chased gold snake ring with diamonds by Temple St. Claire at Couture.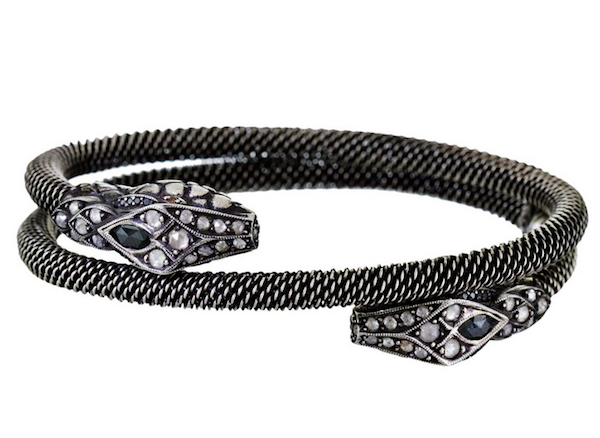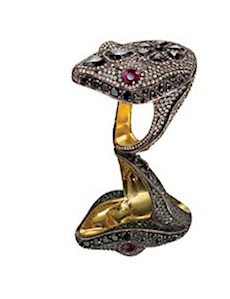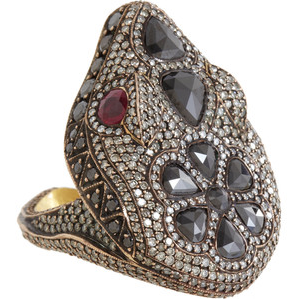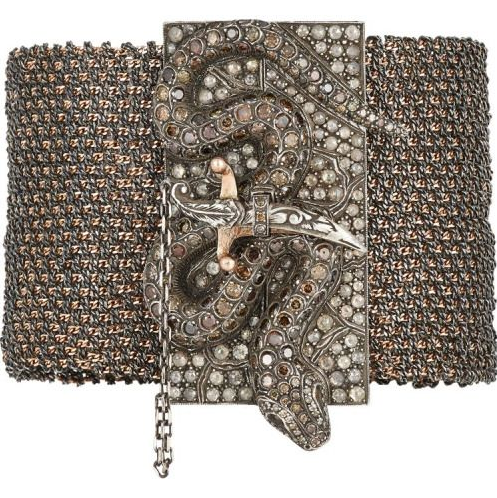 Sadly, I missed the booth of Istanbul jeweler Sevan Bicakci, who was right there at Couture. Along with amazing intaglio rings, he designs some of the coolest snake jewels known to man. So I borrowed examples, from his entry-level cable bracelet (top) offered for under $1,000 on Twist to the snake-and-dagger bracelet of rose gold and oxidized silver mesh with diamonds for $47,946 at Barneys New York.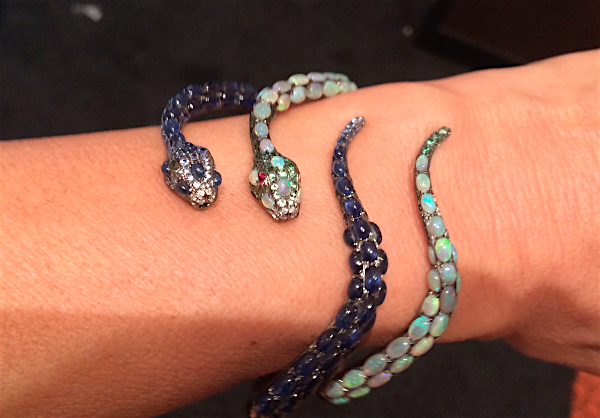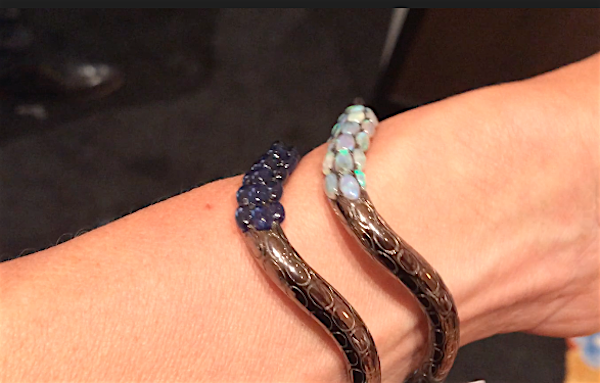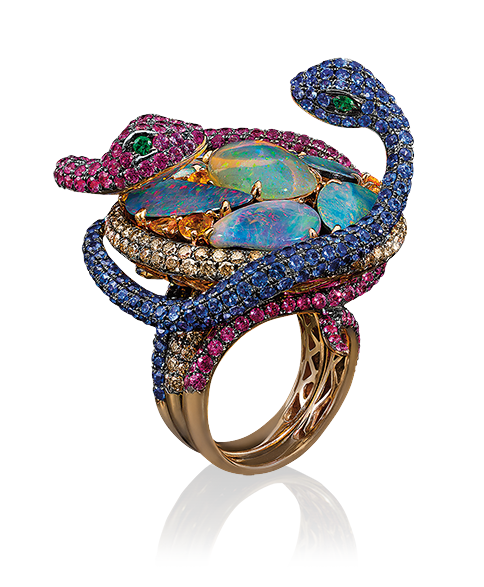 I did have the pleasure of trying on the signature snake bracelets designed by Wendy Yue (side and bottom views) with sapphires and opals. Below that is her snake ring of opals, pink and blue sapphires and diamonds in 18k rose gold offered for $25,770 at Cellini Jewelers.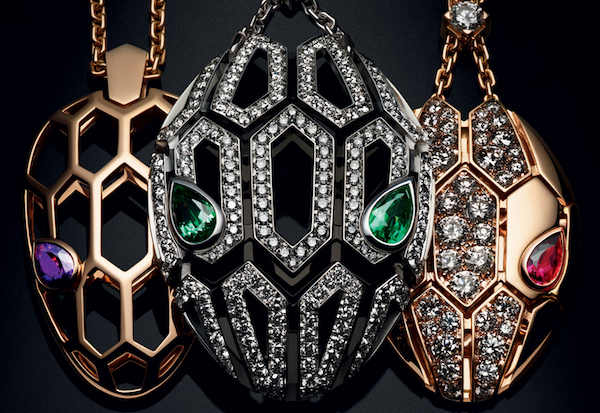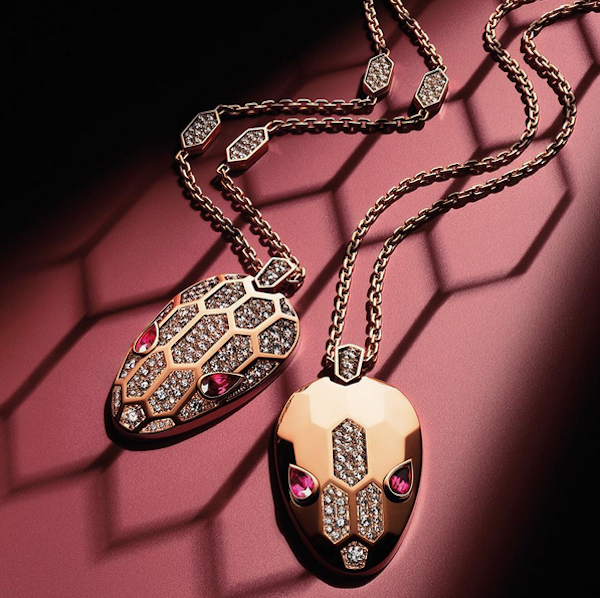 I'll close with a reinvented classic, because sometimes a snake sheds its skin: the latest incarnation of the famous Bulgari Serpenti.
There is something elegant and daring about wearing snakes, isn't there? As though any second it might snap or squeeze – which may be why designers of edgy, rock-star jewelry often adopt it. I had fun trying them on. Hope you enjoyed a vicarious thrill.
Need more? I have an entire Pinboard devoted to snake jewels and I've been posting them like mad on Instagram.
P.S. Jewelers have started sending me images of their coolest serpent jewels and tagging me on Instagram to add to my snake trail. Have a snake we need to see? Send a pic or post one on Instagram or Twitter, tag @thejewelryloupe and hashtag #showmeyoursnakes. I'll do a follow-up with the best…because there's no such thing as too much snake jewelry!
Related Products