Niki de Saint Phalle was already in the inner circle of the contemporary art scene by the late sixties, when she introduced the bold cartoon-like images that made her famous worldwide. These smiling serpents and the plump, gleeful ladies she called "Nana" took her out of the darker, more macabre art she had been known for and plopped her into the bright, comic irony inhabited by Andy Warhol, Roy Lichtenstein and other Pop Artists of her day.
Half French, half American, de Saint-Phalle (1930-2002) was a self-taught and multi-faceted artist. Her jewelry was derived from her pop art, as were spin-offs in other media. I'm seeing Nana everywhere lately – in museums, galleries, auction houses. Here are three that surfaced recently: a necklace with "removable man brooch" on display right now in London, a sculpture sold in December at Christie's Paris, and a large wall hanging I spotted at a Rago auction preview last month.
De Saint Phalle's Nanas were produced in every size and medium known to man (and woman), or so it seems these days. In London right now, the Louisa Guinness Gallery is wrapping up an exhibition devoted to the colorful enameled jewelry de Saint Phalle produced in the early 1970s with GianCarlo Montebello, founder of the Milan-based Gem Montebello, around the time he collaborated on jewelry with Man Ray.
Unlike the Picasso and Ernst produced with François Hugo around this time, which were a bit slapdash, Montebello's collaborations with famous artists produced stunning and finely-crafted jewels that managed to capture the essence of the artists' masterworks. Guinness has displayed de Saint Phalle's jewelry with preliminary designs and workshop drawings, on display for the first time. For once, we can actually see how these artist-jeweler collaborations evolved.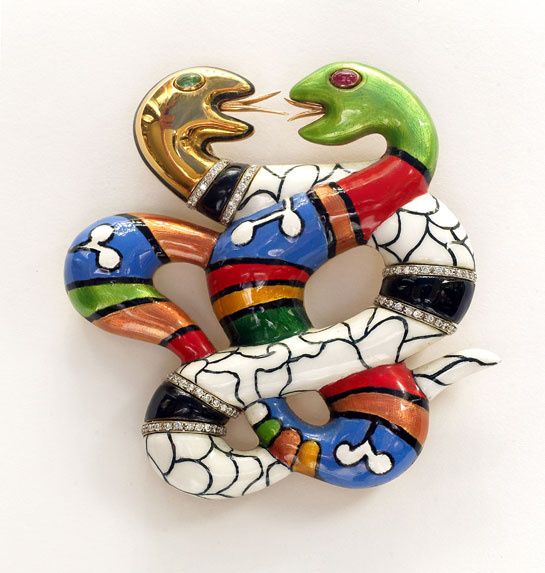 Like the Nanas, the snakes were a celebration of the female spirit and sexuality. On first glance, de Phalle's pop art was all  joie de vivre, but beneath the jolly surface was a good-humored slap-down of the pop culture it seemed to celebrate. De Saint Phalle was taking aim at the societal pressures on women at the time, to fit into a man's idea of sex and to strive for the waif-like figure embodied by Twiggy, super model of her day.
People responded passionately to these images. That Nanas, in particular, are what collectors pay top dollar for today. The wall-hanging above sold at Rago Arts and Auction in October for $20,000 – 10x the estimate. Here are other images for which de Saint Phalle was famous, like this snake mirror from Land of the Free: Rare Jewellery and Related Objects by Niki de Saint Phalle in London until November 12.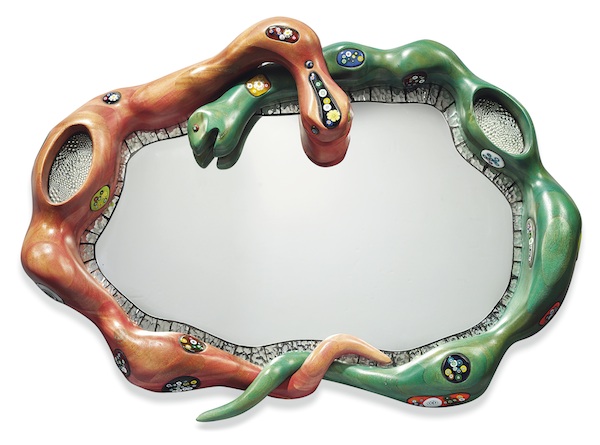 What many people don't know is that before de Saint Phalle turned to Pop Art, she was mining a much darker vein. You can find the fascinating back story here, along with examples of the work that led to the bouncy Nana we know, love and (in some cases) dangle around our necks. Let's just say, it went from this… to this.
It turns out de Saint Phalle was molested by her father in her youth and was working through negative body image issues while she was making this work. Not surprisingly, it's the pop version, the joyful cartoon, that resonated with a wider audience – the weight on her shoulders lifted, the burned-out hole between her legs transformed into a heart.
De Saint Phalle went on to live a productive, full and long life, adored and celebrated. I'd like to think her art was an indication of darkness transformed into light. Maybe it was, partly.
Or maybe she decided to send a different message, follow a path that might lead to a world where big butts and strong thighs are celebrated, even fetishized – witness JLo, Kim Kardashian, Beyoncé, Rihanna – and young women can feel beautiful, sexy and alive in all shapes and sizes. We might not be there yet but hopefully we're getting there.
Land of the Free is open through November 12 at Louisa Guiness Gallery in London.
Photos courtesy of Louisa Guinness Gallery, Christie's Images, Rago Arts, Centre Pompidou
Related products