I can't believe I'm just getting around to profiling Norah Pierson here. How do you profile someone you loved?
Norah left this world a couple years before I launched this blog but her jewelry designs are still produced and sold at her Santa Fe Gallery, The Golden Eye. (Photos are of designs still offered there.) I want this page to serve as a tribute, so I'm inviting everyone who knew her to post their stories about Norah in the comments section.
I met Norah, like many jewelry designers I know, by writing about her. That profile appeared in Lapidary Journal in 1996 (excerpted below). We had a great time with the interview and began to hook up at the Tucson Gem Show where we both landed every February.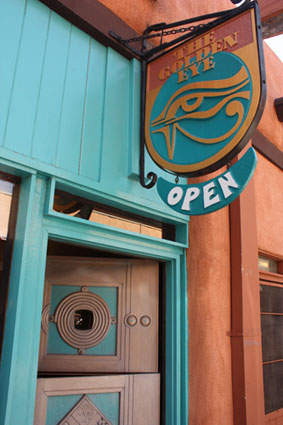 One of the pleasures of that show was shopping with Norah. She did the buying while I got positively drunk from sifting through beautiful stones and pearls and watching her drop $10,000 an hour (is my memory playing tricks?) as she took all the best ones.
By best, I don't mean flawless diamonds, although I do remember picking through raw diamond crystals with her long before Todd Reed was a household name. She also turned me on to giant star moonstones from India and the first dyed freshwater pearls. She wore a long, flapper-style string you'd swear were South Sea pearls. She'd talked a dealer into letting her cherry-pick them at the Holidome.
I remember her concentration as she sifted through trays with granny glasses perched on her nose and hair pinned up Victorian-style. (I think she wasn't seeing the material in front of her so much as the jewelry it would become.) I remember her laid-back way of haggling and her guilty but gleeful grin when she overshot her budget and had to call Amy, her gallery manager, and report in. Oh well! This was the stuff she would design around for the rest of the year and only the best and most unique would do.
One year, Norah designed a pair of earrings for me around some pearls we picked out. The following year, we picked out boulder opals at Robin Dufty's booth and she made another set of drops. It took forever to find the perfects stones but it was incredibly fun. They look like these (I still wear them):
After a few hours of gem shopping, we'd head over to the "African Village" on the strip and Norah would add to her collection of masks. Somewhere I have a picture of the two of us after a day like this. I'm wearing a fertility mask she bought that day, a faux-pregnant belly and breasts with Norah's shirt draped over it. She'd arranged it to make my black belly look more real. I was playing the forlorn unwed mother while she danced in the foreground.
Every once in a while, we'd catch up over the phone. If I lived vicariously through her jewelry-making, she lived through my globetrotting adventures. Her world travel days were over by then.
I once tried desperately to find the recording of our original conversation just to hear her voice, but no luck. All I have left is the published version of the story it turned into. An excerpt:
************
Some of Norah Pierson's designs are fairly simple, some outrageously ornate. It wanders from ancient Rome here to Lost in Space there. Earrings range from small Byzantine dangles to exotic pearls that cascade to shoulder level.
"I don't have periods where I do this and periods where I do that," she said. "I work with parallels, multiple styles, all the time." There is realistic stuff – all the shells and animal rings – beside geometric pieces and pieces with ancient flavor. What ties it together is a certain bold, worldly, uniquely feminine sensibility. It's all very…sumptuous.
When she opened The Golden Eye in Santa Fe in 1984 (well before Pierce Brosnan stepped into a James Bond film of the same name), Pierson wanted to reflect her surroundings with found objects that would set off the fine gold of her jewelry. Instead of using bleached bones, Georgia O'Keefe-style, she saw something equally compelling in the rusty car parts she found along the side of the road and used them to display her jewelry.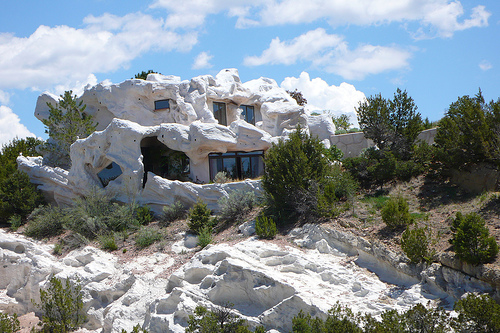 Whether designing jewelry, display cases. or her own boulder-shaped house, Norah Pierson followed her aesthetic impulses with innate confidence. There is a sense of humor in her work, but never at the expense of beauty. Her jewelry is the result of  having been around, looking with curiosity at everything: ancient buildings, bugs, museum cases, the ground.
"I grew up in museums," she said. "My mother used them as babysitters. She would drop me off at a museum, talk to a guard, then go to the dentist, do her shopping. You could do that then." This form of childcare appealed to her mother, a sculptor and painter. Since they lived in New Haven, CT, Pierson's second home was the Peabody Museum at Yale. When she visited her grandparents in New York City, she preferred the American Museum of Natural History where she went straight for the jewelry – "all that wonderful high-karat gold."
She gathered inspiration more from the outdoors, though the ancient gold trinkets she studied as a child continued to emerge in her jewelry. She often made castings of actual surfaces. Look closely and you'll find the textures of fish scales, sea urchins, the back of a broken tail-light. All these things were pressed into soft wax to form a mold.
Her techniques are fairly limited. Stones are almost always bezel- or bead-set. You won't find many slick, contemporary settings. "I don't like prongs and it's very hard to channel-set stones and have the piece look ancient. That's also why I prefer rose-cut diamonds and cabs. They fit in with that aesthetic."
As an art student, she studied illustration at the school at Boston's Museum of Fine Arts and made jewelry because she could never find earrings she liked. But she took only one jewelry-making class, something she later regretted. After traveling and living in Rome for three years, she moved to Laguna Beach with a sketchbook full of jewelry designs.
She struggled to fabricate them, but realized, "Nobody would pay me to repoussé these forms. It would take too much time."
Then she met a jeweler who knew lost-wax casting. After a 90-minute demo, she knew all she needed to know. She returned to her studio and began carving her designs. "I just sat at my bench and made every ring I'd drawn in a period of one year." She opened her first gallery in Laguna Beach in 1971, before relocating to Santa Fe.
"Throughout history, jewelry was made by men for men – sometimes for queens, but mostly powerful men," she said. "I guess we can take it as a good sign that there are now a lot of female jewelers making jewelry for powerful women."
[Adapted from an article published in Lapidary Journal in 1996]
Related products:
>