I interviewed Pat Flynn for a magazine story yesterday. I've been a fan of his jewelry for a long time but this is the first time I really got to talk to him. He's pretty much what you'd expect of a guy who has made a career out of turning iron nails into fine jewelry: smart, down-to-earth, and very funny.
Pat Flynn on jewelry making: "I hand-build everything using a skill set you would learn in a beginning jewelry class. A lot of my work starts like blacksmithing – the wildness of forging hot metal, then transitions to the more controlled work of goldsmithing. I like the dichotomy of that."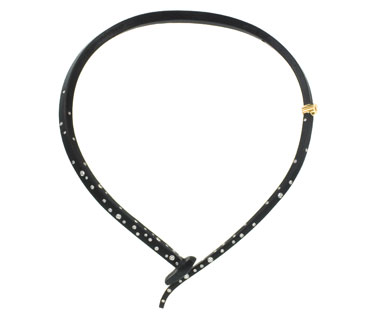 Pat Flynn on androgyny: "My work is certainly not very feminine. When I think of 'feminine,' the word that comes to mind is 'pretty.' I don't like that word much. I like to think my work is strong, poetic and soulful. It could appeal to either men or women."
Pat Flynn on his name: "I like that fact that my name is Pat and people don't know if I'm a man or a woman. I like that confusion when somebody calls on the phone and says, "Is Pat there? I'd like to talk to her."
You can find the jewelry pictured here at Twist and even more cool stuff on Pat's website.