A famous jewel is coming up for auction at Christie's New York in April, the heart brooch designed by Paul Flato for Millicent Rogers, Standard Oil heiress and fashion icon of the '30s and '40s. She and Flato collaborated on many whimsical jewels, but this was one of her favorites.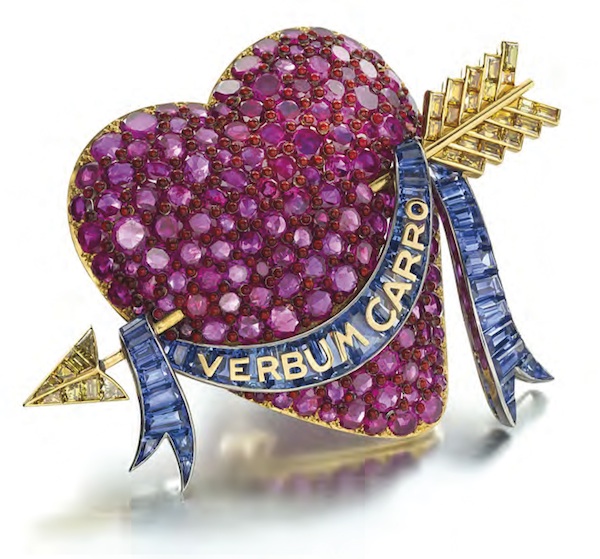 Made of rubies, sapphires and colored diamonds in South American Milagros style – protective amulet – it bears a banner meaning "A word from my love." Rogers wore it close to her heart. It's estimated to fetch $350,000-500,000.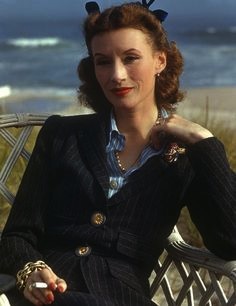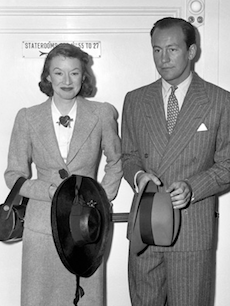 After moving to Taos for her health, Millicent Rogers became famous for popularizing a different type of jewelry – the bold turquoise and silver kind, that went with the Southwest style she adopted. You can find nearly 1,000 pieces of her Native American jewelry in the Millicent Rogers Museum.
Rogers was an interesting character, an heiress who began as a sickly child and grew into a legendary chatelaine. Searching for Beauty: The Life of Millicent Rogers, the American Heiress Who Taught the World About Style
captures Rogers' colorful and rebellious life from an elopement with a penniless baron, to tango dancing in European nightclubs and romances with the likes of Clark Gable and Secretary of Defense Roald Dahl. She was muse to more than one designer of her day, appearing in Vogue and Harper's Bazaar.
As you can see from this shot, Flato wasn't the only designer Rogers wore. Here she wears a starfish brooch that looks like a René Boivin design that sold at Christie's in December, designed by Juliette Moutard. But Flato had a reputation for inserting humor into his jewels, even the most elaborate, and that suited Rogers. She may have been in the spotlight, but she never took herself too seriously. She also didn't mind standing out in a crowd and – like the Duchess of Windsor, another fashion maven of the era –  preferred to have a hand in the design of her jewels, and a little fun while she was at it.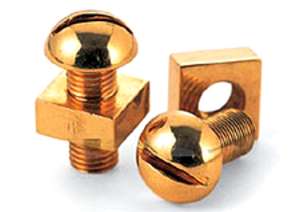 Flato was the man for that. Unable to find his cufflinks, he once showed up at a party with bolts screwed into  his sleeves. When everyone began asking about them, he designed a pair and launched a trend in men's jewelry. A pair ended up in Masterpieces of American Jewelry
.
His aquamarine and ruby belt buckle necklace, featured on the cover of Paul Flato: Jeweler to the Stars
, was another Flato design that took an ordinary object and transformed it into whimsical luxury.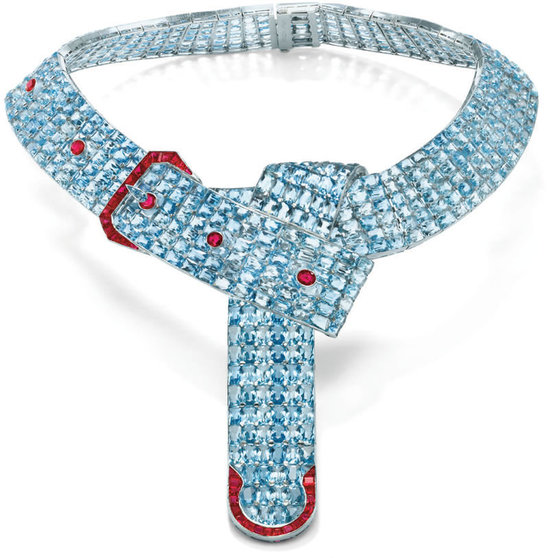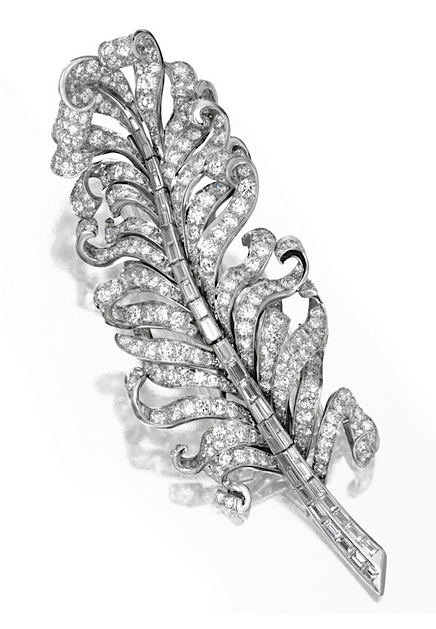 He also designed an amazing series of feather brooches. This diamond and platinum version, c. 1940, sold at Sotheby's for $374,500 (on an estimate of $30,000-50,000) in 2011. With gems set into realistically curled barbs, they are works of art and exquisite craftsmanship. You can see an influence on Joel Arthur Rosenthal, who would later take up the mantel of custom jeweler to the stars and socialites.
Feather earring by JAR (left), designed for sale at the Metropolitan Museum of Art in 2013, and Paul Flato brooch, c. 1940, of 18k gold, platinum and diamonds, sold for $71,500 at Sotheby's in 2011
Flato certainly captured Millicent Rogers' (ruby) heart – and we'll see who captures it in April. "I love that it is not a tiny, discreet heart but a bold puffy one – for everyone to see," says Vanessa Cron, jewelry archivist for Christie's. "It's really an iconic 'Sentimental' jewel from the 20th century. Millicent Rogers knew her way for great jewelry, no? She had such incredible taste."
Photo of Flato ruby heart © Christie's Images Ltd. 2015; photo of Flato feather brooches courtesy Sotheby's
Related posts
New JAR jewelry & watch collection for sale at the Met: worth the price?
Jewels by JAR: bagels to butterflies
Verdura & Dali: bejeweled metamorphosis
Martin Katz: journey to the red carpet
Related products