Pink diamonds ruled the day at the Christie's Hong Kong today. Top seller was this 14.23-carat fancy intense pink, the most expensive jewel ever sold in Asia, according to Vickie Sek, director of the jewelry department at Christie's Asia.
Most wedding proposals take place in December, according to a survey conducted for Robbins Bros. in 2007. Can you imagine finding this in your stocking?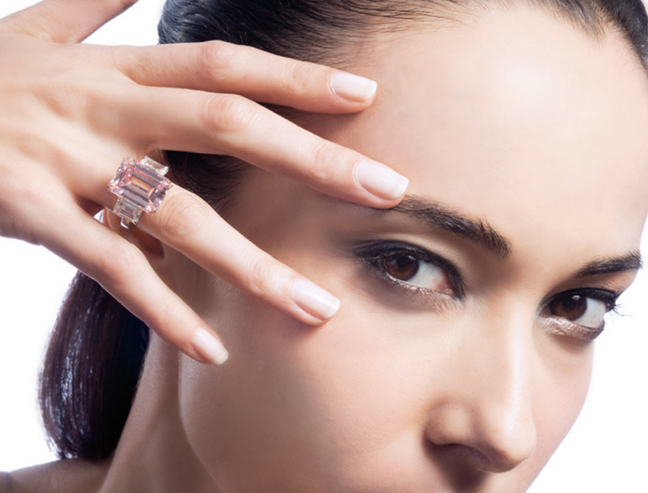 Diamonds are always top sellers at major auctions, but there's a keener demand in Asia for colored stones – and pink diamonds are the ultimate. A year ago, another vivid pink diamond set two world records at Christie's Hong Kong. Second most expensive piece today also involved pink sparklers: a Golconda diamond suspended from a necklace of clear and pink diamonds by Nirav Modi.
All but one of the ten most expensive pieces in today's sale involved colored gems – rubies, sapphires, and a vivid yellow Tiffany diamond ring – and (as with last December's sale) all but two of those sold to Asian private collectors. Jadeite, long the staple of the Hong Kong sales, did well but failed to make the top ten.
Hong Kong continues to become a major player in international jewelry sales. All told, today's sale brought in $78.9 million, highest total ever for a jewelry auction in Asia and the largest for Christie's worldwide.
Related posts:
Pink diamonds sets auction record
Wittelsbach-Graff diamond debuts
Back on the block: JAR topaz earrings
Christie's sells Fred Leighton jewels
Jeweled objets d'art at Christie's NYC