As the jewelry industry convenes in Vegas this weekend from all parts of the world, seeking out the next hot trend and collections from their favorite designers, I can't help thinking about the shows that started it all.
Remember "Meet Me in St. Louis?" Along with Judy Garland singing and falling in love (in her most charming role ever), all the action revolved around one family's obsession with the world's fair taking place in that city in 1904.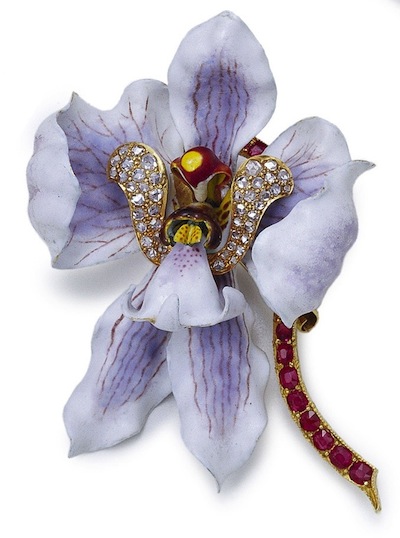 Jewelry was a major lure at the world's fairs by that time, and Tiffany & Co. was savvy enough to showcase their most impressive work there from the start, like G. Paulding Farnham's enameled gold orchids with rubies and diamonds (right).
Smart move. There were a lot of New York-based jewelers at the turn of the last century, but which one survived?
When they first came up with the idea for Inventing the Modern World: Decorative Arts at the World's Fairs 1851-1939, the curators weren't planning to include jewelry. But the deeper they dug into the history of decorative arts at the fairs, the more central jewelry became.
"Jewelry played a major role, from the earliest fairs all the way through the 1930s. As a result, the whole idea of jewelry and lapidary arts is center stage from the moment you enter this show," Jason Busch, decorative arts curator at Carnegie Museum of Art and co-curator, told me last year when the show was at the Carnegie.
Begun as a consumer stimulus almost two centuries ago, early world's fairs exhibitors crammed as much merchandise as they could into their booths. In some ways, displays were similar to what you find at a trade show today – showpieces front and center, designed less to sell and more to lure people in to the more accessible stuff. Those showpieces often heralded true innovation.
Aluminum was the hot new material in the mid-19th century, for example, and appeared in French jewelry, along with many decorative arts on display – but nothing too edgy. Catherine Futter, co-curator of the exhibition, says fair exhibitors often presented something cutting edge in the form of something comfortably familiar.
"World's fairs were where manufacturers promoted their most innovative designs, but the more innovative materials were often couched in a more traditional style," Futter says. "Whereas, if you had a more innovative style, you might use more traditional materials." If you were using a new material such as aluminum in a bracelet, best to apply it to a traditional design.
Conversely, a designer might use 19th century-style marquetry in an Art Nouveau design to soften the impact, on a Victorian public, of its sensuality and mystical overtones.
If your idea of innovation is to revive a style of jewelry that's been buried for centuries, all you have to do is modernize the presentation. The Rome-based Castellani built a thriving jewelry business on the popular fascination for ancient jewels, especially Etruscan, that were turning up in archeological digs in and around Rome at the time. Castellani famously brought back the long-lost techniques of granulation and micro-mosaics. A simple but elegant gold diadem in the form of a laurel wreath, shown at an 1862 exhibition, looks oddly contemporary.
Jewelry is only part of the items from that exhibition and book, but it's a rare opportunity to see it in the context of everything considered "innovative" at that moment in history. World fairs were where designers and manufacturers showed off for the world and for each other. When Tiffany & Co. joined the circus, world's fairs looked something like this.
At Tiffany, Farnham was still exploring the iris by the 1900 exhibition but was now showcasing locally-mined materials with petals of Montana sapphires and leaves of demantoid garnet, a gold collar of diamonds and cabochon rubies, zircon, Mexican fire opals, peridots, and tourmalines.
"It was a way of showing that America has these unique gems but also that Tiffany could compete with the best jewelry houses in Europe," Futter says.
The most amazing jewels come from that pivotal period at the turn of the century when jewelry, decorative arts and the world's fairs themselves reached a peak of wild creativity. It was the Exposition Universalle in Paris where René Lalique became an international name, with crowds swarming his booth to get a glimpse of the insects swarming his jewels.
Creepy beautiful: all the rage in Paris then and nobody did it better. René Lalique (and Art Nouveau in general) became world-famous at the 1900 Paris exposition and Deco was effectively launched at the Paris fair 25 years later. By then, Lalique had turned to art glass and Boucheron and Van Cleef & Arpels had taken over the jewelry spotlight.
It was a pivotal moment – certainly where Art Nouveau was concerned – and it put René Lalique on the world map. "Lalique triumphed in unparalleled fashion," Henri Vever wrote of the exposition. "A dense and fervent crowd gathered round to see works that were on everyone's lips."
At Lalique's vitrine, a balustrade of winged godesses cast in bronze hinted at the jewels inside. Mystical nudes figured strongly in the brooches, necklaces and tiaras, as did serpents and insects – including a stickpin in "Inventing the Modern World" featuring enameled gold wasps with diamond-studded wings swarming a large opal (above).
Nearby, Georges Fouquet showed Art Nouveau jewels designed with Alphonse Mucha and Henri Vever. Gallé was reinventing art glass in similarly stunning booth nearby.
Stateside, the fairs were taking on a life of their own, driven by the burgeoning consumerism in the middle class. The musical "Meet Me in St. Louis" demonstrates the rabid excitement and civic pride surrounding world's fairs by 1904. More than 1,500 buildings, connected by some 75 miles of roads and walkways, were constructed for the St. Louis fair, holding exhibits from 62 countries. Many items never left the U.S., ending up in museums or, in the case of the giant pipe organ from Festival Hall and a German-made bronze eagle, became lobby showpieces in Philadelphia's Wanamaker department store.
Around that time, the focus of the fairs began to change. Between 1900 and 1925, modernism began to win out over traditionalism, and the presentation became more integrated. Boucheron showed this Deco bracelet in 1925 at the Exposition Internationale des Arts Decoratifs in Paris, where the term "Art Deco" was born.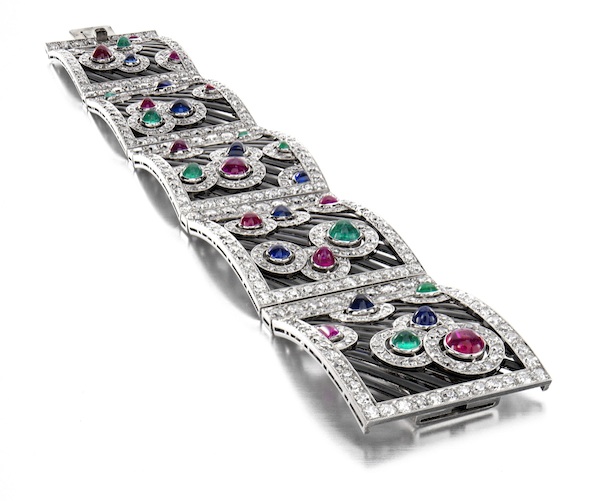 Bracelet by Boucheron, 1925, of platinum, osmium, gold, enamel, diamonds, rubies, sapphires, and emeralds (Siegelson, New York)
By 1939, before the war changed everything, the House of Jewels had become the most popular pavilion. "Jewelry was a huge draw for the fairs," Busch says.  "You could see lines going out the pavilion of the House of Jewels in 1939."
Booths themselves became less overstuffed warehouses, more carefully-choreographed vignettes. Among other things, the world fairs were an exercise in what Anthropologie would later dub "lifestyle merchandising."
"By the middle of the twentieth century, the message of the fairs becomes more 'these are the houses of tomorrow, this is modern living," Futter says. "Especially in the American fairs, the idea was to show the way you, as a middle-class American, can live with these objects, even new technologies in glass or Lucite."
Towards the end of the world's fair heyday, several cities were hosting fairs around the same time and big jewelry houses such as Tiffany and Cartier had become very influential.  "In 1851, the world's fair was huge," Futter says. "The fairs got bigger and bigger after that, and then, after 1939 with the onset of World War II, they really start being more about the ideas and not the objects."
Some believe we haven't seen the last of the old-style world's fair. "There were five world's fairs in the U.S. during the 1930s and they were all about trying to jump-start the economy after the Depression," Futter says. Scholars of world's fairs say they wouldn't be surprised if we had one again in this country for just that reason.
Who knows? It could inspire a whole new approach to jewelry design.
Related products