French painter Raoul Dufy once called blue "the only color which maintains its own character in all its tones. Take blue in all its nuances, from the darkest to the lightest – it will always stay blue."
Keep that in mind as you look through some beautiful blue jewels on the auction block this spring. Three stars if you can name the material, four if you can identify the designer.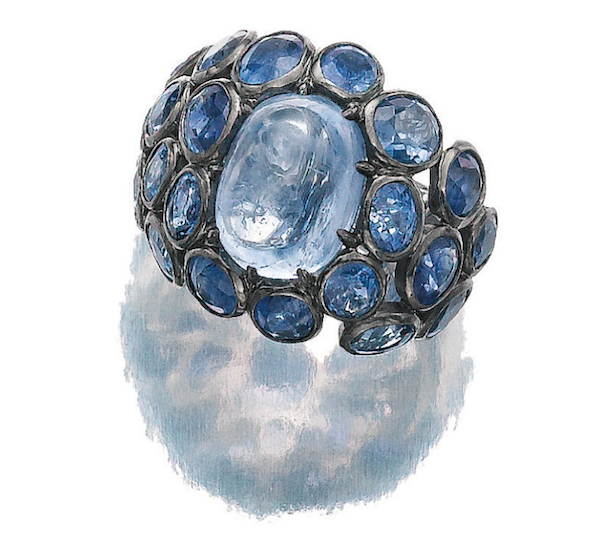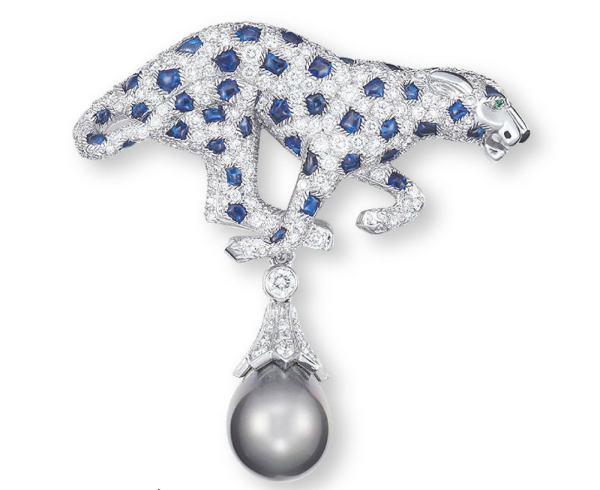 Ring of cabochon sapphire with surround of oval sapphires by Michele della Valle sold for $5,243 at Sotheby's Geneva on May 14, 2013
Ear clips by Suzanne Belperron, 1974, of carved and cabochon sapphires sold for $32,770 at Sotheby's Geneva on May 14, 2013
Ring of step-cut aquamarine and spiraling cluster brooch of sapphires and aquamarines, 1970, by Suzanne Belperron sold for $15,730 at Sotheby's Geneva on May 14, 2013
Bracelet of black opal, diamonds and platinum estimated at $4,000-6,000 at Doyle New York on June 20, 2013
Cartier Panther pendant/brooch of diamonds and sapphires with onyx nose, emerald eyes and detachable diamond collet with gray cultured pearl sold for $45,303 at Christie's Hong Kong on May 28, 2013
Cartier necklace of diamonds and 44.53-carat sapphire sold for $2.8mil at Christie's Hong Kong, May 28, 2013
Cartier Butterfly brooch of 18k gold, plique à jour enameling, and diamonds estimated at $3,000-5,000 at Skinner Boston, June 11, 2013
Here's a bonus for those who've made it down here: the Star of Kashmir ring that sold for $3.5mil at Christie's Geneva on May 15, 2013. Those who follow me on Facebook have had this eyeful. To the rest of you, I present a trio of cushion-shaped gems set in platinum, "star" of which is a rare, natural 19.88-carat Kashmir sapphire: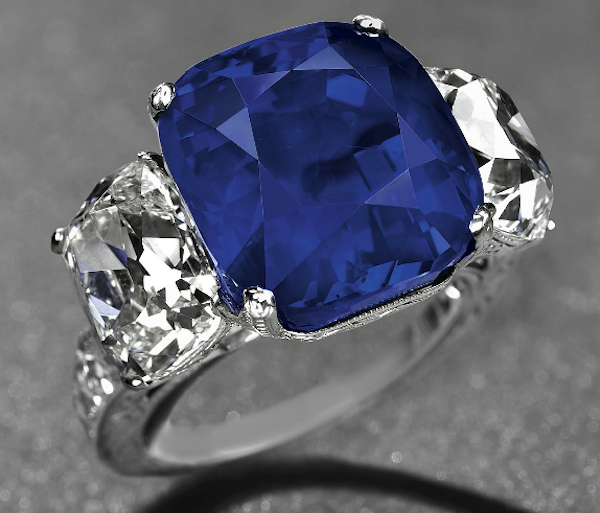 Now there's a blue to behold!
(Photos courtesy Sotheby's, Christie's Images, Doyle New York, and Skinner Boston)
Related posts:
Jewelry & watch auctions in 2013
Rhapsody in blue: Paula Crevoshay
Why blue diamonds are blue: recent tests on the Hope Diamond
How to photograph gems: tips from the pros
Related products (Buying through links on this site doesn't cost you any extra but it does put a couple bucks toward maintenance of this blog):