Only a few years ago, Ralph Esmerian was riding high, a respected dealer and collector taking over the role of jeweler to the stars as the new owner of Fred Leighton. Charming and well-spoken, Esmerian was frequently photographed with famous actresses.
In November, a different kind of photo appeared in major news outlets: a grim, well-dressed Esmerian being led away in handcuffs.
On Friday, April 15, Esmerian pleaded guilty to bankruptcy fraud, after selling some of the antique jewels he had pledged as collateral against loans from Merrill Lynch. In all, he borrowed $217 million, most of which went to buy Fred Leighton. Sentencing takes place in July. Esmerian, at age 71, could get up to ten years in prison.
Esmerian filed for Chapter 11 bankruptcy for Fred Leighton in April 2008, forcing a last-minute cancellation of a Christie's auction arranged by Merrill Lynch to sell off some of the antique jewelry Esmerian had pledged. Soon after, Christie's sold a showpiece of that sale to the Louvre, the Empress Eugenie brooch, with permission from both Esmerian and Merrill Lynch.
Several other pieces from that sale ended up at Christie's again in October 2009. In the meantime, Esmerian secretly sold another prize, the Endymion Butterfly Brooch by Boucheron, for $2.5 million, then attempted to buy it back by selling a few others.
In 2009, a few months before Fred Leighton was sold at auction and before all this became public, I asked Esmerian whether he would do anything differently if he could turn back time a few years.
"At this point in my professional life, I would have rethought this whole thing," Esmerian said. "The times were right and good. I came in with a great passion for great vintage jewelry which is still with me. But in terms of developing a retail outlet in this country, I think I bit off much too much, much more than I should have."
At the time, no one was using the word "embezzlement" and it was not public knowledge that Esmerian had used the same jewelry as collateral on a second loan. He was still referred to officially as an "advisor" for Fred Leighton, although he admitted he was "on the sidelines at this point."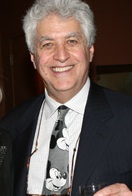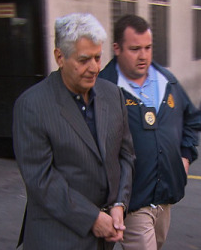 I'm sure Esmerian's lawyer spoke for many people Friday when she declared it "a sad day." While most people reading the headlines may not have recognized the man at the center of the drama, the name "Esmerian" has been famous in Manhattan and the jewelry world for a century. Ralph Esmerian's father, Raphael Esmerian was an eminent gem dealer in his day, consulted by major jewelry houses such as Cartier.
A savvy dealer and devoted aficionado of the kind of antique jewels Fred Leighton specialized in, Esmerian probably seemed a good choice to succeed the chain's founder in 2006. But he took on a major retail business just before the bottom fell out of the market.
Someone could make a riveting movie out of the story of Ralph Esmerian: a courtroom drama with a major auction canceled minutes before bidding began, sending the room into an uproar, a movie with the intrigue of Wall Street, a red carpet jeweler, at least one major auction house and museum, and an internationally famous dealer and collector.
Most of the drama played out away from the public eye in the luxurious Manhattan digs where millionaires like Esmerian live and play. But Esmerian was not an overnight, rags-to-riches story. His fortune took a century and four generations to build.
"We've discussed where Fred Leighton will end up. What about Ralph Esmerian – where do you see yourself in two years?" I asked him in 2009.
"I'm involved in the material in a very emotional and psychological way," Esmerian said. "We will only continue and try to rebuild to a certain point."
Esmerian is out on a $3.5 million bond and will be sentenced on July 22. It's hard to imagine any rebuilding now, of either his famous jewelry collection or the family business that took four generations to build.
Up next: a look at the Esmerian legacy and the jewels they helped make famous.
Related posts:
Bankruptcy sale of Ralph Esmerian's historic jewelry
Ralph Esmerian: lost legacy of jewels
Christie's sells Fred Leighton jewels
René Lalique: ultimate art jeweler
Related products: