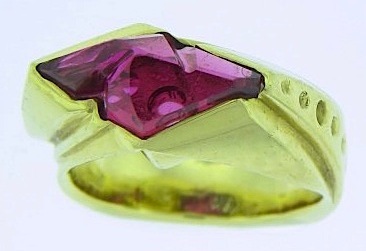 Trent Mann was painting canvases and sculpting full-time when he started his lapidary business 21 years ago. He learned production carving from Larry Woods, another Dallas-based gem artist, but has always taken a painter-and-sculptor's approach to gem carving.
Trent also designs jewelry around his gem cuts, creating highly-integrated pieces where the metalwork appears almost an extension of the carving. This ruby ring (right) is a great example.
His signature is the architectural pendants he calls assemblages: quartz crystals pieced together using fluorescent epoxy. Originally, he was making miniature cityscapes, sometimes incorporating carved wood, onyx, and colored stones. Lately, his assemblages have become more abstract, often with Deco overtones.
An assembled pendant usually costs $2,000. Also at this end of the price spectrum, he carves chunky domes or curved, faceted cuts of clear topaz or quartz backed with turquoise, sugilite or mother-of-pearl for rich, reflected color. "I even use citrine this way to very unique effect if I combine it with the right reds or greens," Mann says.
Custom cuts for jewelers are his bread-and-butter, along with restoration work for auction houses, mainly of lapidary art objects such as the famous Cartier Mystery clocks. Mann's custom cuts sometimes involve baroque wood carving and inlays of everything from mother-of-pearl and white coral to rubies and diamonds. You can also find his gem cuts in the jewelry lines of major department store chains—but they won't have his name on them.
Unlike many creative carvers, Mann will do standard faceting for standard prices; fancy cutting costs 25 percent more. The most affordable gems he's cutting now are iolite, morganite and chrome diopside.
"You can get a 4- to 5-carat iolite cut for less than $500 and we're talking about really good color, no gray," he says. A nice green 3-carat chrome diopside costs about $150-250. Rich, pink morganites and Mexican fire opals can still be had for less than $100/carat retail and a golden beryl for slightly more. "All are beautiful, affordable stones," Mann says.
But many colored stones once considered a low-cost alternative to the precious gems are getting harder to find, he says, and prices have risen accordingly. Spinel, for example, is approaching ruby prices.
"The most I've ever made on jewelry carvings were some fine emeralds I carved in an antique mogul floral style for $20-25,000 retail," he says. "I did an unusual 250-carat aquamarine briolette for a piece that sold for about $35,000. The designer brought me the stone and I charged him about $1,800 to cut it."
What you can buy for…
…less than $300 retail: a carved 3-carat chrome diopside for about $150-250
…$2,000: one of Mann's carved and epoxied assemblages, including any of the pendants pictured on this page
…$15,000: the hand-fabricated 18k gold ring set with ruby carved by Mann (pictured top right)
You can find jewelry, paintings, drawings, and sculpture by Trent Mann here or contact him at thegemsculptor [a] aol.com.
Related posts:
Rock stars: pioneer Bernd Munsteiner
Rock stars: gem carver Michael Dyber
Rock stars: Sherris Cottier Shank
Rock stars: carver Lew Wackler
How to photograph gems: tips from the pros
Related products: