A master machinist, Lew Wackler is famous for reviving long-forgotten lapidary techniques using 19th-century machinery that he restores himself. For many years, Wackler made his living producing art objects that looked like they came from the houses of Faberge or Cartier at the turn of the century.
When it comes to cutting for jewelry, he combines the perfectionism of a machinist with the standards of an Old World craftsman.
Wackler began his career making jewelry before there were gem merchants coming through his hometown of Boulder, CO. To compensate, he began cutting his own stones and quickly found he was making more money selling gems than jewelry. In the early eighties, he discovered the work of Berndt Munsteiner and realized gem carving could be a creative outlet in itself.
He began doing his own fantasy cuts. Having set thousands of stones himself by then, he insisted on putting as much effort into the bottoms as the tops. "It's important to make a girdle that's even, not too thin, and polished all the way around with smooth corners," Wackler says. "Jewelry designers should always examine girdles closely with a loupe. Rough edges can get caught and chip when metal slides against them."
Wackler's fantasy cuts for rings or pendants start at $500 retail and average around $700. "A teeny-weeny stone takes me the same time to cut as a one-karat or 10-karat stone because there is so much hand labor involved," he says.
That $500 fantasy cut might be a carat of tourmaline, a 2-carat aquamarine or rhodolite garnet, a 6-carat ametrine, a 12-carat rutilated quartz or a 25-carat clear quartz—by far the most bulk for the buck. "Fantasy cuts in clear quartz look great, like big diamonds," says Wackler. "You can do a huge carving in quartz and it makes for the kind of jewelry showpiece you see in the AGTA competition."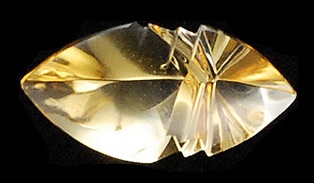 What you can buy for…
 …less than $500: a 4.86-carat citrine fantasy cut (right) for $400. This and all stones pictured here are available on Lew Wackler's website (until they sell out)
…less than $700: a 14.05-carat green citrine fantasy cut (below) for $640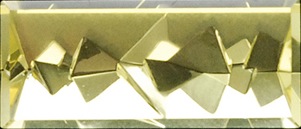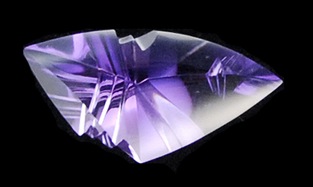 …less than 1,000: a 11.54-carat amethyst fantasy cut (below right) for $800

…$12,000 or more: Wackler has cut entire vases from rock crystal that sold for a quarter million dollars, but his jewelry fantasy cuts are relatively affordable. "I've never gotten more than $12,000 retail for a stone," he says, "and that was a 40-carat aquamarine."
Related posts:
Rock stars: pioneer Bernd Munsteiner
Rock stars: Sherris Cottier Shank
Related products: