World's largest aquamarine carving, the 10.363-carat Dom Pedro, goes on display Thursday at the Smithsonian Institution's National Museum of Natural History. It's no surprise to find the carver chosen to sculpt this 14-inch obelisk was Bernd Munsteiner.
Those familiar with Munsteiner's work will recognize the distinctive reverse cuts, patterns of slashes that bring out the sparkle of this spectacular chunk of vivid blue-green gemstone, discovered in Minas Gerais, Brazil, in the eighties. Munsteiner cut the obelisk in 1992 from a natural blue beryl crystal measuring 23 inches and weighing nearly 60 pounds. The Dom Pedro was donated to the museum by Jane Mitchell and Jeff Bland and will take a place of honor beside the museum's other prize jewels, the Hope Diamond and Marie Antoinette earrings.
Bernd Munsteiner and Dieter Lorenz reinvigorated gemstone carving 25 years ago with their innovative approach to faceting and sculpting. Their cuts sparked a renaissance – and reinvention – of that ancient art form in Europe and the U.S.
Throughout the nineties, lapidary artists continued to experiment with light and form. Their creations, in turn, inspired jewelry designers, whose customers ended up with two signed originals for the price of one: a collaboration between artists.
Most American gem artists who rose to the top in the eighties and nineties are still experimenting but have settled deeper into their own distinctive styles. I'm going to introduce you to some of my favorites over the next couple months. If you think important jewelry begins and ends with diamonds and the so-called precious gems, I guarantee their work will open your eyes to the breadth and fabulosity of colored stones.
Fifteen years ago, when I was madly covering this carving renaissance for Lapidary Journal and meeting these artists (including Munsteiner) at the Tucson Gem Shows, most carvers were experimenting with variations on themes established by Munsteiner (fantasy cuts) and Lorenz (fluid opaque forms).
Demand for outrageous carving and over-the-top jewelry design has slowed since the height of that movement, forcing lapidary artists to offer more streamlined versions of their signature cuts and to become more sensitive to jewelers' needs.
Munsteiner himself was always a jeweler's lapidary, even at his most creative. He grew up near Idar-Oberstein, Germany, a mecca for gem carving, working in his father's lapidary studio, then studied metal sculpting, painting and jewelry design at the arts academy at Pforzheim during the 1960s.
Driven by the creative and rebellious spirit of that era, Munsteiner wasn't interested in following the centuries-old traditions of lapidary art practiced in Idar, where they were still carving agate cameos Renaissance-style. To the dismay of many in that community, he began developing an abstract approach to transparent colored stones, cutting them into geometric forms, leaving parts of the crystal in its rough, natural state for textural contrast, and integrating inclusions into the design.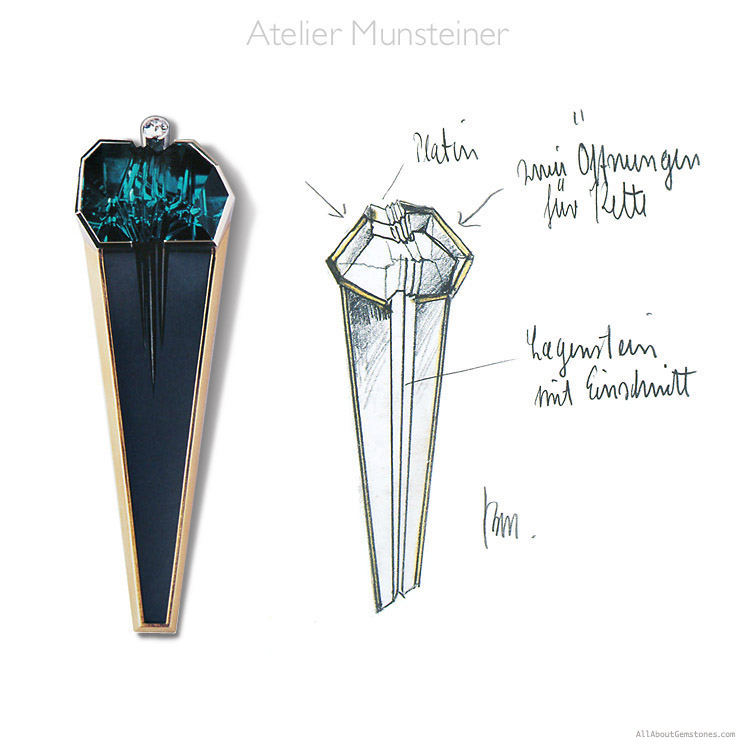 Munsteiner is still working in his atelier in Germany. These days he collaborates with his son, Tom, a fourth-generation lapidary, and Tom's wife Jutta, a jewelry designer. You can buy the Munsteiners' gem carvings here, among other places, and their jewelry, like this ring of quartz and pink tourmaline (below), at  Aaron Faber Gallery in NYC, Patina Gallery in Santa Fe, Ladyfingers in Carmel, CA, and De Novo Jewelry in Palo Alto.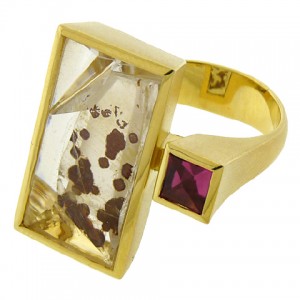 Gems cut and signed by Munsteiner are not as expensive as you might expect, and neither is the work  of other well-known lapidary artists. Benefit to jewelry designers of the current streamlining in the lapidary arts? Signed carvings by name lapidaries are not only easier to set, they also offer more value for the dollar. Even designers with limited budgets, or those trying to create multiple pieces for jewelry lines, can incorporate one-of-a-kind signed carvings.
Top lapidaries focus on what sets them apart and works best for the designers who set their work. After all, a gem cutter's living depends on the jewelry artist who returns again and again to buy their cuts, not the person who eventually wears them.
Is it any surprise that many of the most successful lapidaries began as jewelry designers themselves?
Expect to pay a 25 percent premium for gems carved by well-known lapidaries or anything involving fancy faceting. If you supply the stone, most American gem artists will charge between $50 to $100/hour to cut it. Top-ranked gem artists charge more.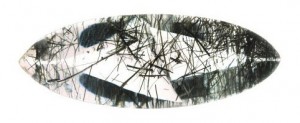 So, how much will a Munsteiner cut set you back?
What you can buy for…
…less than $500: a matched pair of 4.54ct citrines cut like those above, $336, at Joy Claire – where you'll find all loose gems by the Munsteiners featured on this page (until they sell out)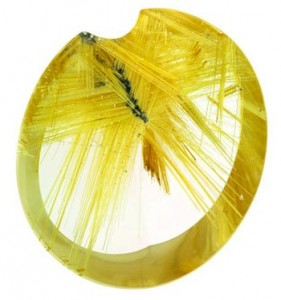 …less than $1,000: the 21.91ct tourmaline quartz (right, $540)
…less than $1,500: this 59.69ct rutilated quartz (right, $1,200)
…$5000 or more: this 31.18ct tourmaline ($5,840)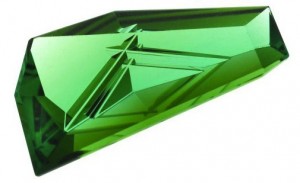 Related posts:
Rock stars: gem carver Michael Dyber
How to photograph gems: tips from the pros
Related products: