Sherris Cottier Shank has always been fascinated by moving water, particularly waterfalls and streams. She spent years studying and photographing water in natural settings before attempting to portray it in gemstone.
No cutter alive can transform stone into water like Shank. Her most distinctive carvings are abstractions of flowing currents carved in aquamarine, sometimes as jewelry elements, sometimes free-standing sculpture. Her watery aquamarine cuts have won AGTA Cutting Edge awards, including the dramatic three-piece "Waterfall Suite" which established her as one of the most talented gem artists worldwide.
But it's the user-friendly quality of her gem cuts, as much as their artistry, that makes her a favorite with jewelry designers. Shank was a jeweler herself when she entered the lapidary arts and brought a jeweler's sensibilities to the lapidary wheel.
"I spend a lot of time concentrating on how a jeweler will set my stones," she says. "I figure if I can't set it, my customers can't either."
She also discovered it's not always possible to produce what jewelers want from a stone. "For example, many want shallow stones but you can't make an aquamarine real flat with deep-hued, bright color," she says.
Shank, who is based in Michigan, began educating jewelers and their customers a few years ago on both the variety and limitations of the lapidary arts. She holds what she calls "round table" presentations in stores across North America. Jewelers who regularly set her stones invite customers in and she shows up with more than 100 carvings—her entire inventory. Some of those customers are now building collections of Sherris Cottier Shank cuts—set by and purchased from the hosting jeweler.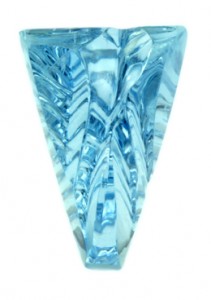 Here's a video of Sherris made last year that shows several of her carvings and a demonstration of her carving a gem on a fixed arbor.
What you can buy for…
…less than $500: "You won't get much for $250," Shank says. "A piece of small onyx maybe."
…less than $1,000: "For $700 retail, I have lots of very accessible stones. For $700 to $900, I can do 3- to 5-carat carvings of aquamarine or garnet or even a small tourmaline," she says. "My bread-and-butter is the unusual stuff that I develop in large carvings, but I make an effort to rework those designs in smaller cuts. 'Smaller' for me means about three carats. Simpler shapes work best in that size—curved triangles or tapered shapes or a modified pair."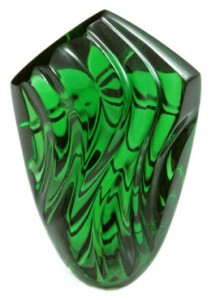 …$15,000 retail: "Really big aquamarines, tourmalines and tanzanite of clean, beautiful material with carvings that took me multiple days."
(Left: rare 10.39ct chrome tourmaline from Tanzania)
To see current inventory and buy direct from the artist, visit her website Gemscapes.
Gem photos are by Amy Balthrop unless otherwise credited.
Related posts:
Rock stars: pioneer Bernd Munsteiner
Rock stars: gem carver Michael Dyber
How to photograph gems: tips from the pros
Related products: