SOFA comes to Chicago next weekend bringing, among other things, amazing examples of art jewelry, past and present. Now on par with the finest high-end craft and art shows in the world, SOFA was founded in 1994 by an artist with a vision. Mark Lyman expanded SOFA to NYC, then Santa Fe. Both shuttered in 2012 and Lyman sold the show the following year to Urban Expositions.
Now the focus is back on Chicago, where 70 galleries and dealers will showcase their best glass, ceramics, textiles, wood and metalwork first weekend of November. You'll find cutting-edge new work by studio jewelers of the kind featured here, such as Rebecca Meyers, whose work will be shown by NextStep Studio, including these rings of 18k gold with zircon and oxidized silver (left) and raw diamond and palladium (right).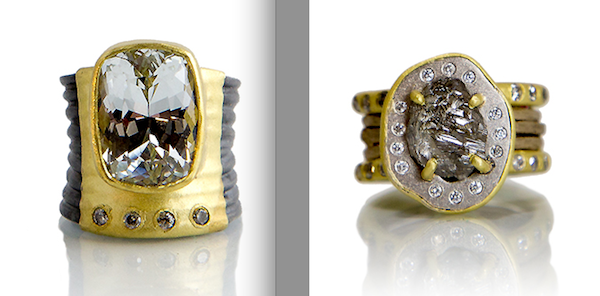 One thing SOFA does like no other show is to shine a spotlight on the finest high-end craft. Walking past these gallery venues, you feel thrilled, impressed and (sometimes) amused by how far artists have pushed the "functional" aspect. Yes, there is irony here and it's cultivated and encouraged. This is also where you'll find the highest level of craftsmanship in all media. This is a place where master glass artists, woodworkers and metalsmiths get to take their gloves off and turn fantasy into reality. Yes, you can sit in that chair, where that neckpiece, fill that bowl – well, technically speaking.
I love beautiful things designed to hang on a wall or display in a sculpture garden, but there is something about functional art and sculpture that fascinates me more. By removing the usual categories and presenting it by gallery instead, the show presents a visual feast, merging media, and allowing visitors to see the art first, function second. It also removes the unconscious filter through which we view art and craft. Wearable art and jewelry media is just a portion of what you find at this show. Next weekend, collectors can expect to find new work by artists such as these.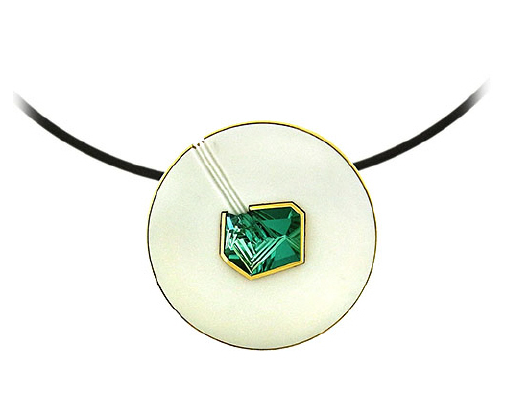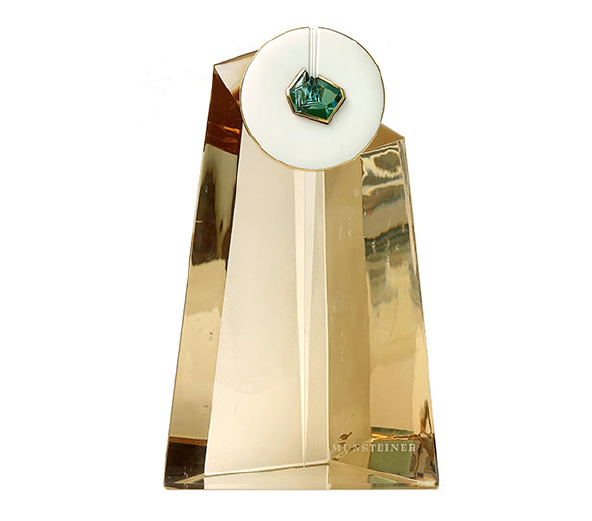 What better way to start than with a piece that is both jewelry and art object, a 6″ citrine sculpture carved by Bernd Munsteiner in 1990-1991, around the time he carved the aquamarine obelisk now at the Smithsonian. It's topped by a brooch/pendant of white agate and green tourmaline set in 18k gold and you can find it at Aaron Faber Gallery. Asking price: $27,500.
Above are pieces by Georg Plionis and Yvel. Plionis is a jewelry artist in the U.S. by way of Australia, and this is from his "Mariposa" collection (a name, he points out, that means both butterfly and gay), made entirely by hand from what Plionis calls "precious-free material." Yet what he loves most about his jewelry, he says, is the preciousness.
"It's all about the time that it takes rather than the materials that are being used," he told Fiercely Curious recently. "Nearly all of the work is like this, all time consuming and almost meditative in the manufacture." You can find more of Plionis work, along with several talented art jewelers, at Charon Kransen Arts, another long-time regular at SOFA.
Below that is a ring from the Sunset Collection by Yvel of golden Indonesian Keshi pearls and multi-color diamonds in 18k gold.
SOFA has always focused on the finest in contemporary work but you can find some amazing artist-made pieces by 20th century artists as well. Since we owe the pleasure and privilege of wearing our art on our sleeve (and neck and lapel) at least in part to these mid-century pioneers, here are a few treats in store at Didier.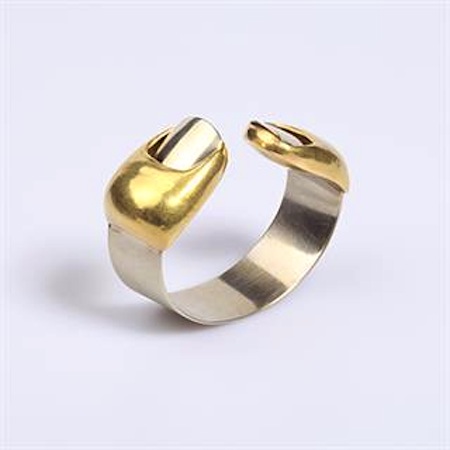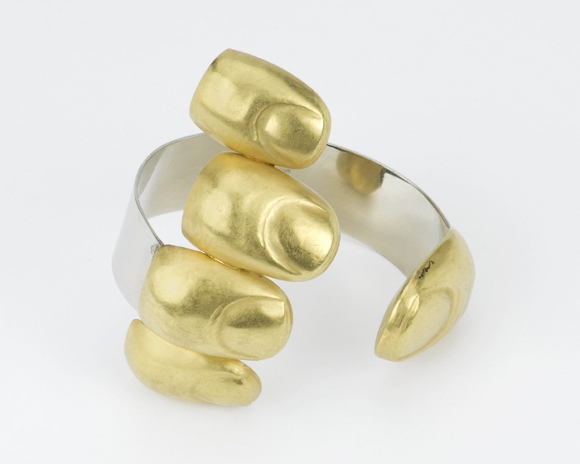 Cuffs by Bruno Martinazzi at Didier, Ltd. (top available at SOFA, bottom sold)
Didier is a London Gallery that specializes in jewelry by 20th century legends I've profiled here, including Georges Braque, Alexander Calder, Pablo Picasso, Man Ray, Niki de St Phalle, and Salvador Dali. At SOFA next week, you can find the "Finger and Thumb Cuff" by Bruno Martinazzi, a simplified spin on the iconic hand cuff Martinazzi designed in 1969. (A later edition was issued in 2003.) It was conceived as a man's fingers gripping the wearer's wrist.
Didier will also offer these rare, wearable sculptures by the mind and hand of Calder and Harry Bertoia.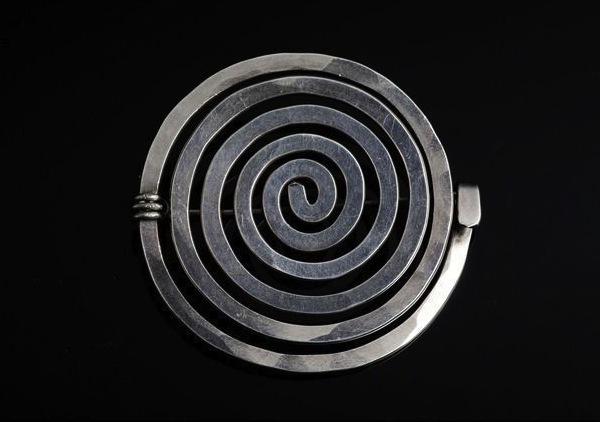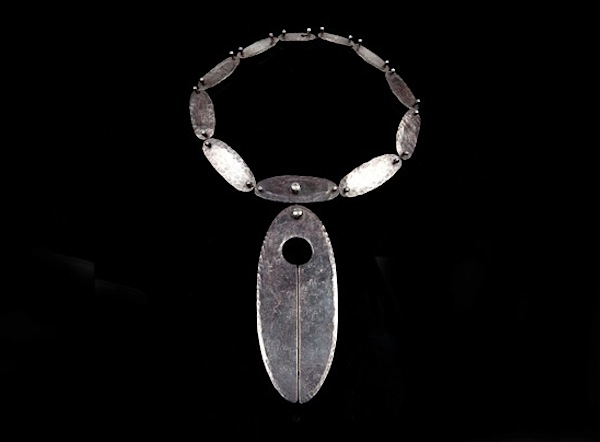 Two pieces of hammered silver by legends of mid-century sculpture, one of Calder's many spirals of hammered wire and a necklace of hammered silver by Bertoia. Bertoia's necklace was made between 1970 and 1976, featuring a 5.5″ gong-style pendant, influenced by his Gong sculptures and made with the cold connections and planishing techniques he used in the jewelry he made in the 1940s.
"This is one of the most stunning and unusual pieces of Bertoia jewelry I've encountered," Selley Selim, curator at Cranbrook Museum of Art says of this necklace. "The cadenced relationship of the silver panel links and the keyhole center-back closure is subtle and spectacular."
And finally, because it's Halloween and this is the SOFA show, after all, a not-so-subtle bit of wearable art. Okay, it's not even wearable.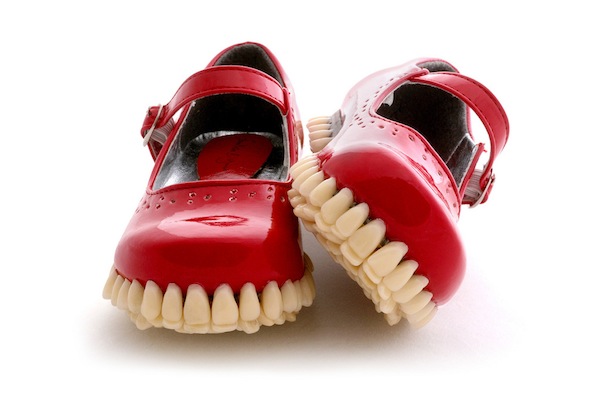 Now there's a pair of ruby slippers! Described in the catalog as made from "junior girl shoes and dentures," this sculpture by London-based artists Mariana Fantich and Dominic Young is brought to you courtesy of the Saint Louis gallery Projects+. This and more at Chicago's Navy Pier November 5-8.