Snakesssss. Since civilization began, they've been lovingly recreated in precious material to slither up our fingers and wrists, tighten around our arms, clutch our hearts to our throats. Track them through the history of jewelry, and you find a fascinating trail of mythology and clues to the human spirit.
Walking the aisles at the jewelry shows this summer, I saw snakes everywhere – antique to contemporary. You know how it is when you spot a snake coiled under a rock or gliding along a river and suddenly they're everywhere you look? Every branch, every shadow looks like a snake. Well, the same thing happens at jewelry shows – to me anyway – only the snakes there are dazzling and made by hand.
My snake hunt started at Lenore Dailey's booth at the Las Vegas Antique Jewelry & Watch Show in early June and followed me to Manhattan in July. Lenore is such a delight and always has amazing treasures, especially of the Victorian variety. This enameled gold snake bangle was the first thing that caught my eye in her case, so I paired it with an antique gold snake ring. After that… oh, the snakes that lurked in that room, coiled and ready to pounce onto my arm.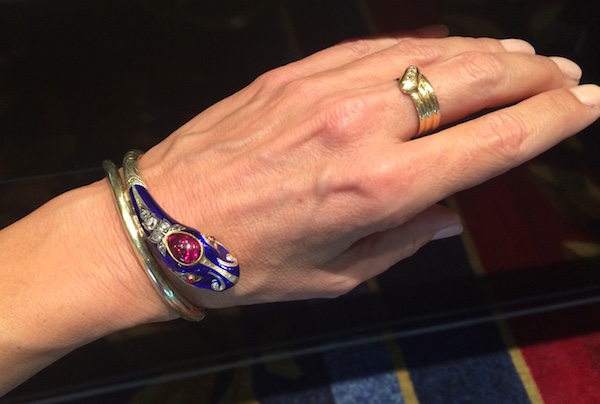 That bracelet had the cobalt enameling you so often find on antique snake jewels, with cabochon garnet and rose-cut diamonds. I posted the top shot to Instagram from the Vegas show, Lenore reposted to her 35,000 followers, then followed up with her own photo (above). Soon after, someone bit and bought. By that time, I had tried on snakes made all over the world, throughout the centuries, from ancient gold to rock-star pavé diamonds with leather bands (by Dada Arrigoni) at Couture.
When you deal in antique jewelry, a serpent or two is almost a requirement. But there were some world-class dealers in Vegas so, naturally, world-class snakes as well. Let's start with the oldest that slinked across my path and work our way forward through history.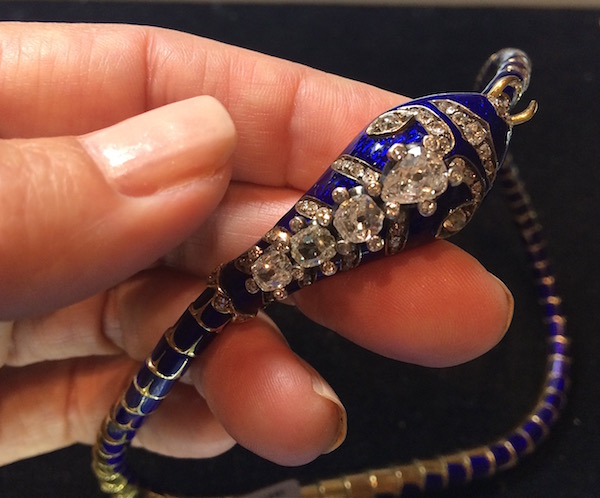 One depiction you often find in antique necklaces – the snake biting its tail – dates to Greco-Roman times. Like the classic coiled snake of ancient rings and bracelets, the snake devouring itself – Ouroboros – is often a symbol of eternity. But Ouroboros appears in many cultures and contexts throughout history, and can also stand for the cycle of life, introspection, self reflection, and – like the Phoenix – the process of destruction and renewal. Earliest known reference to a snake biting its tail is a 2nd-century drawing from "Cleopatra the Alchemist" with the words "One is the all."
I found two amazing necklaces (pictured above) in the Ouroboros style at Carlo Luca Della Quercia, an antique jewelry dealer based in Valenza, Italy. Both jewels were beautifully articulated miracles of enameling and metalwork, designed with clasp in front so the snake is biting its own tail right at your heart. The necklace on the right, c. 1890, is a beautiful example of Victorian cobalt enameling with rose-cut diamonds.
The one on the left is more unusual. Made around 1800 in Switzerland, its head embedded with emeralds, rubies and diamond eyes, this old snake was in perfect condition – extremely rare, museum-quality, which is why it carries a $85,000 price tag. Gliding over my hands, it felt almost alive. See the video I posted on Instagram for a live demo.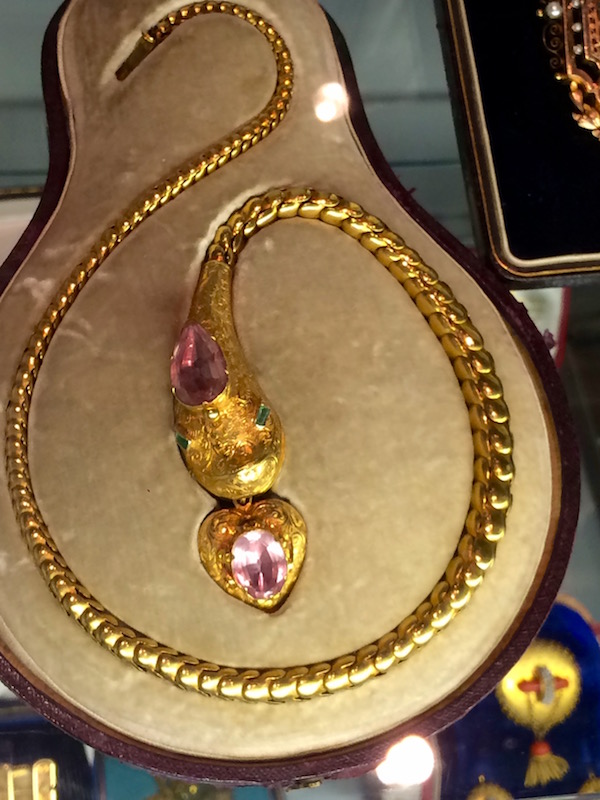 That first bracelet (above top), shown with another of gold and turquoise from the same era, caught my eye at Bell and Bird, an Austin jeweler that specializes in 18th and 19th century jewels such as these. That snake, c. 1860, is in the classic coiled style of ancient gold bracelets, but with a hinge that allows it to fit snugly onto the wrist and come easily on and off. This is the style I'm seeing most often in contemporary snake bangles, and you can see why. It's extremely wearable.
The second bracelet shown is a later 20th-century vintage style that wraps around the wrist and locks into place with a series of clicks. I found it at the booth of Lorenzo e Paolo Monticone of Turin, Italy. And the dealer there was kind enough to demonstrate it for me.
Final necklace dates to 1850 England, made with beautifully chased 18k gold and set with pink topaz and emerald eyes. Presented in its original custom-made box, this serpent was surprisingly light, despite its luxurious bulk. "There wasn't much gold to work with then," says Richard Boxer of the NYC jeweler Kamsly, Inc., where I found this treasure.
Here's one more snake, an upper-arm bangle designed in 1972 by Donald Claflin for Tiffany & Co. Most modern-looking snake on this page because of its high polish and streamlined contour, and yet it's also the one most like the original gold bangles of Ancient Greece – neither hinged nor articulated, just a solid metal coil.
I found this bangle – which is featured in the Tiffany Blue Book – in the hands of Robin Katz, a NYC dealer who specializes in rare vintage 1960s and 1970s jewels. We had to push this snake all the way up my arm to get him to stay. Once there, Claflin's snake looked like those flapper-era bangles we saw in the final season of Downton Abbey, worn by Lady Edith in the London nightclubs of 1925.
I think it's time to bring back the upper-arm snake bangle, don't you?
There is something dangerous about wearing a snake, which may be why designers of edgy, rock-star jewelry so often adopt it. Next week, I'll show you the latest spin on the bejeweled serpent by contemporary designers such as Sevan Bicakci, Jade Trau, Wendy Yue, Temple St. Clair, and Dada Arrigoni.
Need more? I have an entire Pinboard devoted to snake jewels. Check it out!
P.S. Jewelers have started sending me images of their coolest serpent jewels and tagging me on Instagram to add to my snake trail. Have a snake we need to see? Send a pic or post one on Instagram or Twitter, tag @thejewelryloupe and hashtag #showmeyoursnakes. I'll do a follow-up with the best…because there's no such thing as too much snake jewelry!
All photos are mine (© Cathleen McCarthy) except second from top, which is from Lenore Dailey's Instagram
Related Products