Carolyn Tyler and Penny Berton both found a haven and outlet for their creative expression in Bali. Both invested a chunk of their lives developing a little design industry there, and both have since retreated somewhat to their roots.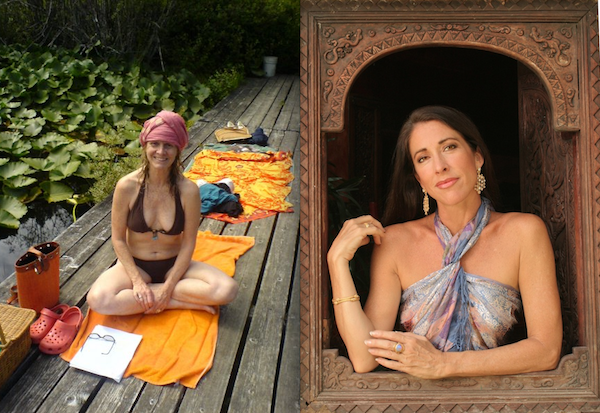 Tyler (right) maintains a home in Santa Barbara and Berton (left) resides on Salt Spring Island, off the coast of Vancouver.
Like Jean-François Fichot and John Hardy, Tyler and Berton landed in Bali without any particular agenda, and wound up as jewelry designers.
Both did their time with the snake. Tyler's are chunky, sensual, well-fed. Berton's are lean, hammered, ready to pounce or slither away quickly.
Penny Berton comes from gold prospectors who met up in the northern Wild West at the turn of the century. Her grandmother met her grandfather during the Gold Rush. They never found gold, but instilled their quest and restless spirit in their offspring.
Two generations later, Penny found gold herself, when she wasn't even looking. Born in Ontario, she discovered Bali in 1976 on a backpacking trip with her 25-year-old boyfriend and future husband, John Hardy.
Hardy designed his first piece as a gift for Berton, had it produced by local goldsmiths, and went on to build (with his second wife) the most famous jewelry brand to come out of Bali.
What all these ex-pat designers found in Bali was an ancient jewelry-making tradition and an unexpected medium for their creative visions. None came to Bali planning to become jewelry designers.
Berton wanted to be a filmmaker. She brings to her jewelry an appreciation for ancient Chinese, Balinese and Western mythologies. She believes in the healing properties of gemstones and the energy in precious metals.
Carolyn Tyler takes a similar approach to her jewelry, but while Berton's snakes utilize a chain weaving technique familiar to us from John Hardy's sterling designs, Tyler sticks more to the traditionally opulent granulation of classical gold work. Her snakes are less slinky and more ornamental.
I'd put either Benton's or Tyler's snakes up against this stylized sterling snake ring (left) from John Hardy.
By the time this ring was produced, Hardy wasn't doing the designing any more. He sold his company in 2007. The name "John Hardy" now refers to a global jewelry business headquartered in Hong Kong, though its design center remains in Bali.
Related posts
Snakes and stones: Jean-François Fichot, ex-pat designer in Bali
Carolyn Tyler: reinventing a life in Bali
Making art and jewelry on a Caribbean island
Related products