If you're ever in Bali, check out Treasures Gallery in Ubud where you'll find three primary designers – Carolyn Tyler, Penny Berton, and Jean-François Fichot, who died last year but whose jewelry designs are still represented.
Together they tell the story of a generation of artists who rebelled against the pressures and conventions of Western society and set up a jewelry design haven in this Hindu-drenched tropical paradise.
Treasures is next door to Ary's Warung, where you're sure to stop for a bite or sip at some point. It's the perfect place to discover the kind of jewelry you might create if you were surrounded by Balinese temples, tropical foliage, and some of the world's best goldsmiths.
Judging from Bali's most successful ex-pat designers, it would probably encompass unusual gemstones, ancient mythology and goldsmithing techniques – and possibly snakes.
I have yet to encounter an ex-pat designer who landed on an Indonesian island and did not, at some point, design snake jewelry. Maybe this has something to do with the ex-pat role in Paradise? Or maybe it has to do with all the actual snakes in Bali and the ever-present possibility of encountering one: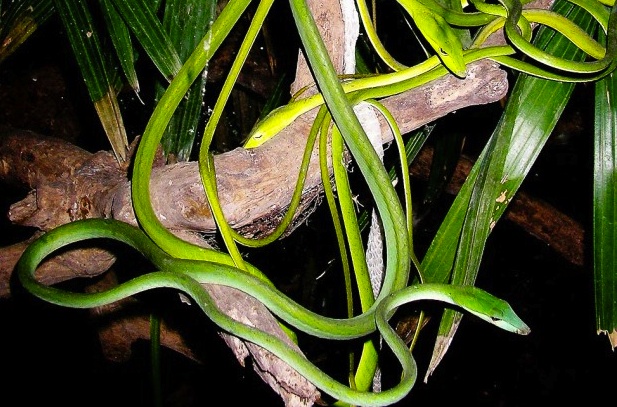 From the tale of an encounter with deadly tree snakes in Bali on The Opinionated Diner
Jean-François was among the first rebel jewelry designers to discover Bali, settling there in 1978, after graduating from L'Ecole des Beaux Arts and roaming the world for a decade. Here is his Balinese haven as I photographed it in 2000:
I went to Bali that year to profile Carolyn Tyler for a magazine and met Jean-François. I'd never heard of him but, it turned out, he had preceded Carolyn by a decade. He showed me the luscious gardens he'd been cultivating for 22 years and the treasures he'd been collaborating on with goldsmiths and gem carvers on the island. Here's Jean-François' take on the classic snake bracelet:
One of his collaborators was a Mexican lapidary artist who showed up at the studio while I was there and introduced himself as Pedro. Pedro Michel, famous for carving nearly life-size skulls out of gem-quality material like aquamarine, is a shaman practitioner who, last I heard, was living in Tokyo. Here they are discussing a project twelve years ago: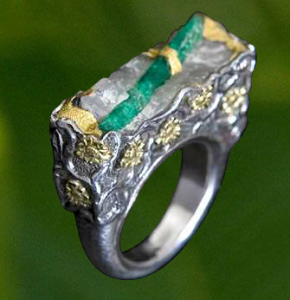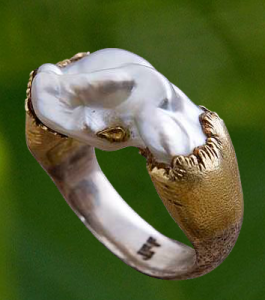 (You can find more of Jean-François' work and images of his tropical gardens on his website.)
Rings of gold, sterling, rock crystal with emerald (left) and baroque pearl by Jean-François Fichot.
Around the same time Jean-François set up camp on Bali, another restless soul landed nearby – and eventually shared a showcase with him at Treasures Gallery. This one was from Toronto and her name was Penny Berton…