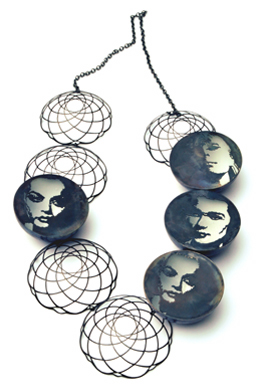 As I mentioned last year, SOFA (Sculptural Objects Functional Art) has come to represent the apex of craft and art, where skilled handwork intersects with wild creativity. SOFA began in Chicago and that show, held in November, is still the ultimate showcase for craft galleries.
There's a SOFA show in Santa Fe now as well, but I've been attending the one in New York City since it debuted. All are on my list of best craft shows in the U.S, and open to the public.
Along with studio furniture and art glass, you'll find jewelry created with a high level of craftsmanship at this show, including work by studio jewelers I've profiled on the  Loupe, including Lucie-Heskitt Brem, Melanie Bilenker, Pat Flynn and Joanna Gollberg.
You'll also find jewelry completely redefined. Here's a taste of the most eye-catching wearable art we'll find at SOFA New York April 14-17.
From the top:
Neckpiece by Vera Siemund, 2010, of steel, enameled steel, and silver (Jewelers' Werk Galerie, Washington, DC)
Ring mit Halbkugeln by Bernard Schobinger, 2005, of gold, rose quarz, pearl, diamond-split in bronze, malachite enamel from Gallery S O, London (photo: Bernhard Schobinger)
Ring by Peter Schmid/Atelier Zobel, 2010, of sterling, granite, black diamonds (Aaron Faber Gallery, New York)
Necklace by Efharis Alepedis, 2010, of red patent leather, silk cocoons, epoxy resin and silver (Charon Kransen Arts, New York)
Pendant by Lisa Walker, 2009, of plastics, ceramics, pure gold, glue, silver, lacquer, glass, aluminum, copper leaf, fresh water pearls, thread (Jewelers' Werk Galerie, Washington DC)
Grey Brooch by Helen Britton, 2009, of silver, paint, plastics, shells and glass (Sienna Gallery, Lenox MA)
Cloud Brooch, Drip Brooch, Splash Brooch, 2009, by Sergey Jivetin of eggs, carbon-fiber, steel, resin (Ornamentum, Hudson NY)