We're all familiar with Tiffany & Co. but Marcus & Co.? Not so much. Unless you collect antique jewelry – in which case, you should have this one in your sights.
Recent evidence: this Marcus & Co. brooch sold for $66,000 at Skinner in 2013. A year later, it sold again for $87,500 at Christie's, Rockefeller Center – not far from where Marcus & Co. once had its own shop and competed with Tiffany & Co. to bejewel the city's wealthiest women.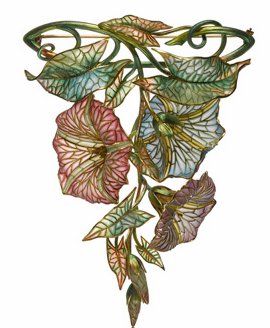 Marcus & Co. was founded by Herman Marcus who immigrated from Germany in 1850 to design for Tiffany and then struck out on his own, applying his own spin to styles popular at the time, including revival styles.
By the time Marcus died in 1899, leaving his shop to his sons, the house had moved on to Art Nouveau, applying the brand's signature palette and skilled enameling to pieces like this plique-à-jour brooch (right) known as the Rehan Jewel (1895-1905). Have morning glories ever looked better?
You have to see this brooch to believe it. I was able to do that at "Gilded New York," the inaugural exhibition of the plush gallery funded by Tiffany & Co., when it opened at the Museum of the City of New York. I marveled at the craftsmanship but also the fact that this brooch survived a century with all its tiny transparent panels of suspended glass intact.
UPDATE: These Art Nouveau beauties (above) are on the block at Skinner in March 2017. The opal pendant with that characteristic Art Nouveau whiplash design in 18k gold was estimated at $20,000-30,000. The ring with old European-cut diamond accents, delicate plique-à-jour enameling intact and perfectly matched with those icy aquamarines, sold for $10,455.
Here's another Marcus & Co. plique-à-jour treasure on display in that MCNY exhibit, a necklace of cabochon demantoid garnets, natural pearls and enamel, on loan from Siegelson, New York, as was that amazing morning glories brooch.
"I think Marcus & Co. has been overlooked but now more people in the know are paying attention to what they did," says Jeannine Falino, who curated the jewelry in Gilded New York. "Herman Marcus did work for Tiffany for a time, so his skills were acknowledged in that respect, but the company always had a strong affinity for color matching and composition. You see more and more Marcus jewelry at the auctions and it's always quite unusual."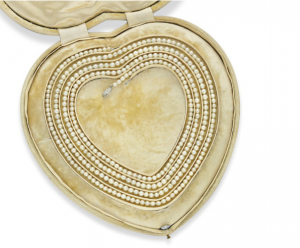 Gilded New York had many jewels worth ogling. If you missed them in NYC, you can ogle them in the book Gilded New York: Design, Fashion, and Society), most of which are from Tiffany &  Co., particularly G. Paulding Farnham era, but a few from Tiffany's now-vanished local competition – Theodore B. Starr, Dreicer & Co., and Marcus & Co. among them.
Right now, I'd say Marcus is the one to watch. Along with that alexandrite brooch, this necklace of natural pearls – 352 of 'em – in its original silk-lined, heart-shaped box was estimated at $30,000-50,000 at Christie's in April 2014.
Note that estimates on Marcus & Co. pieces are on the rise. This may have something to do with the fact that several pieces by the company sold for well above estimates recently – and by "above," I mean as much as 10x more. This heart-shaped jewel, c. 1900, went for $179,000 on an estimate of $15,000 to $20,000 at Sotheby's New York in February.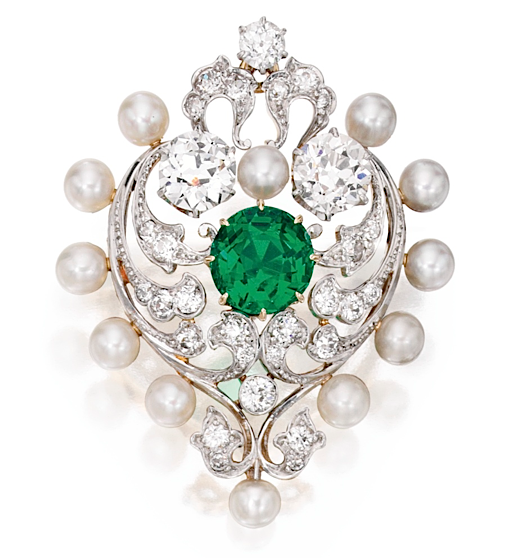 Less that a year before, Sotheby's New York had enjoyed a pleasant surprise with another emerald beauty from Marcus & Co. This Deco necklace, c. 1925, with a 10.40ct emerald framed by diamonds and emeralds, went for $106,250 on an estimate of $30,000 to $40,000. (Yet Sotheby's put their estimate even lower on the brooch.)
In the same sale, another Deco design by Marcus & Co., this 1930 double-clip of diamonds and carved ruby, sapphire and emerald sold for $78,125 on an estimate of $30,000 to $50,000.
And then, in December 2013, Sotheby's sold a Marcus & Co. opal and enamel sautoir, c. 1900, for $56,250 on an estimate of $30,000 to $50,000. Here's the front and back view: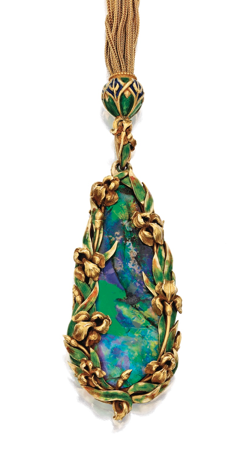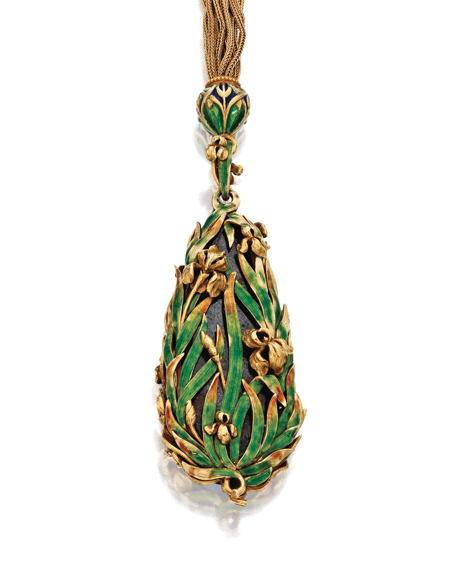 Granted, these are exceptional pieces with fine gems and, often, extraordinary enamel and gold work. But the center stone on the brooch up for grabs at Christie's this month is alexandrite, not emerald, and look at the estimate. That one is more about the enameling and old European craftsmanship – treasures Herman Marcus brought over from Germany 164 years ago – and, just maybe, the name itself.
Could this brand, once coveted by New York society, be coveted again? Let's just say, this might be a good time to pull out the loupe, check those jewels from Grandma, and see if you spot "Marcus & Co." stamped somewhere. If you find it, get thee to an auction house. At the very least, have that thing reappraised and adjust the insurance before you wear it again.
Photos courtesy Christie's Images, Sotheby's Images, and Siegelson New York
Related products