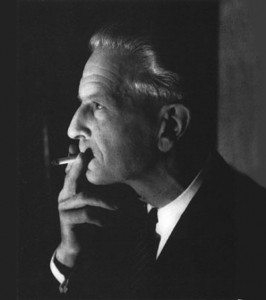 Sometimes it seems like big glitzy diamonds are all you hear about at Christie's and Sotheby's important jewelry sales. I love the rainbow sparkles of a colored diamond as much as the next gal, but I have to say it's a pleasure best experienced firsthand. Other than that, it's mostly about the piles of money being exchanged.
Which is partly why I get giddy when I see the exuberant color, unusual carved gems, and fascinating history behind pieces like the Sterlé jewels that have been popping up at auction lately.
In November, Christie's Geneva sold this Sterlé parrot brooch for twice its low estimate of $11,000. Its original sketch makes it even more impressive – no small feat translating paint into gems and gold, and look how beautifully it was done.
Parrot brooch by Sterlé, 1960, of gold and lapis lazuli, set with diamonds and perched on a coral branch, sold for $22,423 at Christie's Geneva, November 2012.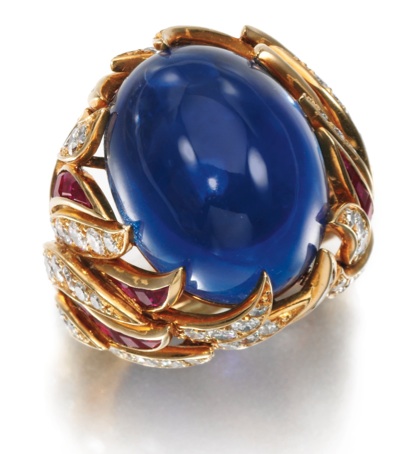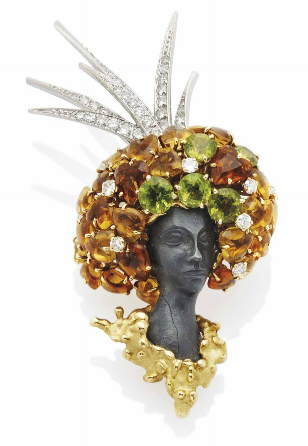 Born into a banking family in 1905, Pierre Sterlé began working as a jeweler in 1934. Colette (who wrote the novels Gigi and Cheri) was one of his first clients. In 1945, Sterlé set up shop on the avenue de L'Opera near the place Vendôme and became known as a couture jeweler for socialites.
He was also famous for his technical mastery and innovative approach to textured metals. Among other things, he invented the process of "chain knit."
By the late 1950s, he was incorporating lots of colored stones, which worked well with the splashy fashions of that era.
Produced the same year as the parrot, this figural piece (right) comes up for sale at Christie's Paris in December. Made with peridot, citrine, diamonds and carved hematite, this clip is expected to fetch between $6,000 and $9,000.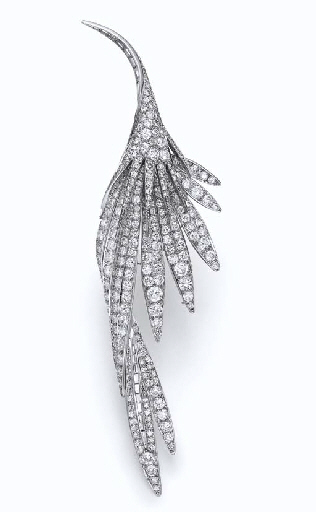 But it may exceed that. Another Sterlé piece, the cabochon sapphire ring (above), sold – like the parrot – for twice its estimate at Sotheby's Geneva last month. Mounted in gold set with rubies and diamonds – and listed as "property of a gentleman" – the ring is slightly more abstract in its ode to nature, but only as far as a ring demands. It's pretty clear that deep blue sapphire is being consumed by flames.
In 1950, he produced this much more abstract bird (left) in platinum and 18k white gold set with old-cut diamonds. It sold at Christie's New York in 2006 for $108,000.
Using old European baguette- and circular-cut diamonds, Sterlé seemed more interested then in creating the illusion of flight than the actual bird. His manipulation of precious metals in this piece is truly impressive.
The year he designed this diamond brooch, Sterlé was discovered by royalty. King Farouk of Egypt commissioned a crown for his wife, Queen Narriman, and soon after, the Begum Aga Khan and other European royals began buying his jewels.
Whether he was encouraged by their exotic tastes, began traveling to sunnier climes, or simply gave in to his inner flame, Sterlé's jewelry seems to have become much more flamboyant by the end of that decade.
Related posts:
Van Cleef & Arpels: celebrity style
Related products: