Craft show season is now in full swing and – no surprise – most of the jewelry we're seeing this summer is made from silver. Even the gold accents are diminishing as gold hits record highs.
What do you do when silver (or even recycled aluminum) is all you or your customers can afford? You get creative, of course! Here's a sample of the silver jewels on offer at the Cherry Creek Arts Festival in Denver for the 3-day 4th of July weekend. (Check out the full schedule of my favorite craft shows in the U.S.)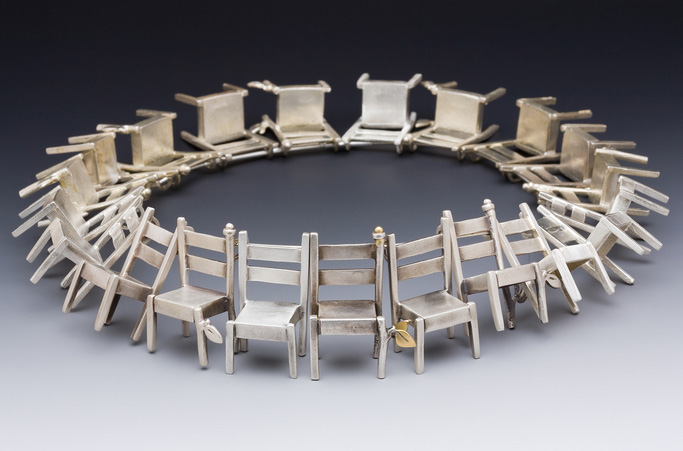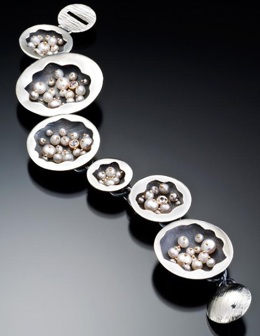 Top to bottom:
All Fall Down necklace of sterling silver by Roné Prinz (roneprinz.com)
Stacked Saucer pendant of sterling silver and 18kt gold by Melle Finelli (mellefinellijewelry.com)
Square Swirl necklace and earrings of layered aluminum squares set into resin (with just a touch of silver) by Melissa Stiles (stubbornworks.com)
Necklace of sterling and copper by Steff Korsage (steffkjewelry.com)
Avocado necklace of sterling silver by Hilary Hachey (hilaryhachey.com)
Enigma bracelet of oxidized and polished sterling, 14k, 18k, white sapphire and pearls by Carol Fugmann.
Related posts:
Best craft shows in the U.S. (2011 calendar with links)
Hilary Hachey: random patterns in sterling
Enamel jewelry: palette of glass
Click on "jewelry maker" above and you'll find plenty more!