Stare at beautiful gems for hours on end and you will feel drunk by the end of the day – dizzy, supersaturated, giddy with visual stimuli. It's not just me. I've heard this phenomenon described by many who attend the major gem shows, like the ones held every winter in Tucson.
Looking at great photographs of gems and jewels is a close second, especially if you can learn about them at the same time. If you're like me, you don't just collect jewelry, you collect books on jewelry. If you're going to add another to the pile, it has to contain a really compelling read or amazing images with enough backstory to satisfy your curiosity.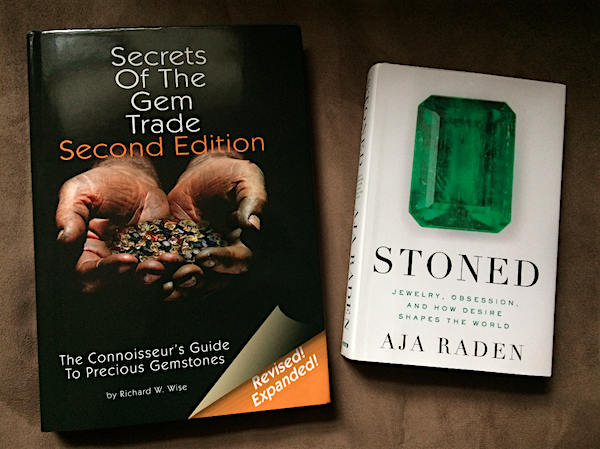 Well, get ready to add a few titles to your wish list. The publishing gods have favored us this year! I have checked out a pile of new editions firsthand. Let's look first on the best new books that focus primarily on the raw material of jewelry, particularly gems, starting with the big seller in that category right now.
GEM: The Definitive Visual Guide (DK, October 2016)
That's a confident title but it delivers – and not just on "gem" as in gemstone, but gem as in jewel. As you expect from the title, the bulk of this book is devoted to gemstones – more than 300 pages devoted to everything from pyrite to tourmaline, rough to fantasy cut – in no particular order (which makes it that much more fun to turn the pages).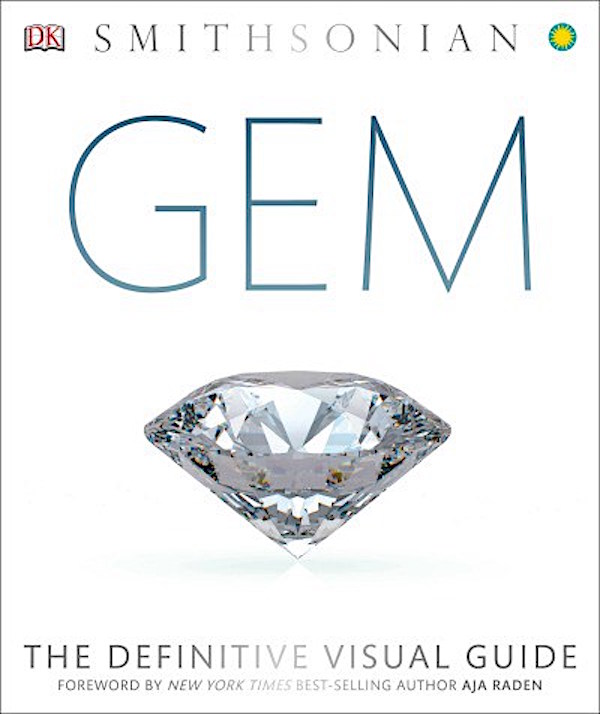 As you can see from the cover (but not the official title), it's a product of the Smithsonian, specifically the National Museum of Natural History with its famous collection. So you can trust you'll find not only first-rate gems, minerals and jewels, but also background from renown experts in the field.
This is not only an excellent reference but a delight for the eyes – page after page (440 in all) of beautiful images, weighing in at five pounds. (That's nothing compared to Celebrating Jewellery which weighs nearly eight – but don't give this to grandma, unless she's in good shape.) If you've taken a turn around the museum's gem collection – or, like me, many turns (it never gets old) – you'll recognize some of the jewels.
Gem reaches well beyond the Smithsonian's collection, however. I was delighted to find a mini-history on one of the crowns I was admiring in Vienna two months ago. I learned more about the Charlemagne crown in this book than in the Hapsburg Treasury where it's displayed. A section covering diamonds has a giant image of the Hope diamond with its fascinating history and Marie Antoinette's diamond earrings, both at the Smithsonian, but also the Koh-i-Noor of the British crown jewels, recent auction blockbusters like the fancy vivid Orange, and pages of unique diamond jewels, old and new.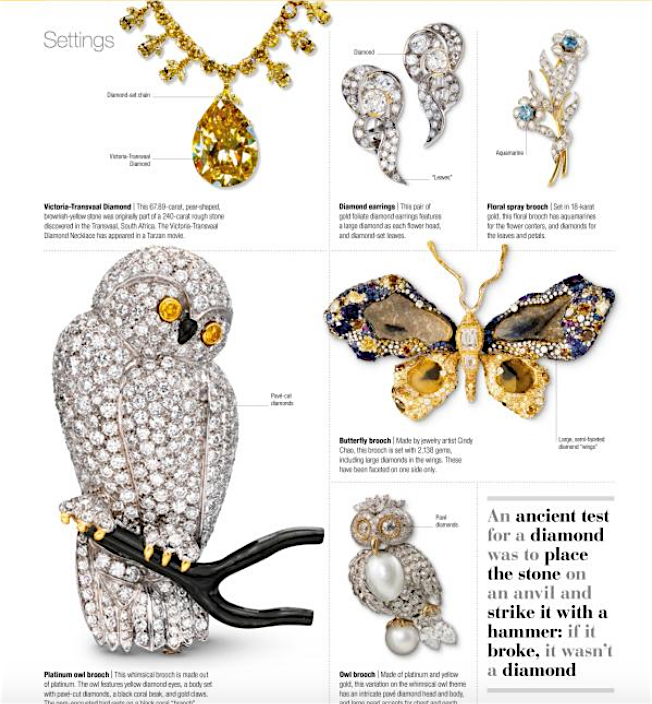 What feels familiar to those acquainted with the NMNH is the holistic context of it all. At the museum, you move from minerals to royal jewels to the dramatically-lit Hope diamond, rotating on its carousel. Moving through these connected galleries allows you to appreciate the finished jewels, not just as sparkly things but as a miracle of natural science and craftsmanship, and a reflection of their times.
You can get your own copy on Amazon at a reasonable price:
Secrets of the Gem Trade (by Richard W. Wise, Brunswick House, 2nd edition, December 2016)
I've had the first edition on my shelf since it came out in 2003. You can measure how much I refer to any book by the sticky notes curling from its pages, and this one has quite a few. But when it comes to gems and their sources – which is this book's primary focus – a lot can change in a year, let alone thirteen.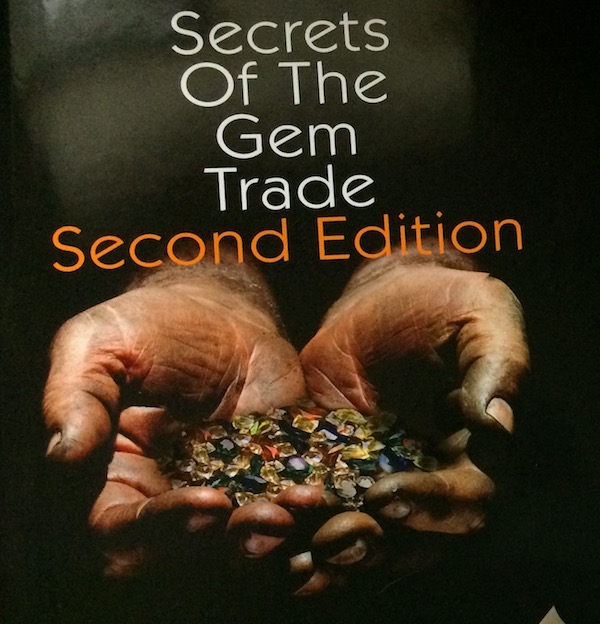 So when I heard Wise had updated his book, I jumped. On first glance, the new version looks pretty similar to the original, but there are 100 more pages – 161 additional photos, essays by noted experts such as Benjamin Zucker, and new chapters on pearls, jade, spinel, and demantoid garnet. Richard rewrote quite a bit of the rest.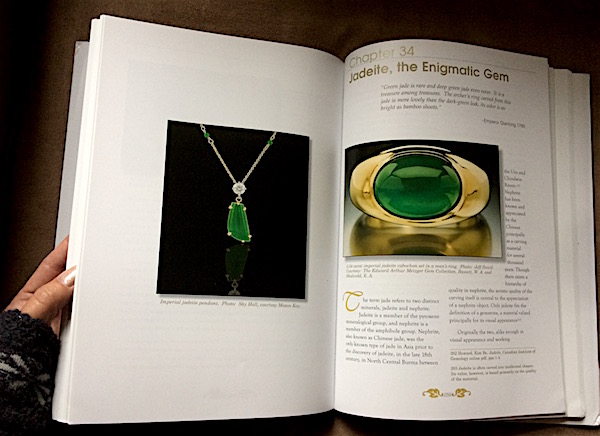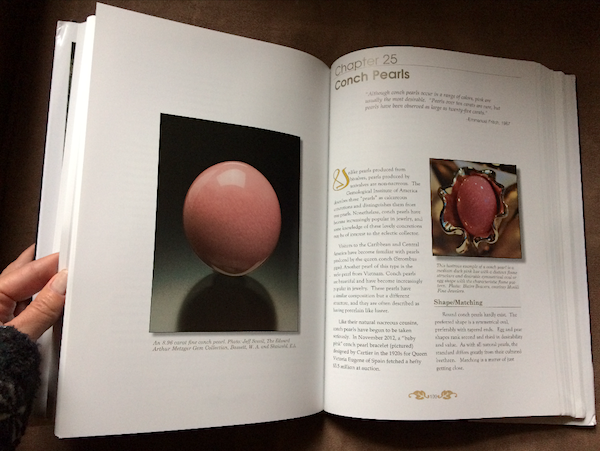 A graduate gemologist and former goldsmith, Wise had spent 15 years traveling the world, visiting gem mines and writing about what he found, when he wrote the first book. I was covering that scene myself at the time and everyone in the rockhound world knew Richard. With Secrets of the Gem Trade, he took us into the mines – literally, with photos – and then followed the gems discovered there into the lapidary studio and then to finished product. It was the first, and possibly the most, comprehensive look at the exciting stuff going on with gems in that period.
Secrets of the Gem Trade is clearly aimed at readers with a serious interest in gems. It incorporates lots of useful information about treatments, inclusions, and faceting – including fantasy and optical cuts. He gives the amazing Margaret De Patta some well-deserved credit in this version. His sections on gem "connoisseurship" were groundbreaking in 2003, and this one gives us even more food for thought.
You can tell Richard has slowed down a bit, and I think the book actually benefits from that. He's added a few more firsthand mine visits but the new material is more contemplative overview, with a keen eye for important finds and developments. This is an illustrated text, not a picture book with extended captions. Gem closeups are professionally shot – mainly by Jeff Scovil – with the aim of presenting stones the way they look through a loupe. Along with photos of loose gems and of the mines and miners around the world, are unique cuts by contemporary American lapidaries such as Steve Walters, John Dyer, and Glenn Lehrer.
If you loved the original but need a reference you can trust now, I think, at $61, this warrants a replacement. If you don't have it and want to learn more about gems in all their facets (and rough) this is a must-have.
You can get yours here:
Stoned: Jewelry, Obsession, and How Desire Shapes the World (by Aja Raden, Ecco, December 2015)
This is not a picture book or even a buyer's guide, just a great read. It does have a couple dozen images on glossy pages tucked in the middle, merely to illustrate the text. Stoned uses gems and jewels as a window into human nature, building a fascinating, quirky cultural history around the pursuit of them. (This book was such a surprise hit this past year that Raden ended up writing the introduction for Smithsonian's new Gem.) It's full of fun facts and arcane discoveries and must have been a blast to write.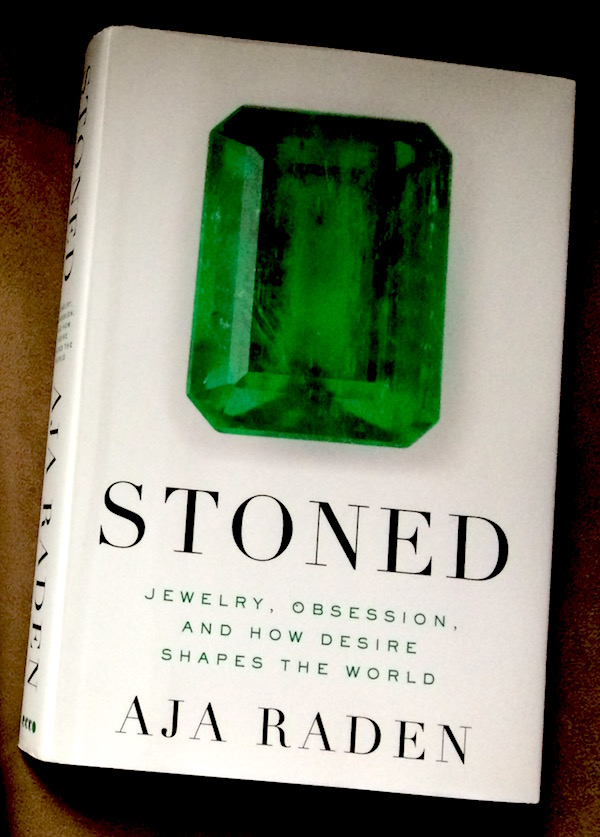 Aja Raden brings a wealth of firsthand experience to the topic(s). She studied ancient history in college, worked in jewelry auctions for Chicago's House of Kahn, then as a designer for Tacori. She wrote this little cultural history as a series of vignettes, taking us from ancient civilization through various monarchies and old Manhattan. But she does it in the context of jewels-as-currency.
In an early chapter on the "economics of desire," she writes: "Imaginary value is a tricky thing; it has a very real way of becoming very real. Anyone familiar with tulipomania of the 1630s knows that a little hype goes a long way, and can easily turn a pretty bauble into an economic bubble."
She then takes us on an often-cynical journey through the pursuit of gems through history – the building of the De Beers empire ("Everything You Never Wanted to Know About Diamonds"), royal betrothals ("Will you Merger Me?"), and royal romps leading to royal beheadings ("The Real Housewives of Versailles"). In the pursuit of diamonds, emeralds and pearls, wars are waged and empires rise and fall – all in the course of your average non-fiction narrative (about 350 pages).
This is such a good read, you could give it to a smart friend who is neither a jewelry collector nor rockhound, and peak their interest. Among the accolades on the back cover is one from Madonna, of all people: "Money, power, sexual politics, and jewelry!! Isn't this what makes the world go round? What more could I ask for in a book?" Now there's a blurb that'll get your book off the dusty back shelves. Because it's now a year old and lacks the drama and expensive production of a coffee table book, this one's a bargain, especially the paperback version.
Here's the hardcover I own:
I received one of these books as a review copy, the rest I bought myself. I get lots of books on jewelry every year and only recommend the ones I can really get behind. I think all three of these are worth the price, not only for gem and jewelry buffs but anyone interested in history, natural beauty, and beautiful natural history.