Those of us who get giddy looking at giant images of gems and jewels are in hog heaven this year. A whole slew of delicious coffee-table-style reads were released just in time for the holiday buying season.
Last week we looked at a few for rock hounds. Here are two more you can mention to those well-meaning loved ones still asking what you want this year. Better yet, just take their gift cards and buy them yourself.
Between them, these two lavish coffee-table books will familiarize you with more than 50 jewelry designers currently making names for themselves – and some toothsome contemporary jewels. You won't find them at Magnificent Jewels sales this year or next, but you may find them there in a decade or two. Or not. The fact that they aren't household names means most of these designers are still accessible to the non-billionaires among us.
I can tell you from firsthand experience, if you love bold, colorful jewels – and the pleasure of seeing them for the first time – either of these books are what you want in your lap when you curl up in front of the fire. If you don't have a fire, a cup of tea will do, but be careful with the red wine. You'll want to keep these pages pristine. You'll catch a buzz just looking at them.
Jeweler: Masters, Mavericks, and Visionaries of Modern Design (
"To hold a ruby or diamond – however small – is to hold the history of the creation of the world in your hand. Never forget that it takes millions of years to engender a jewel." – Carolina Herrera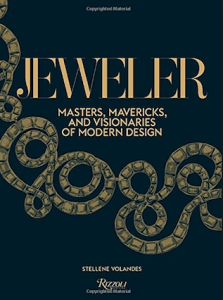 This lovely sentiment, from an introduction penned by the iconic fashion designer, sets the tone for the onslaught of luscious jewels to come – but "small" is not the word that comes to mind. Even the smallest stones in this book appear huge because the jewels themselves have been blown up to giddy proportions.
If this book looks and reads like a giant fashion magazine, it may have something to do with its author. Named editor-in-chief of Town & Country earlier this year, Stellene Volandes has covered "high jewelry" for the moneyed readership of Town & Country and Departures magazines for many years. The 17 designers she focuses on in Jeweler were clearly chosen for creating jewelry that lends itself to the kind of visual impact those magazines are known for.
Volandes visited each designer and reported, magazine-style, on what she found there, from the luxurious offices of Milan-based Giampiero Bodino – who comes from the world of sports car design and describes himself as "ghost designer" – to Judy Geib's tool-strewn studio in Brooklyn.
While some jewels featured are in museum collections, such as those by Hemmerle, these design houses are still producing fresh collections. Hemmerle, for example, unveils theirs twice a year to major brouhaha. (Their jewels are stunning and original.) You won't find a single piece by any of the venerable houses that have been around for decades, let alone a century. You won't find JAR. Here are a couple examples of what you will find.
The first few times you open this book, you won't do more than flip through, gasping quietly. Once your eyes are able to focus on the text, you'll find it delightfully engaging. Don't expect the serious academic style of Celebrating Jewellery, or even a whole lot of detail and background on the artist's technique and backstory.
The two pages of text each designer gets, on average, are largely devoted to the personal experience of the writer's own encounter, but within that she gives a taste of the designer's personality, background, signature style and place in the luxury market. Expect to have your appetite whet and to close the covers of this book with at least one – and possibly several – new obsessions.
My copy was supplied for review. You can order yours here:
Fine Jewelry Couture: Contemporary Heirlooms (
"Featured works position the world of fine jewelry close to that of haute joaillerie. The quality of both artistry and gemstones is of the highest calibre." –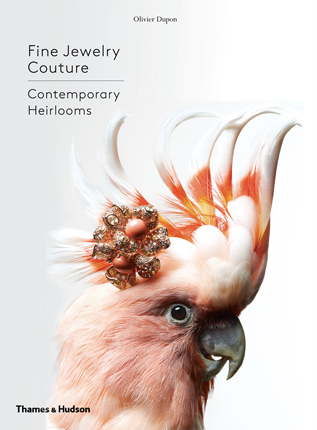 In his opening paragraph, Olivier Dupon, author of Fine Jewelry Couture, informs us he held himself to the admission criteria for jewelry accepted into the famous 1925 Paris Exposition des Arts Decoratifs: "Pieces whose inspiration has come from related, existing works in other fields or from motifs of other countries or past times will be allowed as long as [the piece] significantly reinterprets, reimagines and adapts the original."
In other words, he says, jewels included in his book had to be "innovative, showcasing a fresh creative approach."
This book covers twice the number of designers as Volandes' – 35 in all – and more of the ones you might actually find at your favorite designer boutique, including Temple St. Clair, Wendy Yue and Mish Tworkowski. Dramatic color and juicy gems are in abundance here as well, but I like that Dupon includes artisan designers known primarily for intricate metalwork, not just gem-centric jewelry. He even features an enamelist or two – yesss.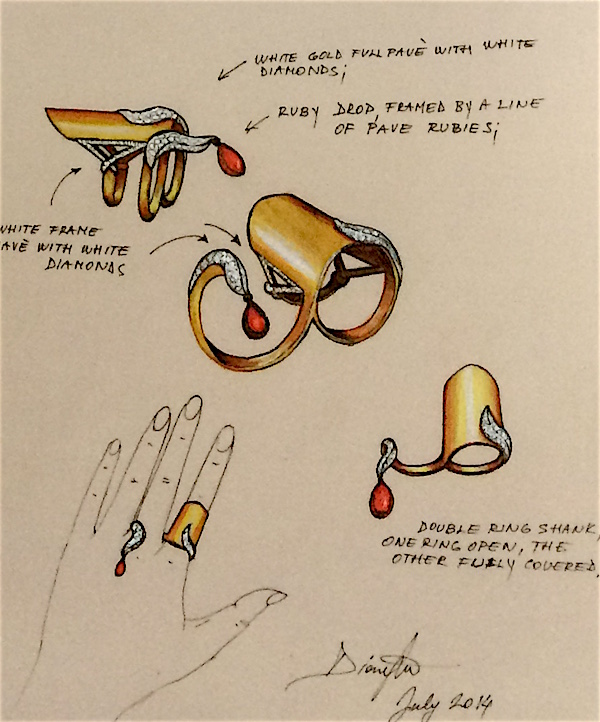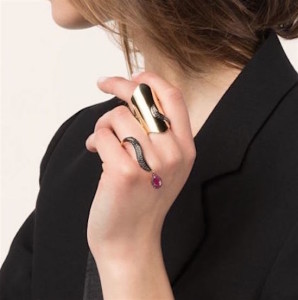 Both books incorporate sketches, something I love to find in books on jewelry design. Fine Jewelry Couture has a lot of sketches. Above is an example of one for a ring from the Marquise collection of Miami-based designer Dionea Orcini – looks a bit Dali-esque, right? – with a model shot of that ring listed on Farfetch.
The first fabulous model shot is by Kent Baker. Second one is not in the book. There are a handful of photos of jewels on the body in Fine Jewelry Couture, but I wish there were more. If I could design the perfect book on contemporary jewels, it would include a model shot in every designer profile. (Designers supplied the photographs in both books, or the bulk of them.) Most of the jewels featured in these books work just fine as isolated product shots, but jewelry is designed to be worn and sometimes you can't really get the point without seeing that.
Interestingly, only one designer appears in both books: Nicholas Varney. The way Varney is featured tells you something about the difference between these two books. The group of rings pictured below, for example, appears in both books, but in Jeweler it's blown up ten inches wide; in Fine Jewelry Couture it measures two. Jeweler is all about visual drama.
Varney gets 12 pages of Jeweler, 8 in FJC, and about a dozen images in each. In Jeweler, he tells us, "My constant battle with every piece is how to create something with enough of the organic to balance the geometric." (These rings definitely weigh in on the geometric side.) In FJC, he defines his passion as "finding organic pieces of the earth and combining them with gemstones in a way that has not been done before."
He describes his aesthetic in FJC as "a mix of American opulence with European-style craftsmanship: the bravado of oversized pieces in big, bold, bright colors with an old-school way of manufacturing." If that's the ticket, than – judging from the designers selected for inclusion in these two books – he's got a lot of competition.
The jewelry pictured in Jeweler works quite well as enlarged product photos – it seems curated for that. Like Volandes, Dupon favors bold color and impressive craftsmanship in the designers he features. But Dupon also includes Leyla Abdollahi and Cristina Ortiz whose work is more sinuous and linear, less gemmy, designed to wrap around and cling to the female form.
Let's be real: Most of us don't wear the big, colorful, flashy stuff on a daily basis. It's worth noting designers who are doing interesting things that don't rely on color and flash. But it's sure fun to look at – and the backstory behind all these designers is well worth reading.
My copy of Fine Jewelry Couture was supplied for review. You can order yours here: