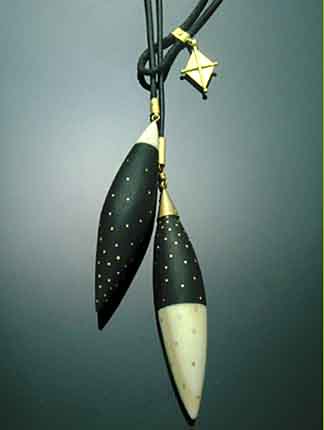 Susan Chin's jewelry is both primitive and futuristic. Her trademark pieces – my personal favorites – are built around bold chunks of ebony and bone that sometimes sprout crazy spikes and knobs.
"People are drawn to color," she says. "So I do use some color." Boulder opal, for example, or Chinese turquoise or quirky accents like sunstone, apricot moonstone, fancy sapphires, and the occasional taxidermy eyeball.
But bone and ebony play the leading roles. Susan carves them herself, using a band saw, belt sander and files.
"My carvings are not very complex," she says. "I want them to be abstract in feel, sort of a primitive abstraction. I was definitely not going for a literal, representational feel."
"To some extent, jewelry is body enhancement," she says. "So if it doesn't glitter or sparkle or flash color, it's not doing its job necessarily."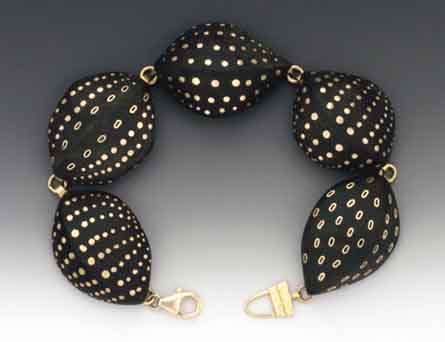 "But bone and ebony don't glitter and sparkle," she continues. "They just feel really good. You can get so much more form and scale out of them. And you start with such a huge chunk, it seems a crime to whittle it down to gemstone size."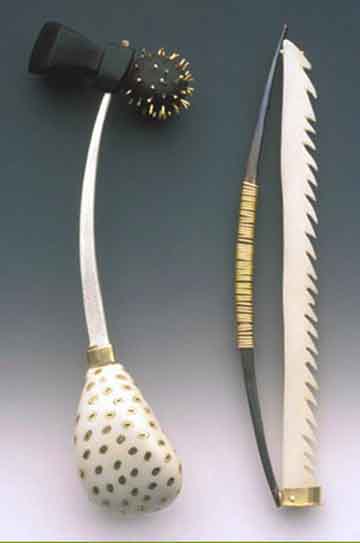 Her jewelry is roughly textured and multi-layered, often combining sterling with 18kt or 22kt gold, but she manages to get quite a lot of bulk with a minimal amount of metal.
Ebony and bone aren't the only materials she riddles with gold circles, spikes and bumps. She does this with pearls as well. "Pearls are so luscious and wonderful and very wearable. They have that glitter people want to wear and they're very flattering," Chin says. "I'm always trying to get more bulk out of jewelry without using a lot of metal."
Maybe so, but she couldn't resist drilling them all over and "putting in those dots. I just went to town on them." You can find more of Susan Chin's jewelry here.