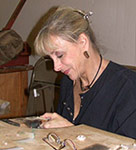 Susan Sanders is one of those rare people who always knew what she wanted to be when she grew up. "When I was six, I could have told you I wanted to make things and sell them for a living," she tells me while carving a piece of wax in her studio. Sanders works in the Torpedo Factory, a warehouse of artists' studios on the Potomac in Old Town Alexandria.
She has a degree in industrial design but she's been making jewelry in her studio there since 1974. Back then,  you could find her carving wax or casting silver and, later, setting gems in 18-karat gold. She also dabbled in titanium and enameling.
She still has her nose to the grindstone – or, more accurately these days, her hand. She cuts her own stones. "It's funny, the grinding wheels don't feel like anything when you lean your fingers against them," she says. "I'm a lot better now. I don't go through nearly as many Band-Aids as I used to."
After two decades of production metalwork, she set out for Colorado where gem carver Lew Wackler took her on as an apprentice, teaching her faceting, carving and cabbing. She was planning to get into creative cutting, but after taking her new skills back to the studio, found herself making intarsia instead.
It was an extension of what she's always been attracted to: geometry and detail. "I don't make little, delicate things," Sanders says. "I tend to make bold things. I like clean lines and strong forms."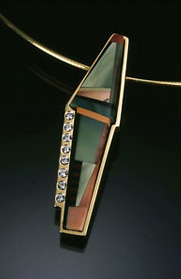 Because she's located just outside Washington D.C., most of her customers are professional women who wear suits to the office five days a week. As a result, many of her brooches are designed to be worn – and stand out – on a lapel.
"My pins are always designed with lapels in mind. A lot of them can be worn more than one way – on a gold chain as a necklace when you're wearing a dress, or on a black rubber cord with a sweatshirt – but there's always a way to put them on a lapel," she says. "That's my industrial design background showing. I design my jewelry to be functional."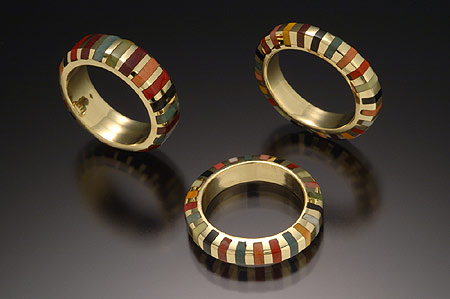 Her pin/pendants can measure four inches long but are often made from tiny pieces. Some of the gem bits in her intarsia are almost microscopic. She's been known to fit 200 pieces into one square-inch bead.
She also makes some really cool fiber art jewelry. You can watch her work any day of the week. If you find yourself in Washington, take the Red line Metro to King Street Station and head for the big building on the river. You'll find Sanders in Studio 206. "Working in front of the public takes some getting used to," she says, "but it's a great place to do it."
"There's a community of artists here you really can't replace. It's nice for the social aspect and the input from other artists, but I get more work done after 5:00 when the building closes and I can just grind away to my heart's content."
"I stop working when I'm bleeding from three places," she adds with a grin. "Really, I'm getting a lot better now."