Among the best-known art jewelers in this country, Carolyn Morris Bach found her calling early and enjoyed immediate and sustained success. You'll find her work in the finest jewelry galleries from Concepts in Carmel, CA, to Quadrum in Boston, and in the permanent collections of museums including the Museum of Fine Arts in Boston and the Museum of Arts and Design in NYC. Gallery owners say they can barely keep up with the demand for her latest work, which is all crafted by her own hands.
Though many of her pieces are large (up to five inches long) and far from subtle, women respond passionately – often powerful women. Former Secretary of State Madeleine Albright had a Carolyn Morris Bach in the collection she famously documented in Read My Pins: Stories from a Diplomat's Jewel Box
.
Here's mine, a pendant from the early days of her Woodland series.
Now, there's something you don't see every day: high-karat gold set with hazelnut shell. I don't know any other goldsmith who would do that – and the fact that Carolyn did speaks volumes. She picked up that nutshell on her own property – 70 wooded acres of Rhode Island wilderness where she works in a bright, glass-walled studio near a two-centuries-old farmhouse.
As a woods walker myself, and a lover of ancient talismans, I immediately responded to Carolyn's jewelry. For a long time, that pendant hung on my wall like a fetish.
Her jewelry became a talisman for women struggling to make it in a corporate world. They wrote to Carolyn through her galleries, expressing the power they felt wearing her jewelry. "It's really weird, because I think objects are inanimate," she told me. "I don't put any power into these things. I'm not a powerful person. It's like with Indian healing bundles: the power comes from the people who wear them."
Bird Goddess pin/pendant of 18k & 22k gold, sterling, preninite, and fossilized ivory and Woodland Goddess pin/pendant of 18k & 22k gold, sterling, ammonite fossil, bone, and fossilized ivory by Caroline Morris Bach (carolinemorrisbach.com)
After graduating from RISD, Carolyn lived for a while in Newport. As her environment became less inhabited and more wild, so did her jewelry. Long before found object jewelry hit the mainstream, she began adding shells, river rocks and tidbits picked up on her strolls. She was already incorporating "non-precious" stones – and still (as you can see) uses lots of fossilized material, moonstones, rutilated quartz and whatever else appeals to her. Adding rocks, nuts, shells, and cow bone was simply taking it to the next level. By then, she had a reputation for creating modern-day talismans.
Those carved faces in her jewelry were originally inspired by Inuit Eskimo art. When Carolyn was developing this signature style, her primary source of inspiration was primitive art. She has studied African, Native American, Ancient Egyptian and Inuit art for years. When I visited, her studio was piled with books on indigenous art and sculpture from around the world.
Not that any of her jewelry was a literal translation. "I don't study any one thing when I want to do a new body of work," she says. "I've studied this stuff for so long, it's part of my vocabulary."
Like most jewelry artists, Carolyn is using more sterling these days. But you'll still find plenty of high-karat gold in her work and lots of the same materials and motifs, including her iconic ebony birds and carved bone faces. As you can see, her faces are not the benign, smiling moons you see elsewhere. They evoke something more primitive, something you might use for voodoo.
Not surprisingly for someone who lives deep in the woods, a lot of her jewelry these days involves woodland animals, including birds and foxes.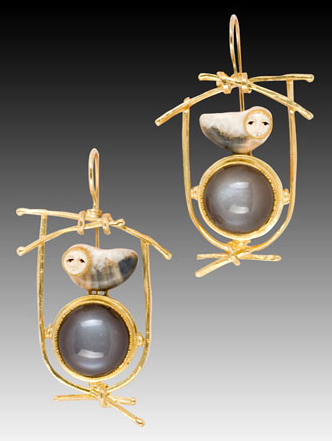 Owl earrings of 18k & 22k gold, moonstone, and fossilized ivory and Fox pin/pendant of 18k & 22k gold, sterling, rutilated quartz and fossilized ivory (carolynmorrisbach.com)
It was at RISD that she developed the technique of rolling and hammering metals until they resemble textured fabric or paper (note the textured silver in the top two pendants), still a trademark of her work.
Her studio was decorated with bird's nests, bones, and shells arranged in little still-lifes. "These are my treasures," she said. "Every time I moved, from the time I was a student, these things came along. I might get rid of other belongings, but my nests, my stones, and my shells are still with me."
"Everybody picks up shells and rocks when they walk on the beach or in the woods. There is a certain magic in a found object," she said. "My environment is so much a part of my work as an artist. We live in the woods. Everywhere you look, things are growing. It would be denying something very basic and natural if my work didn't incorporate these things."
Related posts:
Joyce Scott: narrative beadwork
Albert Paley: bodily ornamentation
Marne Ryan: fused, recycled rings
Related products:
(Purchases made via links on this blog don't you any extra but do put a couple bucks toward keeping this blog going.)