After a manic 24 hours touring jewelry shows in New York City, I feel like I just returned from a journey through time – specifically jewelry history. I started at the Antique Jewelry & Watch Show in Chelsea and ended up at the Javitz Center in the New Designers section. Two extremes, in every way, except…you can definitely see the connecting threads from today's hottest jewelry to the best of yesteryear.
For your sake, I tried on as much as possible everywhere I went. (Sigh. Somebody has to do it.)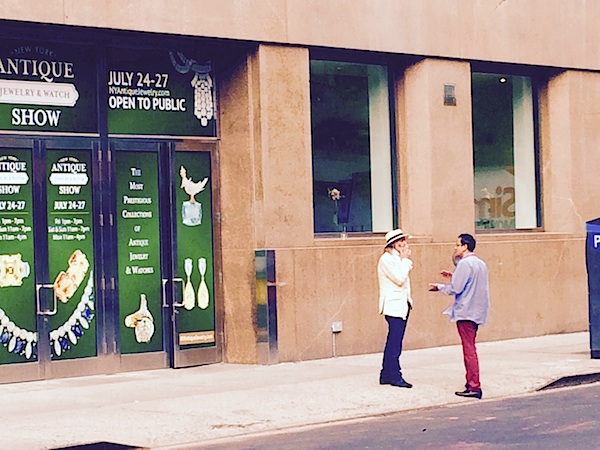 Let's start at the beginning…
…downtown, as I did, getting up close and personal with Victorian England, and work our way forward in jewelry time.
When we lifted these earrings out of their original fitted case, I saw they were articulated, garnets swaying in their 15k gold setting. Official price on this set was $3,500 but it was offered to me for $2,800 by Bell and Bird, an Austin-based dealer specializing in Georgian and Victorian jewelry.
Made about a decade later, this baroque pearl, clutched in a gold and silver claw, was the size of a large marble yet surprisingly lightweight. "It's hollow," explained Doris Gerber of Edigem, based in Lucerne, Switzerland.
"Do you blog about jewelry?" she asked.  I was not wearing a badge so most dealers were mistaking me for a buyer. She recognized my face, it turns out, and remembered in particular a piece I wrote on Suzanne Belperron.
When I posted that profile in 2010, Belperron was still kind of an inside secret, Gerber said, and Edigem always had some of her work in their cases at this show. Then the book
came out at the end of 2011. "She began getting lots of attention after the book and it drove the price of her pieces up at auction," Gerber said. "It's good and bad. It was nice when it was an inside secret."
Talking Belperron brought me right into Jazz Age Paris. Gerber said there was some Belperron at the show but I never spotted it. I did,  however, find something by her rival Juliette Moutard, who took over as head designer at René Boivin after Belperron left: this bracelet which I recognized from the Christie's Geneva sale last fall, now at La Galerie Parisienne.
A bracelet and a set of removable clips. If you could still afford fine jewels in Paris in 1940, you needed them to work overtime. But also, you might not be able to get 100% real gems. See the inclusions in the emeralds? Those are real, as are the diamonds. The sapphires? Synthetic.
"That's how it was made," Emmanuelle Chasaed told me, pulling out the certificate to prove it. (Unfortunately, it was in French, but I took her word for it.) "There was a war going on. The jewelry houses had to work with what they had, even Cartier."
As it happens, I'm in the middle of reading All the Light We Cannot See
, thus immersed in war-torn France, circa 1940-1944. I found myself drawn to Retro jewels at the show. How on Earth did they get these things made at all?
Here is another that caught my eye, this time at the booth of Steven Neckman of Miami.
"It's not Van Cleef," Neckman said, as he took it out of the case, before I even asked. "It's not the Ludo, but in the same style and the same quality." It looked that way – but, yep, unsigned.
He was asking $45,000. What would the price be, I asked, if it were Van Cleef & Arpels? "$75,000," he said without hesitation. So there you have it, the value of a VC&A hallmark: 65% markup.
Turning the corner, I found myself thrown into the swinging sixties when I spotted someone trying on this Bulgari Serpenti watch at GIOIA's booth.
There were only about 100 Serpenti bracelet-watches made, supposedly, but this was the fourth I'd seen at this show, and the second being tried on. "There is a huge demand for these right now," Rafaela Amini told me at GIOIA. "They're going for crazy prices at auction."
Elizabeth Taylor had an early, sleeker version of the Serpenti made of gold with a spiky diamond head. She wore it on the set of Cleopatra in 1962, setting off a craze. The ones I spotted Sunday were the more colorful versions that followed, with enameled scales, in the mid-sixties. GIOIA had two of these, one multi-colored and this lovely one displayed with Marion Fasel's Bulgari book
opened to a two-page spread featuring a similar one.
Is it the craze for sixties and now seventies fashion that's driving up demand? "Well, that's helping but the spike really started with the Elizabeth Taylor estate sale at Christie's in 2012," Rafaella says. "She had one and that brought attention to these again."
Then I spotted another familiar piece that shot me three decades ahead to the early 1990s. That's right, jewelry made in 1993 can be found at one of the premiere shows for antique jewelry – if it happens to be by Joel Arthur Rosenthal. (This show should probably be subtitled: "Where to Find All Those Jewels You Didn't Get at Auction for Somewhat More than You Would Have Paid if You Had." But how unwieldy.)
The piece in question was sold just two months ago at Christie's Geneva, for a $200,000 premium. Recognize this? I dug into my own social media to find it.
I was asked by the dealer not to post its whereabouts, given the value, but I can tell you it's with a U.S.-based dealer who specializes in jewels by Joel Arthur Rosenthal. If you want more information, contact me.
So, there you have it: a century of jewels, many of which ended up in my own hot little hands. You can see why I was giddy when I exited on to the steamy streets of Chelsea.
Still to come: best of the contemporary jewelry I found last weekend, coming to stores near you.
Related products