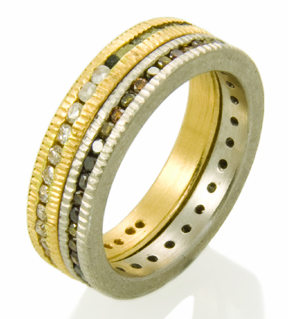 Todd Reed has made wedding rings for almost two decades. It was a logical progression for a goldsmith who specializes in diamonds, albeit raw ones. Reed now sells between 10 and 20 wedding rings or sets a month.
Reed credits the increase to the booming demand for sustainable jewelry – he uses only traceable raw diamonds and gold – and the trend among young couples to opt for less conventional rings for both bride groom. Increasingly, that includes couples made of two brides or two grooms.
Reed began promoting his commitment to sustainable materials and social responsibility in the nineties, which put him in a strong position when the public discovered "blood diamonds" and began questioning the source of jewelry materials. Legalization of gay marriage also expanded his already strong gay market.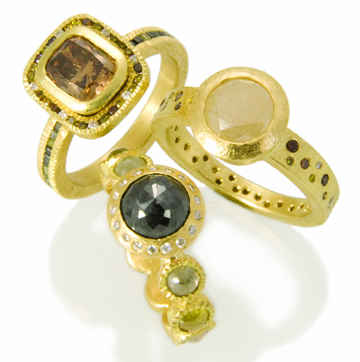 "For the last 19 years, my customers have been 55- to 75-year-old women and gay men," Reed says, "but in the last five years, the bridal market really opened up." Lesbian couples have begun buying his bands, as well as "people in their 20s and 30s who are interested in breaking with tradition and getting something unique." That crowd is particularly motivated by sustainability. "It's amazing how many people search for sustainable jewelry now."
Reed enjoys working directly with couples to customize their rings. He now travels the country, doing this at stores that carry his jewelry as well as his own studio in Boulder.
He puts customers at ease by focusing the discussion on design, not price. After they've decided on a basic style, he asks how much they can spend and shows them which stones, metals and widths are available in their price range. "That person getting the $2,000 ring feels just as special as the one getting the $100,000 ring because the whole process is the same," Reed says.

Typically, Reed will sketch while they talk. "They'll say, 'Oh, I don't like that' or 'I love that.' I'll bang out a shank and put stones on and then it'll be 'Ah, i thought I liked that but I really like that.' Relationship is a process and building this is a privilege. The reason they come to me is to have that experience."
"It's not random," he adds. "I know how to drive them and move things along. If the process starts getting annoying and futile, I'm the first to tell them it's not going to work out. I do have those experiences too, but most of the time it goes well."