If you talk to studio jewelers about their jewelry, you wind up discussing technique. And it's impossible to talk about technique without getting into the tools behind it. Tools of the jeweler's trade have changed remarkably little in 2,000 years. Even the most modern jewelry shops rely on simple hammers and pliers.
I noticed a number of pieces that placed in recent juried contests, such as Niche and Saul Bell, could have been made without electricity – and a few were! – despite the fact that they look decidedly contemporary. So I approached studio jewelers who've been winning accolades recently – both newcomers and established names – and asked them…
What are your favorite tools?

The answers they gave me paint a picture of what an ancient art studio jewelers practice, and how successful ones embrace that while introducing modern technology…very carefully.
Sydney Lynch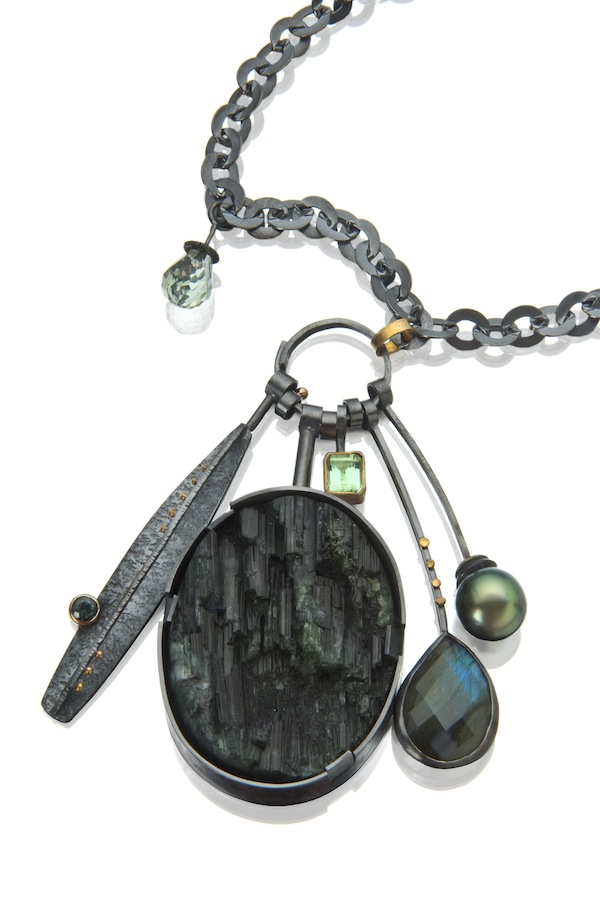 Given the organic textures in her work, it's not surprising to find Sydney Lynch is a master of the handheld tool. But knowing how prolific she is, I was surprised to find how low-tech her studio is. When you get handmade jewelry from Sydney, you're getting the real deal. A few of her favorite tools:
Forming pliers. The pliers Sydney uses are German-made and more than 25 years old, with a pointy side and a flat side. She uses it to shape wire and sheets. "I've seen tiny versions of this style plier but they're too small-scale for the kind of work I do."
Burnisher. Even older than her pliers, her burnisher is unusually long, perfect for setting big or oblong stones. "I can push a large area of the bezel into the stone with big rocking motion. It's one of those tools I'm so used to using, it's almost an extension of my hand now."
Ball pein hammer. A signature texture found on much of Lynch's jewelry is a pitted surface created by hammering a sheet of metal into a cinder block with a ball pein hammer she bought at a junk shop in Montana about 35 years ago.
"It's a gorgeous texture on high-karat gold. Even for my most expensive jewelry, that's what we do: Slam it against a cement block with a beat-up old hammer." She smiles. "Trade secret," she says.
Arc welder. Lynch's one nod to "technological advance" is a small Orion arc welder
she bought a couple years ago. "It's not exotic," she admits. "You can't do as much with it as with a laser welder, but it's great for closing jump rings or balling up wire or constructing things. I should probably have a laser welder but it's expensive and I'm old school."
For more jewelry by Sydney Lynch, visit her website or Aaron Faber Gallery.

Rebecca Myers



Laser welder. Rebecca Myers sells her jewelry from Clipper Mill, a former foundry in Baltimore that's been transformed into a popular shopping destination with artists' studios, shops and eateries. Rebecca needs to produce volume to meet the demand and a laser welder
helps. "It's totally changed the way we work," she says. "We're making more hinged work, more intricate work. The welder makes pieces super-slick and that makes a huge difference here. We still have to solder everything but if something doesn't sell, the laser allows us to take the stone off in its bezel and weld it onto something more interesting."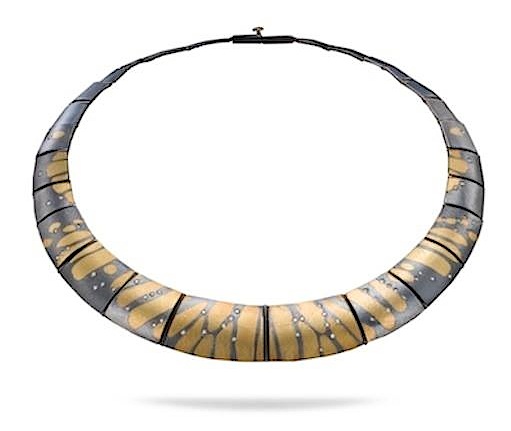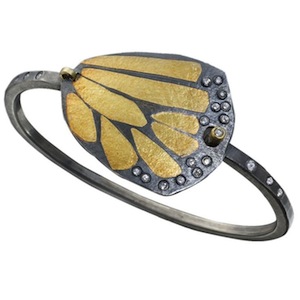 Hammers. Despite this nod to technology, Rebecca Myers' shop remains dependent on hand tools, especially hammers. "We do some real labor-intensive pieces in this shop, like the Monarch necklace," she says. "We do all the hammered inlay by hand and flush-set all the stones."
Illustrator.  Adobe Illustrator
also helps in laying out complicated pieces like the Monarch. "Before, we just printed designs out using stock images found online," she says. "But using Illustrator to lay it out, in a way that looks sexy – that really helps. That kind of computer technology has made a difference in the refinement of the work."
For more jewelry by Rebecca Myers, visit her website.
Joanna Gollberg
Rolling mill. Joanna Gollberg has written several books on jewelry making, so it's no surprise that she can't talk about her jewelry without evoking the tools she uses to make it. Her favorite, by far, is the rolling mill
.
"The rolling mill has defined my body of work," she says. Her rolled disks often start as jump rings fed into the rolling mill, which tends to elongate forms like dough beneath a rolling pin, then end up as flower petals in rings that rattle, slotted like coins into geometric bezels, or soldered together to form architectural pieces.
Torch. Joanna favors tools for soldering, sawing, and hammering. "I just love forming metals," she says. She particularly loves her torch.
For more jewelry by Joanna Gollberg, visit her website.
Elysha Roberts
Her hands. Asked to name her favorite tools, this is the first thing Elysha Roberts mentions. While every jewelry artist relies on their hands, she often finds herself using nothing but – especially when she works with paper, as she did with the necklace that won a Saul Bell Award last  year.
Hammers. "I always go back to simple hammers," she says. "I really like forging metal and building structures."
Torches. Elysha uses a Miller-Smith oxygen-acetylene torch
that emits highly-concentrated heat for pinpointed work and another that "mixes the oxygen just within the torch tip so you get a fluffier flame that heats an overall piece."
For more jewelry by Elysha Roberts, visit her website.
Laurie Leonard
Laurie Leonard sold her paintings at art shows for two decades before trying her hand at jewelry. She's taking classes to learn lost-wax casting, but in the meantime, she's been doing pretty well with techniques she cobbled together on her own. Her nature-themed pieces were finalists in the Niche Awards this year and last.
Epoxy clay. She relies on two-part epoxy clay
, pressing it into old filigree jewelry to pick up patterns or letting it dry and then carving it.
Photoshop. Laurie relies on the simplified version of Photoshop to translate her watercolor landscapes into wearable form after clipping, scanning and shrinking them. She uses Photoshop Elements
to flip and tint her images, and compensate for blur and distortion caused by the resin domes. "For the simple things I do, Elements is perfect," she says. "I'm self-taught in everything. If it works for what I want to do at that minute, I'm happy."
For more jewelry by Laurie Leonard, visit her website.
For more tool recommendations, visit my

Tools for Jewelers
store on Amazon.
Tools mentioned