Studio jewelers who graduate from the best metalsmithing programs today have been trained by skilled masters – in world-class studios with cutting-edge software, laser welders, and professional photography studios.
High-tech studios like that do not come cheap, so much of the award-winning jewelry made by these younger jewelers is fairly low-tech at first, marvels of hammer, pliers, and the human hand. But once you know what's possible, it's hard not to covet the good tools.
Many studio jewelers have found creative ways to incorporate techno-savvy shortcuts with ancient fabrication methods. We've heard the trade secrets behind established masters of the jewelry arts, including Carolyn Morris Bach, Sydney Lynch and Rebecca Myers. This time I asked some young and promising artists who've been scoring coveted awards for their jewelry…
What are your favorite tools?

Some dream of custom-made tools, as finely crafted as their own jewelry. Others long for the precision of high-tech lasers and software to perfect and reinforce delicate designs. But I noticed two trends among up-and-comers: a quest for the perfect saw and a marked preference for a certain portable table-top photography solution.
Jera Lodge

Finalist in 2016 Niche Awards
JeraLodge.com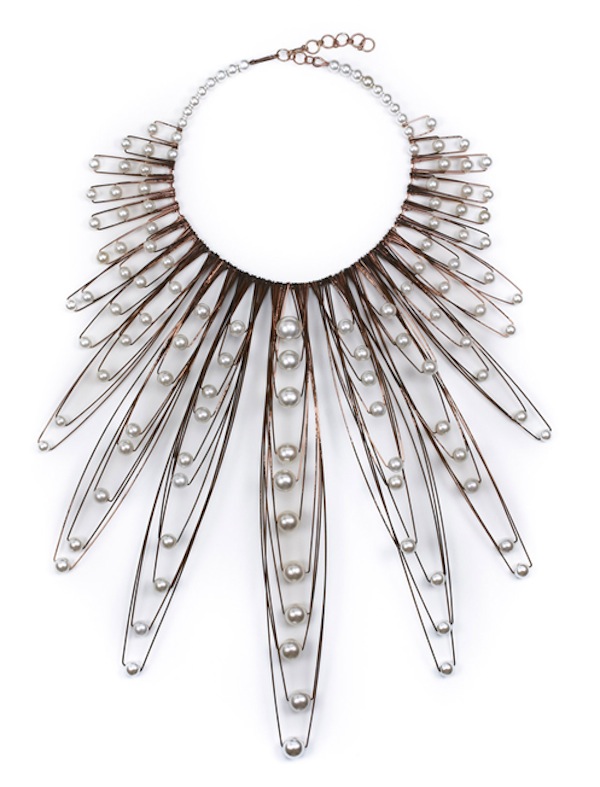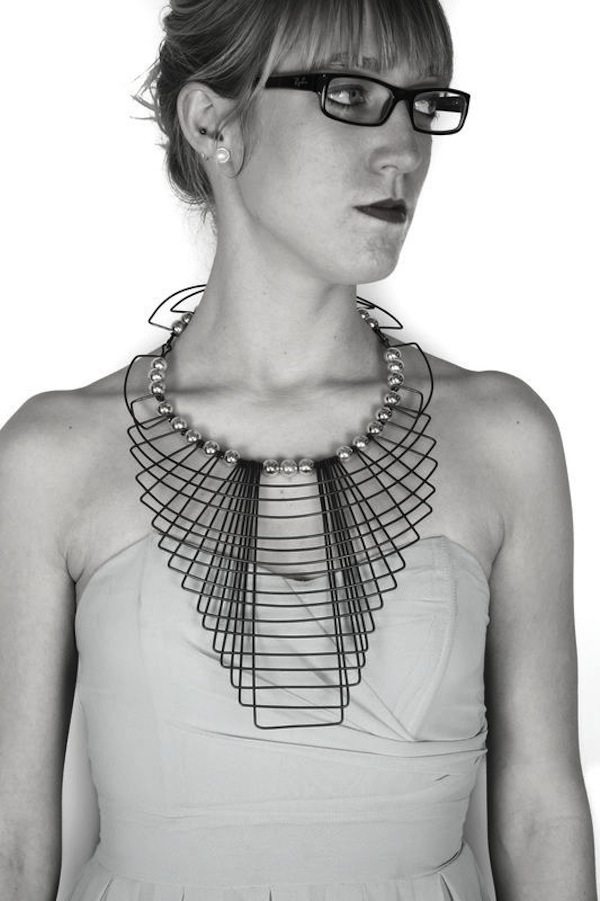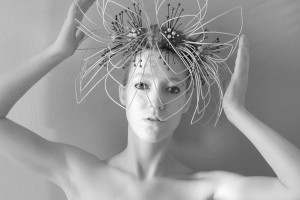 A lot of mathematical calculation and precision goes into Jera's neckpieces. The top piece, a finalist in the 2016 Niche Awards, was her effort to "loosen up a bit." But when all is said and done, she clearly has fun with the finished product. That headpiece doubles as a collar.
Foldio Portable Lightbox
. Jera photographs her own jewelry, sometimes using herself as a model. (That's her in both photos. Top two were taken by Jera. Bottom is by
photographer Laurie Klein
.) For product shots, she recently began using a Foldio lightbox. "I use it for small items and it is super helpful for simplifying the process on the small scale."
Knew Concepts saw frame. "My favorite tool is the Knew Concepts saw frame with the cam-lever for tension," Jera says. She bought hers from Rio Grande where it's available for $73. If you don't have a wholesale account, you can buy it on Amazon at retail
for about $30 more.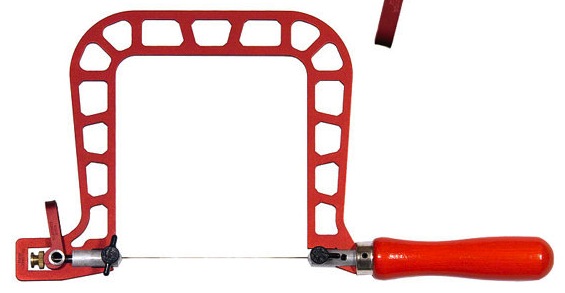 Niki Grandics

Winner of the 2014 Windgate Fellowship Grant
NikiGrandics.com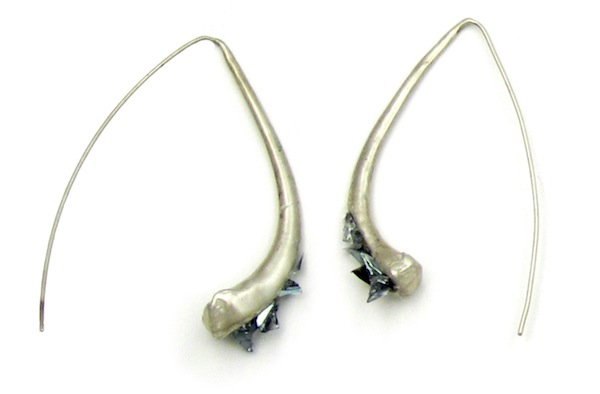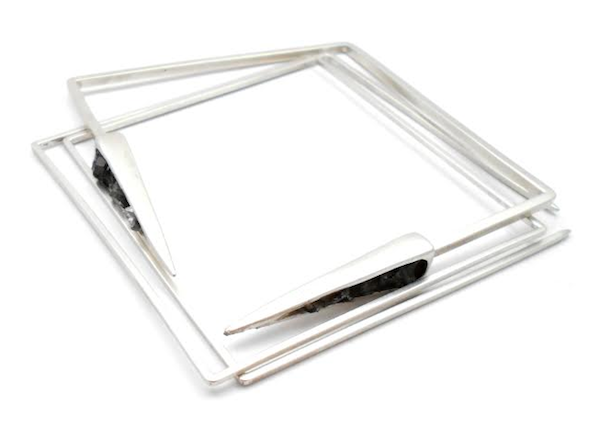 Niki Grandics is a jewelry maker who is both glass artist and metalsmith. The glass comes first – literally. Niki casts glass, then brings it back to the bench and designs jewelry around it. What you see above is cast glass, set like gem material, from her Ghost series (earrings, necklace, bracelets). When I asked her which tools she gravitates to at the jewelry bench, she named two clear favorites.
Saw custom-made by Seth Gould. Niki's fiancé had this saw made as a gift for her a couple years ago, engraved with her initials. "The best gift I ever received!" she says. "Seth makes the most amazing tools and knives. I saw his stuff at a SNAG conference and was just obsessed with his tools after that. My saw works really well. It's also the most beautiful saw I've ever seen in my life."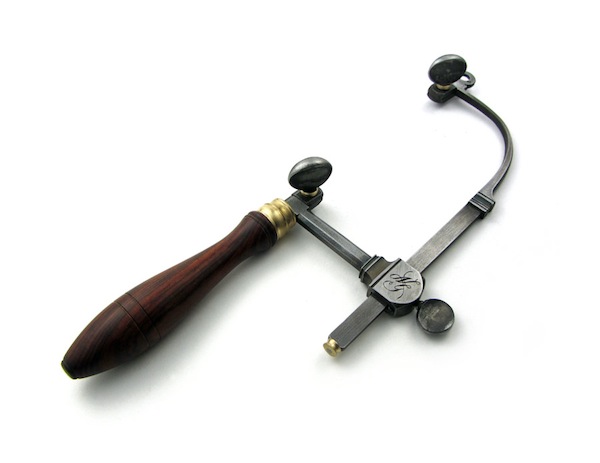 When I interviewed Niki for a magazine recently, it was hard to get her to open up about her jewelry. But when she started talking about her saw, she lit up.  "So you have a work of art to make your works of art?" I said. "It really is a work of art!" she said.
Samantha Skelton

Winner of Halstead Grant 2015
SamanthaSkelton.com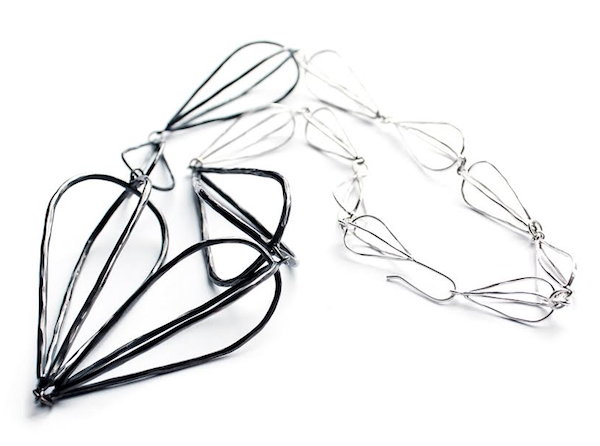 Her jewelry is fairly simple, artsy-urban and fashion-forward, constructed of hand-forged heavy-gauge wire. So it's not surprising to hear Samantha's favorite tools are her hammers. "You know how people are in their studios. Everyone has their own favorite hammer!"
She also has a little photography studio set up to shoot her jewelry. "I found I couldn't afford to hire a photographer, so I looked it up on the Internet and taught myself how to shoot. Sometimes the pictures turn out great and sometimes it takes me a little time to shoot them, but I do have a setup that works well for me." It consists of:
Canon EOS Rebel T3 Digital SLR Camera with EF-S 18-55mm f/3.5-5.6 IS lens
Canon extension tube
. "It goes in between the camera body and lens so you can shoot smaller pieces with sharp detail. Before I started using it, my focus would blur out when I got too close but this gives you the ability to really zoom in. It works well, especially when I'm shooting a very small earring, or anything smaller than an inch."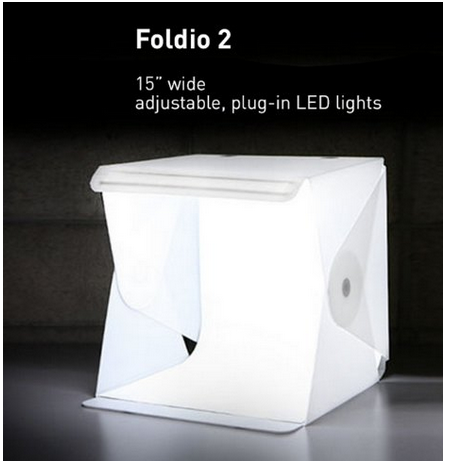 Foldio Portable Lightbox
. "Foldio is a foldable studio, about 15″ x 15″ with built-in lighting," Samantha says. "It's designed specifically for people who shoot small things, need to upload them quickly and have usable results. The lights are really bright so you can pull your photos directly into Photoshop and auto-correct the light."
Baiyang Qiu

Winner MJSA Vision Award 2015, gold category 2015 Niche Awards, finalist 2016 Niche Awards
BaiyangJewelry.com
Baiyang graduated from the Savannah College of Art and Design in 2009, a tough year for established artists, let alone emerging ones. "After graduating, I found I couldn't afford to do my own jewelry," she recalls. "I didn't have the financial support to put my jewelry studio together."
"The college had everything. Their studio was so luxurious, all the tools we needed. We had access to a huge manufacture-style setup with CADCAM and 3D printing stations, laser cutting, everything. After graduating, I didn't have access to the tools I needed to do what I wanted to do and I kind of lost it for a while."
She ended up working in industrial design for a few years,  helping design a touchscreen for surgery. After four years, she told her husband she needed to get back to her jewelry or live forever with regrets. "I had to start from the beginning," she says. "I bought my bench and a few tools, and started working on my pieces. After I finished the first five, I started working on a line and submitting for awards." She won an award from MJSA on her first shot and placed two years in a row in the Niche Awards.
Her studio has some high-end equipment for such a young artist, but she insists design always comes first. "I can always learn new techniques, new skills, buy new tools," she says. "The design process is the most important thing." In her studio today:
Fretz Miniature stakes from Rio Grande. The rest of her top picks are from Otto Frei:
Laser Star 900 Micromotor. "A desktop machine with laser to concentrate the heat. Great for small joints. Dentists use it a lot in labs."
Related products