At the end of every year, I look back over my stats for the 12 months previous and try to get a sense of what resonates with my readers – y'know, so I can give you more of that next year, if possible. My conclusion is always: Wow, what an interesting audience I have! When it comes to jewelry, your tastes and interests are as hard to pin down as my own.
I can tell you're smart and curious and like to know what's going on in the world of gems and jewels now, even if it ultimately takes us back a couple decades or a century – or even a millennium. I want to take a moment to thank all of you who signed up for my feed this year; commented on, "liked," or shared my posts; followed me on Facebook and Twitter; emailed me; talked to me; pinned me; fed me leads; shopped via links and in general kept this blog (and me) going. There would be no Loupe without you and for that I send you all a virtual happy-holiday hug.
So, what did you like in 2012? What drew people back again and again, plucked you from endless Google searches to land on my pages? First, since "Jewelry Maker" is the most-clicked-on category on this blog, let's start with the designers you were most intrigued by this year, starting with the most-visited profile: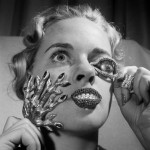 Salvador Dali – again! You can't get enough of this guy's jewelry and eccentric philosophy and wild creativity. Let's face it, no one else has ever managed to combine the lavishness of royal jewels with surrealism (and his own beautiful, if psychotic, vision) in quite the same way. It helped that Dalí had acquired deep-pocketed patrons and world fame by the time he turned his attention to jewelry design, as well a strong-minded woman guiding, supporting and promoting him – his wife, Gala.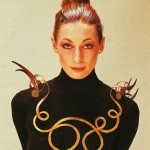 Alexander Calder – hmmm, a theme is emerging. Famous mid-century artists who made their reputations in Paris before the war, but ended up on American shores where they began seriously producing jewelry. Both were eccentric, wildly inventive makers of bold jewelry for avant garde collectors. But while Dalí sketched his designs then turned them over to goldsmiths, Calder made everything by hand. While Dalí worked with gold, rubies, diamonds, emeralds and pearls, Calder preferred hammered brass and sterling, sometimes glass shards and found objects. Still, you appreciate the genius of both, as you should.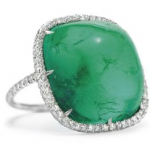 Joel Arthur Rosenthal, a.k.a. JAR. We're still enthralled by this mysterious designer. Unlike your other faves, this guy is still alive and producing jewelry, but you never hear a peep from him unless you're among the celebs and millionaires who can afford to commission his jewels or buy them at auction. JAR makes so few, Christie's and Sotheby's sales are your best bets for acquiring them, and they invariably sell for double the estimates. Still, isn't it fun to follow the trail? Between stories, I do my best to post photos on the Loupe's Facebook page of the most interesting JAR pieces that pop up at auction.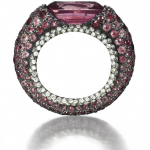 This year the motherlode of JAR jewels were the 18 pieces at the Lily Safra sale in May, a new record for JAR jewels at auction. This post got almost as much traffic this year as my original JAR profile, probably because it showed the very best pieces from the sale in their full floral glory. I posted the rest of the jewels and the results of that record-breaking sale in this post. Even these also-ran pieces constantly pop up on Pinterest, because nobody can resist a pretty picture of a JAR.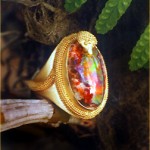 Carolyn Tyler. Now this is interesting. Guess who the most popular jewelry designer on this blog is after Dalí, Calder and JAR? Carolyn Tyler splits her time between Santa Barbara and Bali, where she has her designs produced by skilled goldsmiths. It gives me special pleasure to put her in such exalted company because, unlike JAR, I've actually met Carolyn. Like him, she's famous for lavish jewels and a celeb or two have worn them, but Carolyn and her jewelry are a lot more accessible. Part of her popularity here may be that so many people do know her. She not only makes luscious jewels, she's lots of fun and she gets around.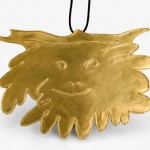 Famous 20th century artists. We're back to Calder and Dalí again, but this time I included samples of a bunch of other famous guys who tried their hand at jewelry design a bit later on – including Picasso, Max Ernst, Georges Braque, and Roy Lichtenstein. Mostly they produced limited editions via goldsmiths such as François Hugo. I revisited this theme again when Picasso to Koons opened at the Museum of Arts & Design in NYC last year and went into much more depth on Picasso's other jewelry in this post, which also attracted lots of attention.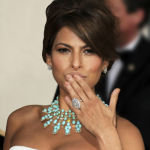 Van Cleef & Arpels. This is an oldie but you still dig it. I return to this particular house fairly often, maybe because there have been so many fabulous exhibitions and books about their work (including Van Cleef & Arpels: Timeless Beauty
and Set in Style: The Jewelry of Van Cleef & Arpels
) since I started this blog. This first and most popular post was inspired by The Spirit of Beauty retrospective and features shots of Eva Mendes wearing a vintage VC&A turquoise necklace and an Indian-style emerald-and-diamond necklace, a multi-purpose piece with detachable parts – one of many tricky specialties VC&A does so well.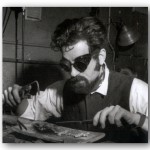 Art Smith & Sam Kramer.  These two studio jewelers both worked in Greenwich Village in the forties and fifties, around the time Van Cleef & Arpels was hitting its stride uptown – but oh, how different the sensibility. Smith and Kramer were more in line with what Calder was doing at the time, except – especially in Smith's case – their work was more refined (yet not nearly as refined as studio jewelry would become). Smith was influenced by Modernism, Kramer by surrealism – sort of wearable Dalí for the working class, complete with the occasional taxidermy eyeball.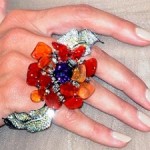 Lorraine Schwartz. A pictorial roundup of this red carpet designer, mainly because on the last couple awards shows I watched – and I'm not a huge fan of award shows – her jewelry bowled me over. I love that she uses so many unusual colored stones instead of relying solely on the glitter of diamonds. In particular, I think Heidi Klum's choice of Lorraine Schwartz jewelry rocks and says so much about how fun she is. I'd love to sit down with both of them – at the same time, preferably – and talk jewelry. When that happens, you'll be the first to know.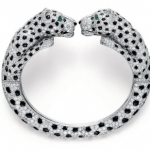 Jeanne Toussaint & Elsa Schiaparelli. These two fabulous mid-century designers from my "women who paved the way" series came in so close for 9th most-visited designer profile in this year's top 10, I'm including them both. Jeanne Toussaint was the Cartier designer most famous for creating its iconic panther jewels, being a bit of a wild cat herself, but she actually brought quite a lot to the Cartier table. Schiaparelli ran her own show, although she famously collaborated with surrealist artists, including Dalí (there he is again!) and Jean Cocteau, among others.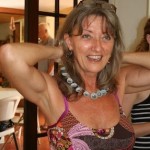 Evelien Sipkes. This was a story about making jewelry on the Caribbean island of Curaçao, but I focused on one talented studio jeweler I met there recently. Being part of the Kingdom of the Netherlands, Curaçao attracts a lot of Dutch ex-pat artists and Evelien is one. She works with porcelain and beads carved from local seeds. A lot of her jewelry is inspired by the sea life off the shores of Curaçao – snorkeling and scuba diving being particularly awesome there. (I tried it.) I think people love this one because, like Carolyn Tyler, Evelien is living the dream – making beautiful jewelry on an exotic island.
By the way, René Lalique just barely missed the cut this year. So there it is. Just in terms of designers, I guess we all seem to prefer the last century – but then, there really weren't many name designers before that, were there? If you can draw any conclusions I'm missing, I invite you to comment. In the meantime, thanks for visiting!
Related products: