A couple months ago, I wrote (yet again) about our favorite bespoke designer, Joel Arthur Rosenthal – specifically, rare pieces that sold at auction recently. I missed those previews so didn't get to see the jewels up close.
Imagine my delight when I entered the Las Vegas Antique Jewelry & Watch Sale last month, and found them all lined up in the first case I peered into. Seems New York dealer YAFA Signed Jewels scored the JAR mother lode this past year, at two different auctions.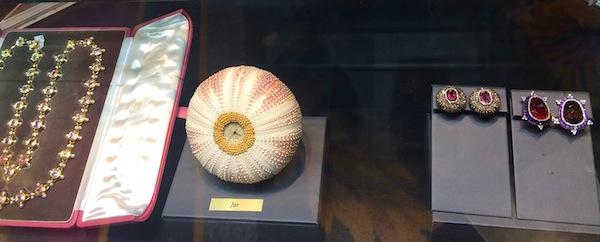 Here's my backstory on those pieces, with official auction photos. My own closeups are below.
But first, I have to take you to the spot where I found the jewels. Wasn't it fitting to find them in Paris, where Rosenthal's shop has been a fixture on the Place Vendome for decades? Here's what Paris looked like that day.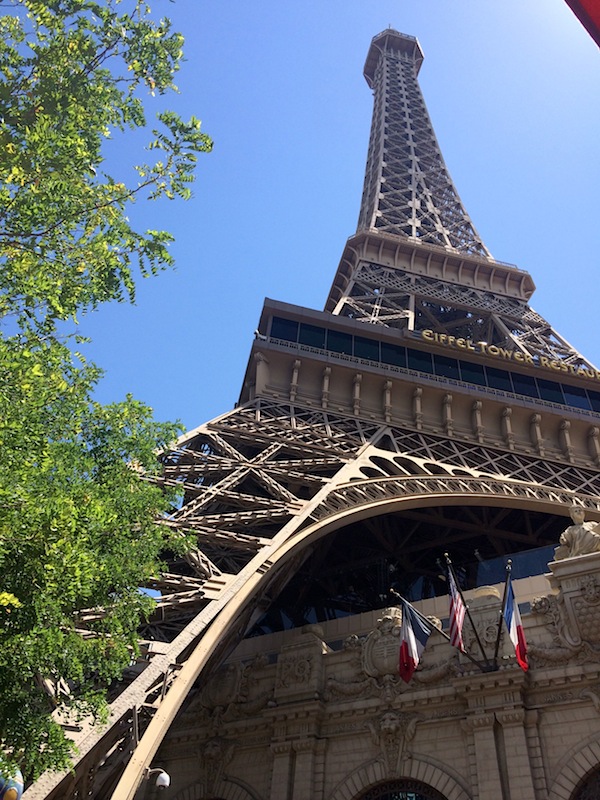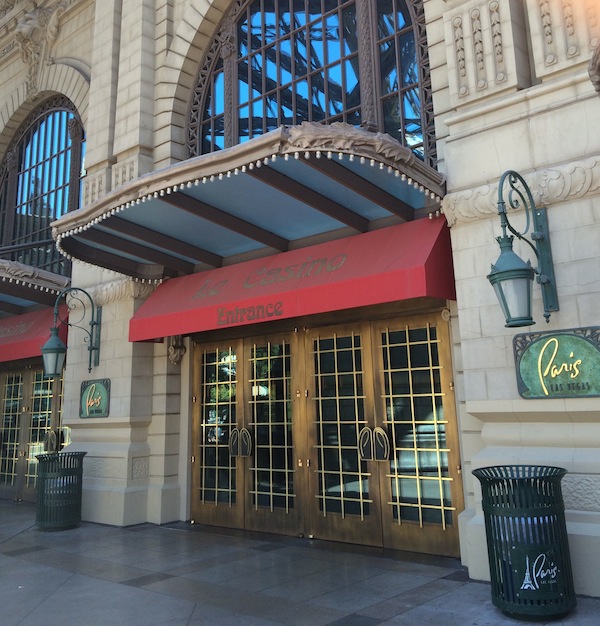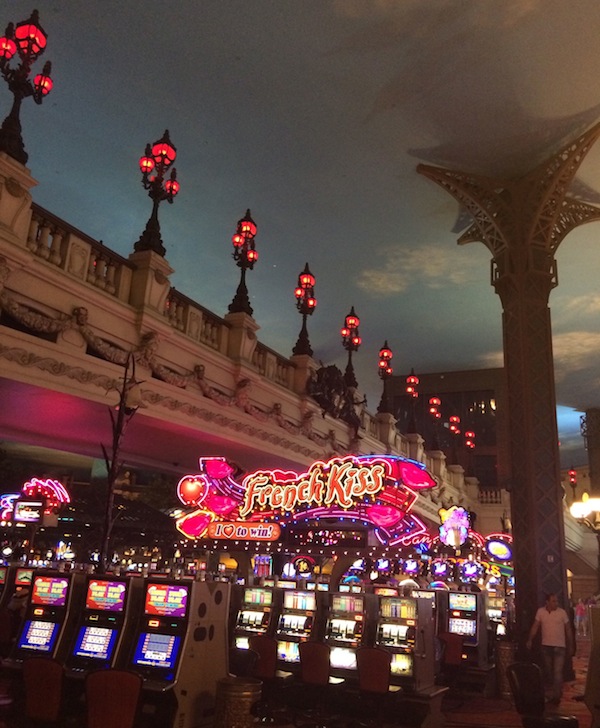 Welcome to Hotel Paris, a taste of the City of Light in the middle of Sin City. This Paris is in perpetual dusk, the time of day when the lights come on along the Champs-Elysée. In this case, the lights are always on. That's so you can find the slot machines easier.
Yup, in Vegas, every hotel lobby, even the swankiest, even the ones with convention centers, try to get you to empty your pockets the moment you enter. In this case, before we even got to the jewelry (which, as we all know, is a gamble in itself).
But the Parisian-flavored stroll to the antique jewelry was charming and I was completely in the mood to find…. the Parisian/American phenomenon we know as JAR.
That top pair of mismatched ear clips were made in 1995 for Lily Safra. You can really see the difference in stones here – garnet in one, tourmaline in the other. Safra sold them at Christie's Geneva in 2012 for a hammer price of $223,371 – along with 17 other JAR jewels in her collection – and then donated all the proceeds to charity. YAFA Signed Jewels snagged them at the same auction house just last month, for $299,000, just short of the high estimate.
The Fifth Avenue dealer had already scored at least three other JAR jewels in their own city, just five months before – including one of three pairs of JAR ear clips – at Sotheby's New York.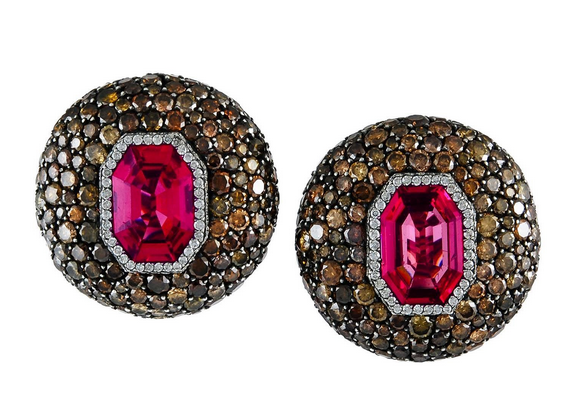 Those weren't the most expensive ear clips to sell that day, but I thought the color combination was striking, raspberry-colored spinel (cut in an elongated octagon, typical of JAR) with diamonds in various shades of brown, set in a bombé shape. To see the sparkle and form, see the video on my Instagram.
YAFA snagged at least two other pieces of JAR at that sale, including that long necklace with bicycle-chain-style links (in my hand, above). It's designed to come apart to form two 16-inch and a 20-inch necklaces and set with multi-colored sapphires and pearl accents. I'm posting an Instagram video of this too.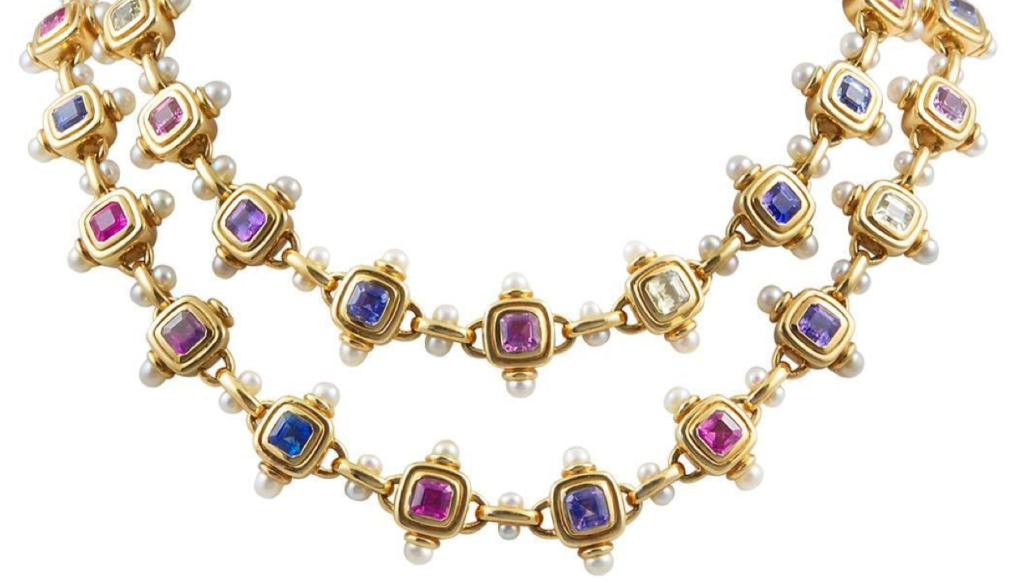 Last, and probably least – but also kookiest, so who cares? – YAFA paid $75,000 (10x the estimate) for the "Sea Urchin" clock, made in 1999. The clock was created from an actual sea urchin shell with a dial applied with sand and set with one single-cut diamond. It was a lot bigger than I expected and that dial was pretty exquisite. Rosenthal was designing a series of timepieces around that time, but also wooden bagels and ice cream, so this wasn't completely out of character.
I didn't ask them to take the clock out of the case. Didn't want to push my luck. Seashells are so fragile, even when they're filled with cement.
I kept YAFA's sales staff pretty busy at the Vegas show, nevertheless, so I could share it all with you. If you're looking to add some JAR to your collection, you can find them all at 1stdibs.
All of which goes to show: it's never too late to own a piece of JAR. You just have to pay the price – and it keeps going up.
All photos by Cathleen McCarthy, except bottom two, courtesy 1stdibs