As some of you may have gathered by now, trying on jewels at auction previews is a hobby of mine. It's the ultimate jewelry-shopping experience. The women behind the counter at those previews are always lovely and gracious.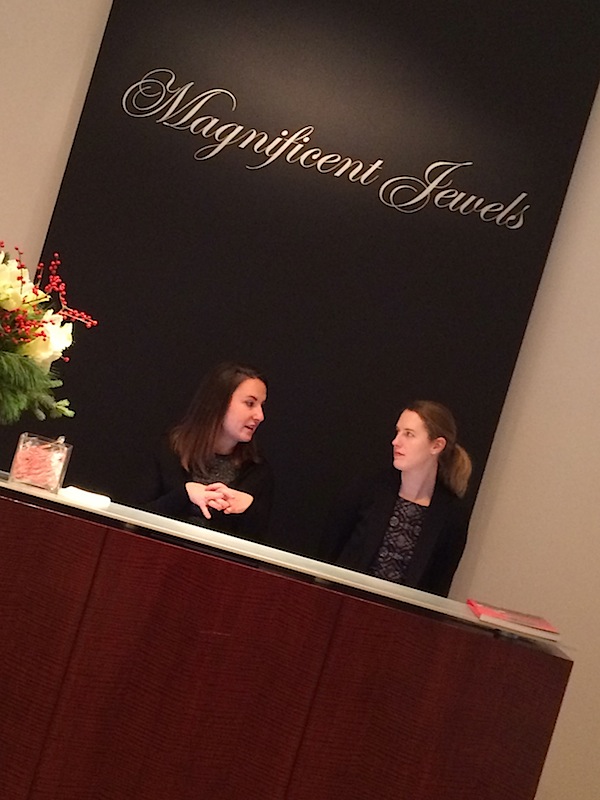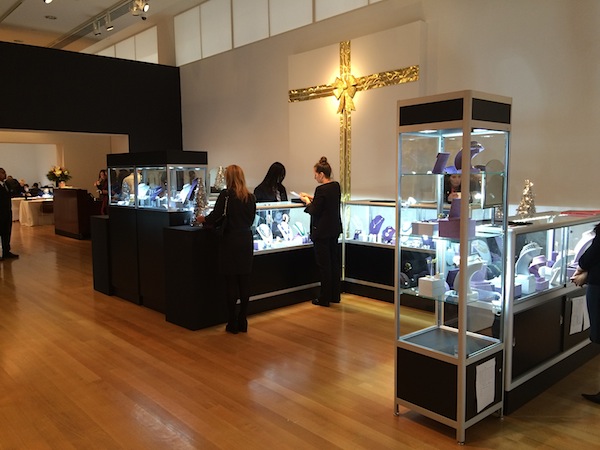 Some know quite a lot about the jewelry in the cases, but many are just hired help as the big pre-sale examinations go on in a separate room, assisted by specialists. At Christie's Rockefeller Center, that room looks like this in the days before a jewelry sale.
The discipline of the women behind the counter never ceases to amaze me. Obviously, they weren't hired to try on the million-dollar jewels at will, flaunting them around. There are potential paying customers here! For all they know, I could be one of them.
Quite possibly, if they did start trying things on, they wouldn't be able to stop. It would end with those polite but burly security guards pulling them away, as they clutched at the cases.
Every once in a while though, I see something that just begs to be worn. Usually by me, of course, but not always.
A few days before the two Magnificent Jewels sales, for example, I found myself at Christie's admiring a diamond necklace. This one, designed as a series of plaques set with old European-cut diamonds around a pear-shape pendant, sold a few days later for $56,250. Here's the official catalog image.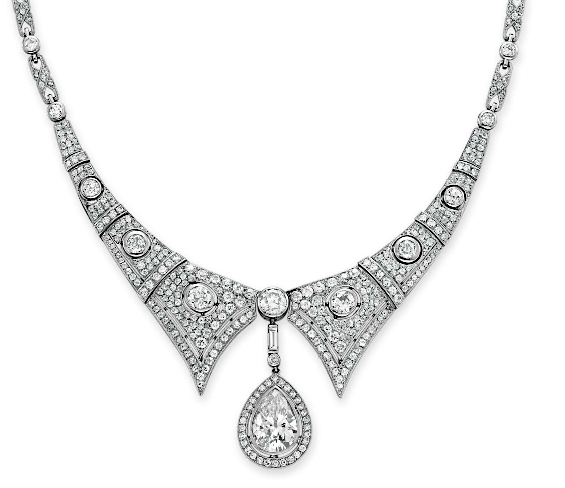 As magnificent jewels go – and that always means the best of the best – this one was not going to be making headlines. It did not have a 50-carat D flawless diamond pendant or a brand name such as Cartier or Van Cleef & Arpels. But I was intrigued by it's tab-collar shape and the lovely way it draped, perfectly articulated. It wasn't over the top gaudy, just one of those jewels that would feel as wonderful as it looked.
Here are a couple shots I took of the necklace draped over my hand, so you can see what I mean about the articulation.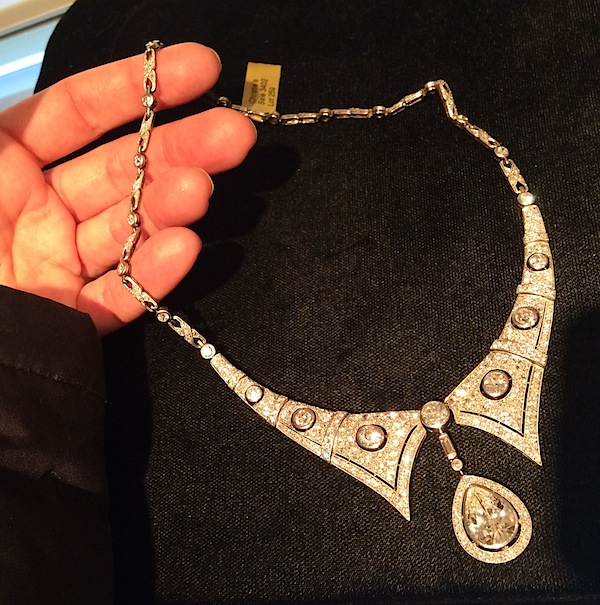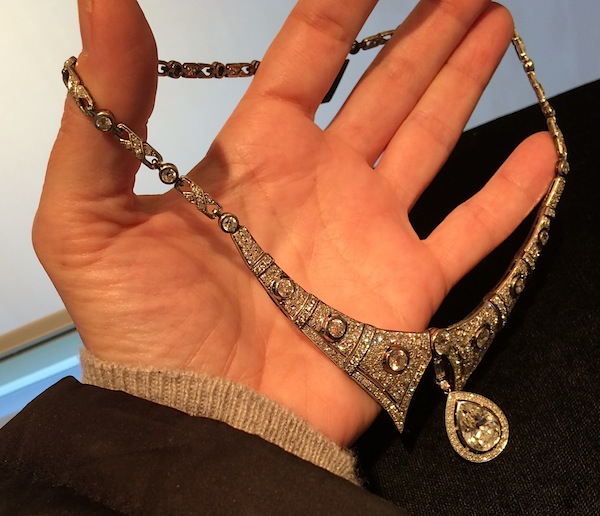 It's something I would wear if I could pull my heirloom of choice out of the old jewelry box. But I wasn't dressed for it. When I looked up, however, I saw a throat that was just calling out for this necklace, its owner standing innocently behind the case, apparently unaware of this.
"Have you tried this on?" I asked her. She smiled furtively at another young woman manning the jewels in this corner of the preview woods, and said no, but she'd helped a potential buyer try it on that morning and it looked beautiful.
"Would you mind?" I said. Looking startled but pleased, she pulled it carefully out of its case. I'll just show you what followed because you have to see it to appreciate.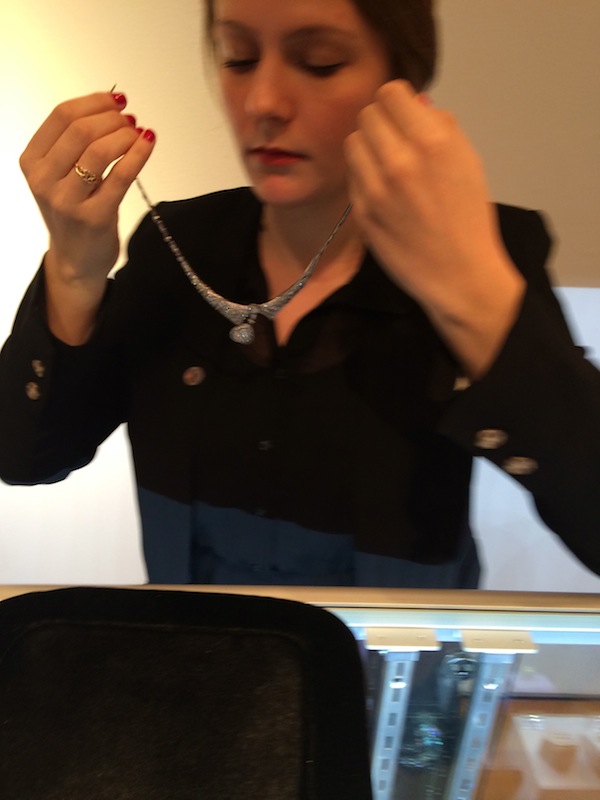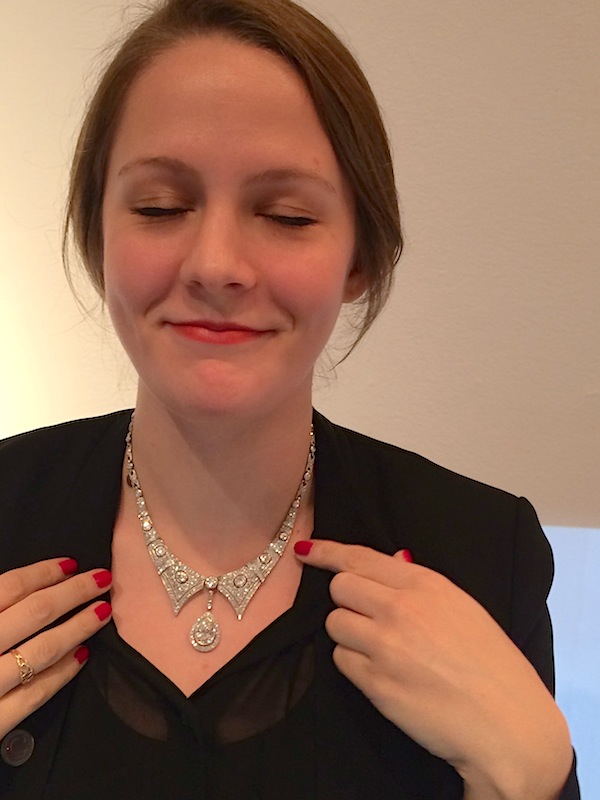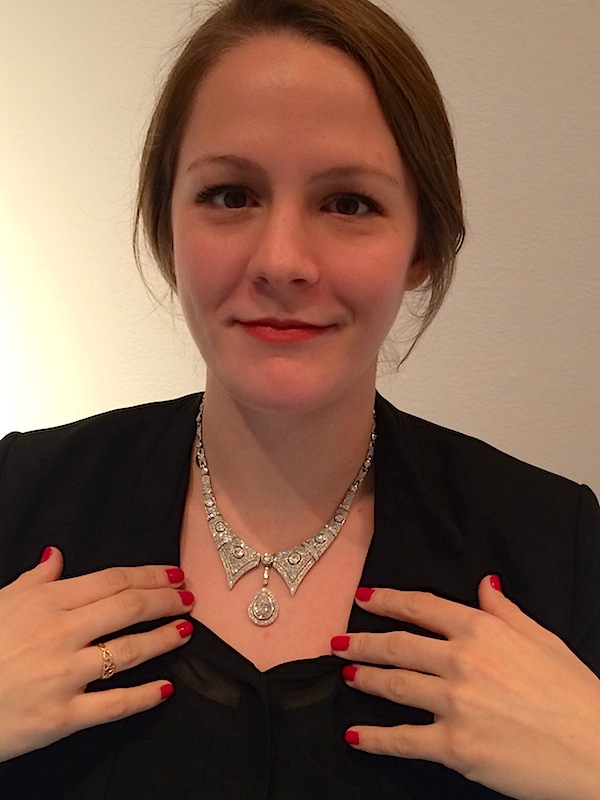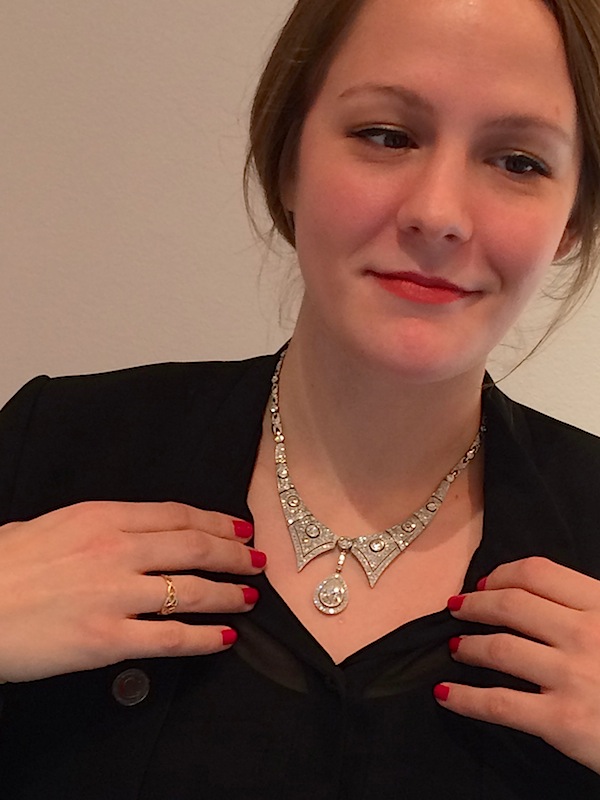 Did that necklace not have her name on it? Meghan Musarra, by the way, is her name. I made her type it into my phone when I asked her permission to post these photos. Final shot is Meghan admiring herself in the mirror, in her moment of falling in love.
I think I created a monster.
Related products