When you get dressed and open that jewelry box looking for the final touch, what's the one piece you find yourself wishing for? We've looked at what $400 and under can buy in contemporary handmade. Today we're going to look at vintage treasure for $1,000 and above. This is a week for making dreams come true, so let's dream big.
I sifted through the inventory at Miami's Dover Jewelry to assemble the ultimate jewelry collection – versatile classics mixed with show-stopping originals, all of fine material and craftsmanship.
When you invest in the good stuff, whether it's a cocktail ring or classic pearls, you should end up with something you'll be as excited by ten or twenty years from now as you are today. You want timeless quality but you also want something that projects your personal sense of style. You need pieces that work any time, anywhere, a few that start conversations, and one or two that stop them cold.
This post was sponsored by a partner of The Jewelry Loupe.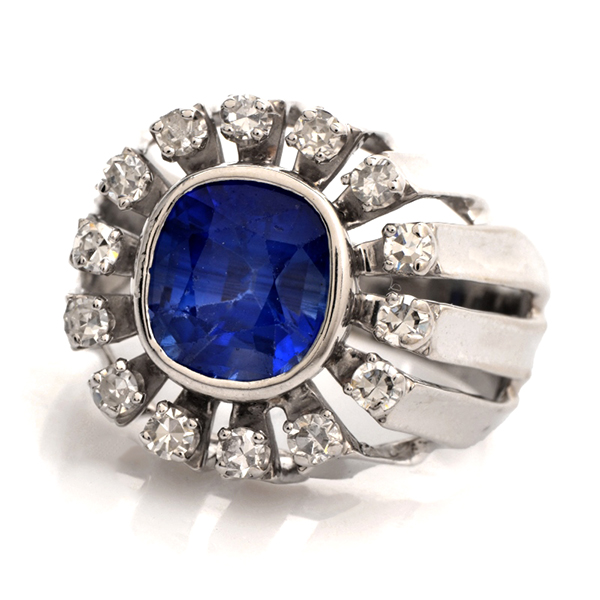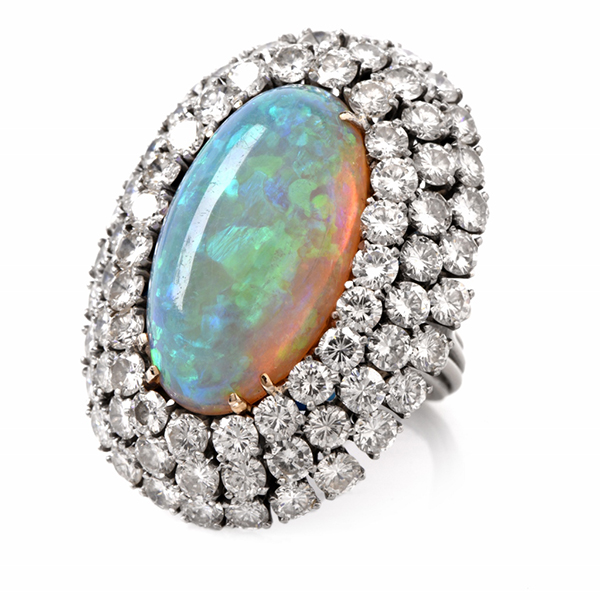 Top to bottom:
Conversation starters…
A ring of 18k gold with 2.42ct Ceylon sapphire in diamond surround ($3,499)
Cocktail ring of 16.02ct opal (25 x 15 mm) set with round-cut diamonds (11.25 carats total) in 18k white gold ($8,499)
Bow pendant earrings with cabochon opals (5 carats total) set in 18k white gold with diamond-set mounts designed as leaves and flowers ($3,399)
Vintage charm bracelet of 18k gold, turquoise (25 carats total), pearls, citrine, carnelian, and opal with charms including a bell, lamps, and houses, accented with floral filigree  ($7,499)
Timeless classics…
Necklace of cultured baroque pearl with diamonds (3.80 carats total) in 18k gold ($7,999)
Pearl earrings with 10mm pearls in 18k gold, baguette-, marquise- and round-cut diamonds (4.10 carats total), 42mm long with ear clips ($4,399)
Classic bracelets – his and hers.  Men's link bracelet of textured platinum and 18k yellow gold (9″ long) by Henry Dunay ($6,799) and women's Retro bracelet of 18k gold signed Soler Cabot ($2,499)
Because this is the most popular month of the year for marriage proposals…
An 18k white gold engagement ring with a 1.51ct cushion-cut natural fancy yellow diamond and 120 pavé-set diamonds ($7,999)
Beaudry eternity band of platinum with 144 round-cut diamonds (about 3.00 carats total), size 6 3/4 ($3,999)
And finally, that piece that stops the conversation…
Buccellati necklace of blue-gray cultured pearls, 18k gold and diamonds (6 carats total), part of a demi-parure ($84,999). We can dream!
Click here to find them all at