Of all vintage engagement rings, Art Deco rings are probably the most easily recognized and coveted. The finest combine beautiful old-cut diamonds and craftsmanship of earlier periods, with the familiar geometry of famous Deco-era landmarks like the Chrysler Building.
"Deco rings are elegant and very symmetrical," says Michael Khordipour, a Fifth Avenue dealer who specializes in rare vintage diamond rings. "They have an architecture and balance that people love." Here are a few of the finest Deco engagement rings in his collection.
(This post was sponsored by a partner of The Jewelry Loupe.)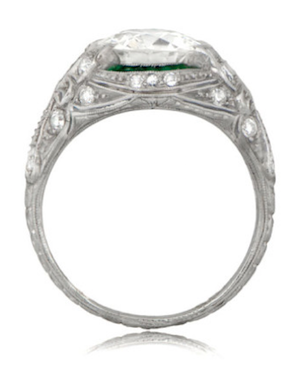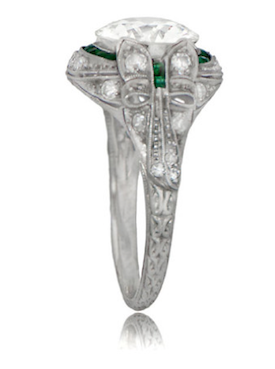 These rings were made at the height of the Deco era, after the 1925 Paris Exposition des Arts Decoratifs gave Art Deco its name and made it a worldwide sensation. WWI was in the past and precious materials were still abundant, including diamonds and platinum. The center stones here are quite large, even by Deco standards.
Starting around 1920, skilled goldsmiths and decorative artists in France began tapping into the creative spirit of the Jazz Age and applying it to the precious material available in post-war Europe. The style they established spread through Europe and the U.S. over the next two decades. Deco diamond rings often have larger diamonds than the periods before and after, typically up to two and a half carats, in intricate platinum settings with angled patterns and baguette accents.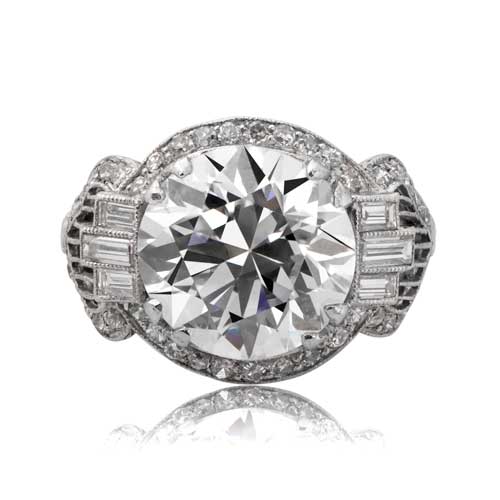 Khordipour began buying and selling fine jewels three decades ago in Manhattan's Diamond District and built a reputation for acquiring important jewels through his Diamond District showroom and original website. When it became obvious many customers were looking for something more specific, he and his partner launched a site specifically devoted to fine antique and vintage-style bridal jewelry.
You can find diamond rings from several different periods on Estate Diamond Jewelry. You can also find contemporary rings made in the Deco style. It's hard to tell them apart from the originals at first sight. Khordipour uses third-generation bench jewelers who design hand-worked platinum rings to the standards of the originals. Rings on the site, both old and new, remain tightly-curated. But the pride of the collection are the rare originals shown here.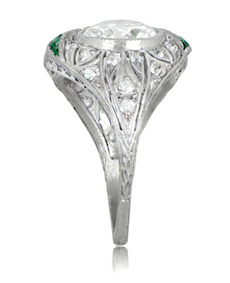 "We're not trying to collect every vintage ring out there," says Khordipour. "A lot of dealers are trying to get as large a collection as possible. We're very, very careful about what we add."
"We go through a lot of rings before we find one that meets our standards. If we see one we really like, we jump on it, because the high-quality rings are really hard to come by. We go through dozens, hundreds of rings, before we find one that belongs in our collection."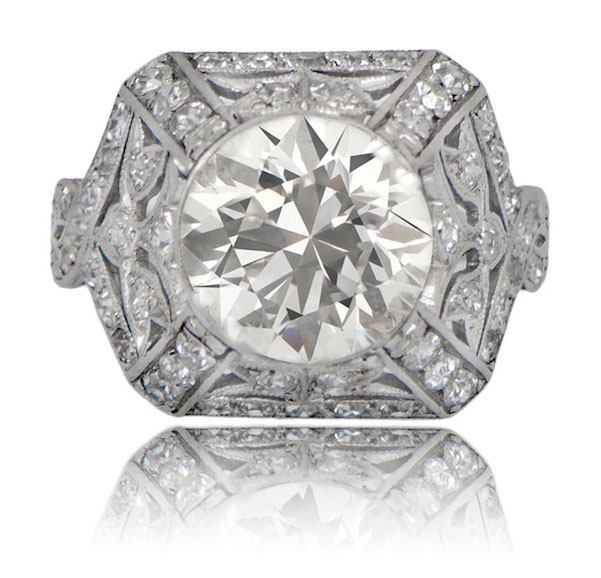 What makes an important Deco ring? "It has to be well-made – we only consider rings with superior craftsmanship – and the diamonds have to be clean and strong, no visible inclusions. Even old diamonds, cut by the old standards, need to have good color and clarity. And finally, the rings have to look good. Even the finest craftsmanship doesn't matter if the design isn't strong."
Rings shown here are among the finest of this genre, above the average reach, but it's always helpful to be familiar with the best examples when you start to collect. "Vintage rings are hot now," says Khordipour. "Eventually, people who collect them come to want something a cut above. People often come to us when they're looking to upgrade from a smaller ring.
"We encourage people to learn as much as possible before they buy. Our educational pages have a lot of information. The more people know, the more they'll appreciate the quality pieces. Education is our best friend."