At the Oscars Sunday night, statement necklaces and earrings ruled the red carpet, but many jewelry aficionados agree Margot Robbie stole the show with a Van Cleef & Arpels classic: the Zip necklace. It didn't hurt that Robbie radiated exactly the kind of old school Hollywood glamour this signature piece required.
With its diamond and sapphire tassel, the Zip – which VC&A now calls the "Zip Antique" – is valued at $1.5mil. "The necklace is worth more than my life!" gushed the 24-year-old Australian actress.
What most people watching the cameras flashing around Robbie didn't know is that necklace is also a bracelet. That's right: beautiful and practical – an engineering feat that took the venerable jewelry house more than a decade to produce.
Detachable, multi-purpose jewels were a particular specialty of Van Cleef and Arpels in their mid-century heyday. Surely there was never a jewelry house more obsessed with making one ornament serve double, triple or quadruple duty. But they really outdid themselves with the Zip. If Margot had zipped her necklace up, she could have turned it into a bracelet for the after-party.
It was the Duchess of Windsor, avid jewelry collector, clotheshorse, and American bride of the ex-king of England, who suggested zipper jewelry in 1938.
"She just thought it would be fun if somebody could make a piece with a zipper because zippers were newly in fashion then and people wanted them to show on clothes," Sarah Coffin told me in 2011, when she curated Set in Style: The Jewelry of Van Cleef & Arpels
for the Cooper-Hewitt Museum.
Van Cleef and Arpels spent the next several years figuring out how to actually unzip a bracelet and turn it into a necklace. By the time the Zip necklace was introduced more than a dozen years later, zippers in clothing were no longer a novelty.
The venerable jewelry house was founded in 1896 when the daughter of a gem dealer married into a family of merchants living in Paris and the clans decided to join forces.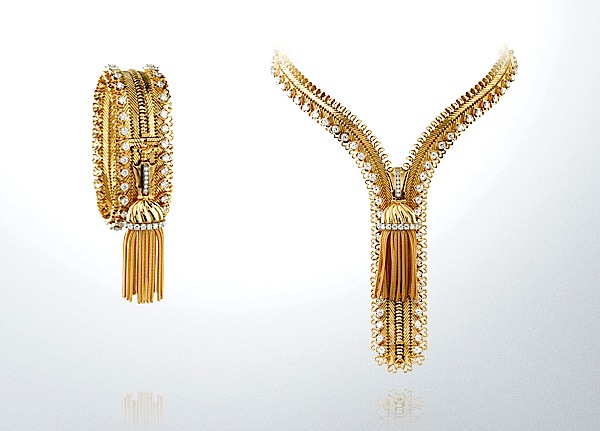 After opening their first shop on the Place Vendôme in 1906, VC&A developed a reputation for producing jewelry that was both lavish indulgence and engineering marvel.
Of all the big jewelry firms, Van Cleef is best known for its engineering prowess. Their most distinctive designs were borne as much from technical challenge as fashion trend, and this became particularly obvious during the Depression years.
VC&A's owners came to New York in 1939 for the World Fair and stayed after the war began, opening the first boutique on Fifth Avenue in 1942. Wealthy, fashionable Americans had long been a vital part of the firm's clientele, but the war forced an end to the dependency on Europe for fashion and jewels. "France was occupied and wasn't exporting jewelry," Coffin says, "but Americans were not yet in the war so were still buying."
Many European goldsmiths and lapidaries had already emigrated, so the New York branch had access to high-quality craftsmanship. Up until then, VC&A jewels had featured white metal and gems aplenty, but platinum had been appropriated for the war effort and precious gems were in short supply. Gold became the primary medium, dictating much of the jewelry designed during the war years.
"The designers were looking for new designs that would feature the benefits of gold," Coffin says. Enter the Ludo or "honeycomb" bracelet with its wide band of invisibly articulated hexagonal links – wildly popular in the '40s and a signature of the house well into the next decade – and, in the early 1950s, the Zip.
When the Zip was unveiled, it created a buzz but missed its ultimate mark: a public fascinated with zippers. As we saw Sunday night, however, a true classic maintains its allure, no matter what else happens in fashion. All it takes is one glamorous starlet, a red carpet, and a new obsession with the statement necklace.
What makes a bolder statement than an unzipped, gem-studded gold zipper by Van Cleef & Arpels?
Related posts