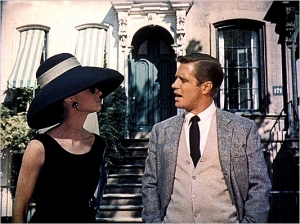 She wore Givenchy gowns when she window-shopped for jewels in Breakfast at Tiffany's. But when Holly Golightly finally falls in love, it's with s a struggling writer. And when they enter the famous Fifth Avenue store, he has 10 bucks in his pocket.
What did $10 buy at Tiffany's in 1961? A sterling telephone dialer. But the young lovers want something more romantic, so they settle for having a Cracker Jack ring engraved – and it looks, magically, like brushed platinum!
Fast-forward 50 years. What does $10 buy you at Tiffany now? Nothing, of course. The least expensive item I could find on their website is a leather luggage tag for $60. Then there's a simple sterling keychain by Elsa Perreti. For $80? Hmm, no.
Just as Holly didn't fancy a dialer, most women will be expecting jewelry when they open that trademark aqua-colored box. Your best bet is probably this pendant designed by Frank Gehry for $125.
That's a good deal for a designer bauble from Tiffany's but it's still a lot of dough if you're in Paul and Holly's shoes. What can you get for your valentine these days when you're on a serious budget? There are some crazy, colorful handmade hearts on Etsy and 1000 Markets for $20 or less, if your sweetheart likes playful costume jewelry.
Personally, I'd put my money on an antique. You'd be amazed when $20 will buy.
You can find gold-filled Victorian lockets like this on eBay for less than $25. They're typically rounded in back to form a three-dimensional heart that's very satisfying to the touch. A century of being thumbed and look how well this one held up!
Or, for slightly more than the price of that Gehry pendant, you could have had this charm bracelet with 39 vintage hearts.
Of course, you can always do what Holly and Paul did and have your own ring engraved at Tiffany & Co. These days, hand engraving there will set you back $30 and machine engraving on sterling starts at $11. But it might be fun to play out your own version of that famous scene. How often do you suppose that happens at Tiffany's?