Curator Sarah Coffin talks about the "Bejeweled Lives" section of Set in Style: The Jewelry of Van Cleef & Arpels, the exhibit opening this Friday at the Smithsonian Cooper-Hewitt Museum.
Van Cleef & Arpels decamped from Paris to New York City at the onset of WWII. Is that when Hollywood became a big influence?

SC: The move to the U.S. coincided with the growth of Hollywood, which certainly provided a new venue for very visible women to be seen wearing Van Cleef & Arpels and other famous jewelry makers' designs.
But some of the famous collectors – Doris Duke, Marjorie Merriweather Post, Daisy Fellowes – were women of means, not necessarily movie stars. They were moving in fashionable circles and patronizing the firm.
That was before houses like Van Cleef began lending pieces for the red carpet, right? Stars were buying their own jewels.
SC: Yes, you had this wonderful situation of Marlene Dietrich buying that ruby bracelet and then wearing it in Stage Fright, the 1950 Hitchcock movie. Of course, that is hugely classy, connected to the persona of the character Dietrich was playing in the movie. But Marlene Dietrich did really own that; it isn't something they put on her for the movie. Later, it was Catherine Deneuve wearing the Belle Hélène necklace in The Last Metro.
Princess Grace is another class act often photographed wearing Van Cleef & Arpels. Was that orchestrated?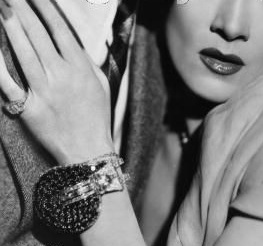 SC: Then it was just a happy coincidence. Grace Kelly didn't go out and buy Van Cleef & Arpels as Grace Kelly, the actress. It was when Prince Rainier started giving it to her that you begin to see her photographed in it. Upon their wedding, Van Cleef & Arpels were appointed the jewelers to the court of the Principality of Monaco, as they are to this day. They sill supply fair amount of jewelry to the Principality of Monaco.
Early on, Van Cleef & Arpels had a director of publicity who was very involved in promoting and presentations, taking jewelry to charity balls and putting it on people. Public relations directors and advertisers saw the benefit of this kind of thing early on and it developed as things became more about visibility and placement.
At the beginning, these were clearly pieces these actresses wanted to own, perhaps to place themselves as women of fashion, to be alongside royalty and the big-name wealthy collectors like Florence Gould and Barbara Hutton.
Somewhere along the line, they traded places and it was the actresses everyone else wanted to emulate.
SC: That really happened in the 1950s, when the movie star business became more important. Before that, actresses bought their own jewels. Greta Garbo clearly paid for that 10-carat diamond ring in the exhibit. Marlene Dietrich really owned that fabulous ruby bracelet. Paulette Goddard was also a collector.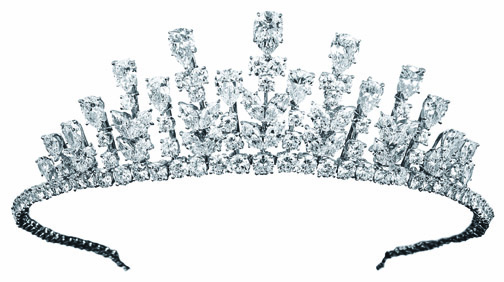 You have some beautiful pieces from Elizabeth Taylor in the exhibit, Hollywood's most famous jewelry horse.
SC: Yes, she was another true collector. Obviously, she had a great collection and Richard Burton was giving her fabulous things.
It couldn't have hurt VC&A to have her photographed in that wild diamond headdress (top left).
SC: That was for the famous Proust Ball in Paris where she went with Richard Burton and the Duke and Duchess of Windsor – who were, of course, the biggest collectors of them all. Elizabeth Taylor wore a headdress, apparently a combination of her own jewelry and  jewelry that Van Cleef & Arpels lent her. That's kind of where I see this shift starting to happen, maybe in the late sixties, to celebrity usage.
At the Smithsonian Cooper-Hewitt, National Design Museum, 2 E. 91st St., New York NY (Feb. 18-June 5, 2011). UPDATE: This exhibit has been extended to July 7.

Related posts:
Van Cleef & Arpels: glamour and invention
JAR: designer jewelry as calling card
Related products