Turquoise never looked as glamorous as in the Van Cleef & Arpels "Panka" necklace Eva Mendes wore to this year's Golden Globe Awards. In 1974, when this necklace was made, the trend for exotic Indian-style jewelry was in full force – and it still looks stunning with a simple white strapless and a really good tan.
What I covet most are those simple gold bracelets made during WWII, when precious gems and metals were in short supply. Limited to 18kt gold – platinum was going to the war effort – and a sharply reduced supply of gems, Van Cleef & Arpels came up with machine-like flexible gold bracelets that reflected the wartime fascination with assembly lines, rods, pistons and tank tracks. They epitomize Retro style and yet look completely contemporary.
If you've ever tried on one of Van Cleef & Arpels' glittering Deco bracelets or examined the invisibly-set gemstone pieces produced during flusher times – well,  you have to give this house props for technical ability (not to mention lavish indulgence). But I'm not a big fan of the big, glitzy floral jewelry that makes up much of Van Cleef & Arpels repertoire, even though it's very impressive in its way.
You'll find much of that on display at Tokyo's Mori Arts Center through January 17th in the Van Cleef & Arpels retrospective, The Spirit of Beauty. Heaven knows, those pieces influenced a lot of fine jewelry design.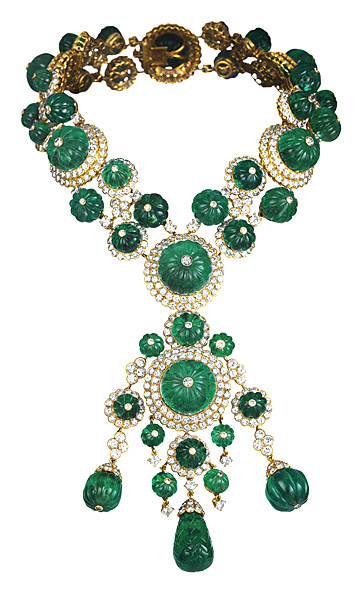 Among the gemmier offerings, the multi-purpose pieces are most appealing. An Indian-style emerald-and-diamond necklace in the Tokyo exhibit is a great example.
Made around the same time as the necklace Eva Mende wears above, this one is the kind of thing Elizabeth Taylor would have worn in the late sixties and early seventies, draped over her impressive decolletage. (It actually belonged to Princess Salimah Aga Khan.)
But even Liz was practical in her way, big on reinventing her jewels each time she wore them. Leaf through Elizabeth Taylor: My Love Affair with Jewelry, and you'll discover she even wore her necklaces as headdresses. She would have appreciated the fact that this one separates into two bracelets and a pendant.
After all, if you're going to invest millions in jewelry like this, you might as well get some wear out of it.
Related posts:
Van Cleef & Arpels: celebrity style
JAR: designer jewelry as calling card
Related products