You may know Verdura as one of the designer flagships along the glitziest couple blocks of Fifth Avenue, but the original Verdura was an Italian aristocrat-turned-jeweler who collaborated with Coco Chanel, Paul Flato and Salvador Dali.
All those partnerships produced colorful jewels, but few as whimsical as the ones Verdura made with Dalí. Before they joined creative forces in wartime NYC, they launched their careers in Paris. While Dali was collaborating with Elsa Schiaparelli, Verdura was heading up the design department for her rival, Coco Chanel.
Here is Dalí in 1937 with Chanel, Verdura's employer, before he and Verdura relocated to Manhattan to escape the war, and Dalí's moustache (and public persona) grew to epic proportions.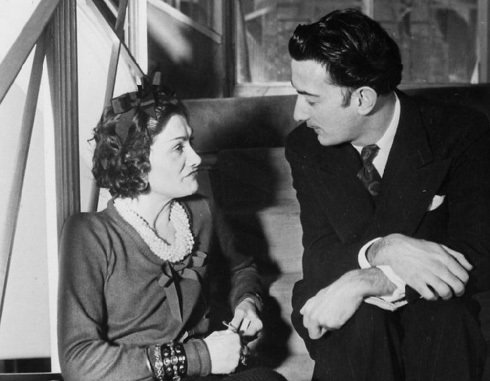 It was Chanel who launched Verdura as a designer and Verdura who designed Chanel's iconic Maltese Cross cuff bracelets in 1930, supposedly from jewels she'd received from former lovers.
After Verdura relocated to the U.S., he teamed up with Paul Flato, original "jeweler to the stars."
But it was Verdura's war-time collaborations with Dalí that stood out to me at the Verdura exhibition that closes on Tuesday, after celebrating the 75th anniversary of the Fifth Avenue store he opened in 1939 with the help of Cole Porter. Four Surrealist jewels from this collaboration were on public display for the first time since their debut at the Julien Levy Gallery in Manhattan in 1941.
"Anthropomorphic subjects appear and reappear in my jewels," Dalí once wrote. "I see the human form in trees, leaves, animals; the animal and vegetable in the human."
That last brooch is called "Apollo and Daphne," mythological figures that clearly fascinated Dalí, probably because their story is one of transformation and metamorphosis – themes found throughout his work.
"Fleeing Apollo, Daphne entreats the aid of the gods and is transformed into a laurel tree…the inevitable metamorphosis," Dalí wrote in 1959 about another brooch, plain gold (now at the Dali Museum in Figueres, Spain) he designed with the title "Daphne and Apollo." The piece he collaborated on with Verdura (above) is better executed and more colorful, with Dalí's painting of Apollo glowing behind vivid pink tourmaline.
Dali and Verdura ran in the same circles in Paris and must have felt a strong kinship beginning new lives on American shores. Both were in a period of transformation and metamorphosis themselves when they created these jewels.
Although Dalí liked to attribute his "love of everything that is gilded and excessive, my passion for luxury and my love of oriental clothes" to an "Arab lineage," he was raised solidly middle class, son of a lawyer and notary in Figueres, Spain.
Duke Fulco di Verdura, on the other hand, was born into the tapped-out Italian aristocracy, last in his family to hold the title. Like Dali, Verdura had a vivid imagination and loved to combine colorful gems with yellow gold.
"In jewels, as in all my art, I create what I love," Dalí wrote about his jewelry designs. "My art – in paint, diamonds, rubies, pearls, emeralds, gold, chrysoprase – shows the metamorphosis that takes place. Human beings create and change. When they sleep, they change totally – into flowers, plants, trees. In Heaven comes the new metamorphosis. The body becomes whole again and attains perfection."
In Verdura, Dali found the perfect partner to explore this theme in the style to which he aspired: mythological royal jewels, luxury and splendor from a hallucinogenic dream state.
Related products