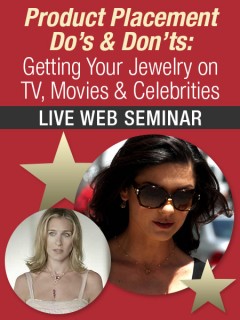 Okay, it's not really that simple. Not all jewelry was meant for TV or movies, and we'll get into that. But there is a demand among costume designers for unique handmade jewelry, both fine and funky fashion, and I'll be focusing on several emerging jewelry designers who have hit the show-biz big time with their jewelry.
I've been writing a lot about product placement lately, here and in my Net Profits column in Lapidary Journal Jewelry Artist. For those who want to know what this really looks like (literally), I'm giving a webinar this Wednesday, May 14. You can sign up here.
We're going to look at a wide range of jewelry artists and designers who've had success placing their jewelry, and examine how they're using it to grow brand awareness and, ultimately, sell more jewelry.
Since my last post on this topic, when the new-and-improved LupRocks launched, I've logged more phone hours with LupRocks founder and jewelry-placement guru Jessica Cohen. She has generously agreed to offer a special discount to webinar attendees who decide to give LupRocks placement a try. I'll share details Wednesday.
After the web seminar, Jessica and I are teaming up for a Twitter chat (2-3 pm EST), so everybody at the webinar can get their questions answered not just by me but by Jessica herself. Even if you don't attend the webinar, feel free to chime in. Use hashtag #placejewelry in your questions so we see them. Jessica tweets at LupRocks and I tweet at TheJewelryLoupe.
In the meantime, I threw a few questions at Jessica myself to whet your appetite.
Anything in the works since we last spoke in February?
One big development is that we teamed up with the Platinum Guild and we're working with them on product placements. We're looking for unusual platinum jewelry to feature – like Christian Tse is doing platinum mesh. We're trying to add more emerging designers.
I'm also taking three costume designers to the JCK shows – Ellen Mirojnick who does the costume design for Michael Douglas' movies, Jill Ohanneson of Revenge, and Michael Wilkinson who was nominated for an Oscar for his costume designs on American Hustle. We're going to be walking the aisles looking for interesting jewelry to pull for their shows.
How exciting! Can you tell us which shows and movies are getting the most jewelry placements right now?
We worked on the Entourage movie and an Ann Hathaway movie, both coming out in 2015. I can't name specific designers who made it in. I tell people to look online for production shots of people wearing their jewelry on set, but it's tricky to say what will actually show up in the movie.
Because it could end up on the cutting room floor?
Correct. It's a hard time in television right now because a lot of shows are on the chopping block. Like Parenthood – we have a good relationship with them, but they don't know if it's coming back next season. We also placed some pieces on the Michael J. Fox show and The Crazy Ones, but both were cut. We've worked a lot with Jill Ohanneson, costume designer for Revenge, on ABC. Revenge has a lot of jewelry.
We're also working on a lot of pilots right now, including two with Patricia Fields, the costume designer for Sex & the City. But with pilots, you never know if the show will get picked up.
Let's get real for a minute. Some jewelry doesn't work well for product placement. What does and what doesn't?
An AGTA Spectrum winner is not necessarily what would be pulled for television. You see certain designers get pulled over and over again. Their jewelry is just easy to use. It's not so expensive, they have multiples.
So expensive, one-of-a-kind pieces are not likely to get placed?
There's a trend away from using $10,000 pieces. Also, with one-of-a-kind pieces, you have to ask yourself: What is the purpose? Getting it placed might sell that one piece, which is great, but then when you create a consumer demand, can you make more of those pieces?
It sounds like designers need a production line if this is their aspiration.
The more shows you submit to, the more possibilities you have. So if you have a production line that you can easily send out, multiple items that can go out to a few different shows, you're going to make more placements than someone sitting on one sample line, waiting for the best offer.
If this sounds like an option that could work for you, join me Wednesday, 1pm EST, for a closer look at what it takes to be successful at product placement. Missed the live event? You can still download the webinar by clicking on this link.

Related products