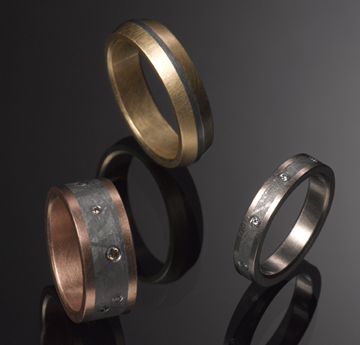 If you ask me, a couples' wedding rings should be their first major collaboration, assuming they don't already have one. After all, they're going to be collaborating – not to mention wearing the same rings – for the rest of their lives.
My husband and I put a lot of thought into our wedding rings. We wanted them to express our individual personalities while being visually related. We also wanted them to fit our budget. We were looking for a house; now was not the time to empty the coffers.
Granted, he didn't see it that way until I laid it out, but he's a creative guy and not adverse to jewelry. Once I started showing him the options – starting with the sleek European designs at the fabulous Linde Meyer gallery in Philadelphia – he got right into it.
Seems we were part of a growing trend. Customized wedding rings are helping studio jewelers weather the recession. As Vermont-based jewelry artist Jacob Albee puts it: "The bottom may be falling out of the economy and the luxury market is taking a major hit, but people are still getting married."
More than 2 million people will marry in the U.S. this year and not all of them will be satisfied with a band from a big chain store. Many couples are seeking rings that say something more personal than "Hands off, I'm married" or "Look how wealthy I am" – and not just for brides, but grooms as well. In the next couple posts, I'm going to lay out some options for alternative wedding rings. First of all, does a ring have to be gold or platinum? What about, oh, I don't know… meteorite?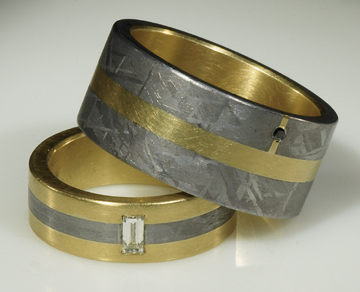 Married in meteorite
Despite the fact that his specialty is meteorite jewelry, Albee has seen a sharp rise in his bridal business – from a dozen rings two years ago to fifty last summer. It helps that his rings incorporate gold and diamonds, that their sleek design has unisex appeal, and that Vermont is now the second most popular destination-wedding state after California.
"Given that Vermont has a population of about 600,000, compared to California's 4 million, that's a booming wedding business," Albee points out.
Despite the overall caution about spending right now, he finds many people are willing to splurge on their wedding rings. "Young couples getting married without much disposable income are still willing to spend $2000, $3,000 or even $4,000 on their wedding jewelry, knowing they might not spend that amount on anything else this year," he says. "That's always a fun customer because they see the intrinsic value in it. They figure 'I'm going to be wearing this for the rest of my life and I want it to be as awesome as it can be.'"
Albee says customers often come into his Vermont studio, look at the rings on display, and ask, "Are these wedding rings?" Albee or his wife Kristin reply, "They're whatever you want them to be."
Usually a couple will request alterations: a more rounded top, rose gold instead of yellow, more stones or fewer, a narrow or wider band. Recently an older couple celebrating their 25th wedding anniversary asked Albee to make them new rings for the occasion. He made the woman a ring with a larger stone, then set the tiny baguette diamond from her original engagement ring in a band for her husband.
"It's a pretty individual thing every time," Albee says, but the final product is always a version of his existing designs. "I don't want to spend my time making something I don't like."
Next up: Hands-on wedding ring collaborations