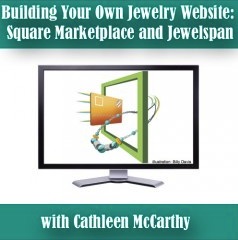 I've been having a lot of fun lately with a new series of live, web-based seminars aimed at jewelry designers and artists. They're based on a column I write for Lapidary Journal Jewelry Artist magazine called "Net Profits," where I share tips for selling and marketing your jewelry online. Net Profits also has its own blog on JewelryMakingDaily, spun off that month's column topic.
My first webinar series is about easy but effective ways to build your own website. I started last month with a look at two new options that surfaced this year, Jewelspan and Square Market. Jewelspan is a marketplace and collection of individual artist websites devoted to jewelry, spun off Artspan (4,000+ artist sites). Square Market is a new collection of ecommerce shops connected to Square, the little gadget that plugs into tablets and smart phones to process credit cards. If you missed that webinar but are curious about setting up shop (or at least a web presence) on either of these, you can download that webinar here.
Someone just sent me this link to a jewelry artist who built a site on Jewelspan after hearing about it in my webinar. She reports that it was "so easy" to set up, including the shopping cart, and she's pleased so far. For what it's worth.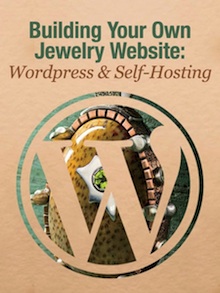 This Wednesday, October 23, at 1 pm ET, I'll be hosting part two: Building Your Own Website: WordPress and Self-Hosting. You can sign up to attend that one or, if you miss it, download it here after the fact. (You just won't be able to pepper me with questions on the spot.) This time I'll be mining this blog and using it as a test model. In case you didn't know, this is a WordPress site I built myself using a free theme. I've actually never had anyone (so far) post or tweak the design. It's all me, for better or worse.
Believe me, if I can do it, so can you. As you will see, you don't have to know a shred of code to put up a WordPress site, but you will learn a thing or two about it if you maintain one for a while. And that's (who knew?) a good thing.
I also have another WordPress site I hired a web designer to set up using a "premium" theme (read: not free). I will discuss that option as well. We'll look at a few other premium themes that I think would work well as a jewelry showcase and, in some cases, for e-commerce.
I'm going to explain what it takes to self-host your websites (not much), something you have to set up in order to build any WordPress site intended for commercial use. My own experience is with Blue Host
and HostGator
.
Then I'm going to take attendees behind the scenes here at The Jewelry Loupe – which means, in WordPress speak, the dashboard. If you've been considering WordPress as a means of establishing your web presence, you'll get an inside (literally) view of what that looks like. You'll see how ridiculously easy it is to create a post here, and add and tweak images.
I'll also show you some of the coolest and most effective plugins I use here – that's WordPress speak for app. I use plugins for social sharing, automatic back-ups, embedding video, and filtering spam emails, among other things. I have one or two for creating widgets. I don't know if we'll get around to widgets but it's a word I like to use as often as possible.
Hope to hear from some of you this week! More opportunities coming soon.
This post contains affiliate links, which means if you shop after clicking one, I get a small commission. (It doesn't cost you any extra.)
Related posts
How to photograph jewelry: Photoshop tips from the pros
Free admission to International Gem & Jewelry Shows

Magazines for jewelry makers & jewelry lovers
Related products