The spotlight is on Elsa Schiaparelli, once again. She closed her shop in Paris almost six decades ago, yet her whimsical creations look as cutting edge as ever. Lady Gaga or Madonna could wear her shoe hat on stage and no one would bat an eye.
Schiaparelli, or "Schiap," as she was known (pronounced Skap), was well ahead of her time. You can find her iconic creations in two exhibitions in New York City: Elsa Schiaparelli and Miuccia Prada: On Fashion opening on May 10, 2012, at the Metropolitan Museum of Art and Hats: An Anthology by Stephen Jones now through April 15, 2012, at Bard Graduate Center Gallery.
Those shoe hats she designed from a sketch by Salvador Dalí are at both exhibits. The Met also has Schiaparelli's insect necklace (below) and the tear dress (as in "rip"), another famous collaboration with Dali. The shoe hat, which first appeared in her 1937/1938 collection, has inspired at least one recent imitation, a collaboration between Manolo Blahnik and hat designer Stephen Jones, milliner to the stars, who curated the exhibit at the Bard.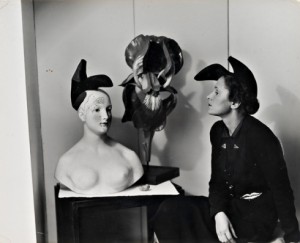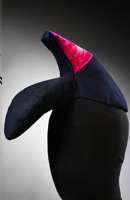 Somehow, the contemporary version with its stiletto heel lacks the subtle charm and shock-laugh of the original (left). Schiaparelli's shoe hat actually looked like one of her distinctively-sculpted hats – following the sleek curve of the wearer's head – until the moment you realized it was a shoe.
Elsa Schiaparelli shared Dali's sense of humor and love of visual puns, as well as his desire to shock and entertain at the same time. He supplied the puns and iconic images;  she managed to make them both absurd and chic all at once. Soon after these collaborations, Dalí began to seriously design his own jewelry.
Schiaparelli was born in Rome in 1890 and lived for a while in New York City before settling in Paris, where she and Coco Chanel became famous rivals in the world of couture. She worked between 1920 and 1954, when she closed her Paris shop, but her heyday was the decade before the war.
She drew from all the popular art movements of her day, including Modernism, Futurism, Cubism, Deco, African art, but was particularly drawn to Surrealism. Along with Dalí, Jean Cocteau and Albert Giacometti collaborated on designs with her. Cecil Beaton and Man Ray photographed them. All considered her a friend and equal.
When Elsa Schiaparelli launched her first fashion craze in 1927—sweaters with trompe l'oeil bows—she had no training in clothing design. Two years later, she was outfitting the world's most glamorous women and rocking fashion conventions with her bold colors and body-conscious designs.
By the mid-thirties she was famously straddling the worlds of fashion and art. "She is responsible for the feeling of spontaneous youth that has crept into everything," Vogue raved in 1935. Greta Garbo, Joan Crawford, Marlene Dietrich, and Katharine Hepburn wore her form-fitting suits, mannish trousers, and cocky hats. She designed the suits Rosalind Russell wore in The Women (1939).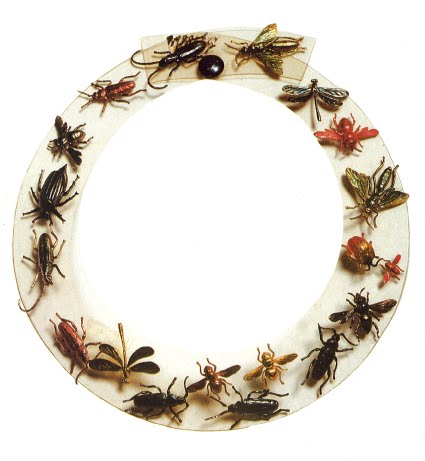 Elsa Schiaparelli also created some memorable costume jewelry and accessories, including the necklace (left) that made the wearer appear to have a parade of insects crawling around her throat.
Her jewelry designs probably began with the fasteners she designed for her clothes – buckles, hooks, zippers, and buttons. She worked with Jean Clement to design buttons of wood, china, celluloid, glass, crystal, amber, white jade, sealing wax – buttons shaped like shoelaces, snails, tops, padlocks, nuts and bolts, coffee beans, lollipops, peanuts, spoons, fruits and vegetables. In 1935, Albert Giacometti designed a set of metal and clay buttons and surreal ornaments for her new salon.
Some may recall the jewel-like buttons and embroidery on some of her couture, not to mention the ankle boots that sprouted floor-length monkey fur, from Shocking! The Art and Fashion of Elsa Schiaparelli, which opened in 2003 at the Philadelphia Museum of Art. Schiaparelli donated the bulk of her personal collection to that museum in 1969.
Not even the curator of that exhibit was entirely sure why. "She knew Man Ray and had been to see the Barnes collection and, during the war, was in Princeton," curator Dylis Blum speculated at the time. "She had one or two clients in Philadelphia and probably knew of the Duchamp collection." (The PMA has a room full of famous Duchamps, including Bride Descending the Staircase.)
Cristóbal Balenciaga called Schiaparelli "the only true artist in fashion." Her accessories alone prove that. Some of her collaborations with Dalí were punk statements 50 years before punk was invented. Among the many innovations she pioneered were designer logos, wrap-around dresses, wedge shoes, culottes, mix-and-match sportswear, reversible coats, plunging backs, and richly embroidered evening jackets. She also apparently created the runway show as we know it today: a spectacle with music, art and boyish-figured models.
"The moment people stop copying you," Schiaparelli once said, "you have ceased to be news."
Related posts:
Salvador Dalí: bejeweled surrealism
Women who paved the way: Jeanne Toussaint of Cartier
Alexander Calder's jewelry: going mobile
Man Ray's jewelry by Gem Montebello
Art Smith & Sam Kramer: heyday of Modernist jewelry
Related products: