Marianne Ostier (1902-1976) was the primary designer behind Ostier, Inc., a jewelry firm she ran with her husband, Oliver Ostier in mid-century Manhattan. A winner of many prestigious diamond design awards, Ostier was known for intricately random mountings and organic textures that reflect her training as an artist.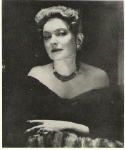 Marianne Ostier studied at the Vienna Academy of Arts and Crafts and was a practicing painter and sculptor when she met her husband, known then as Otto Oesterreicher, a third-generation court jeweler in Austria. They came to the U.S. in 1938, after the Nazi annexation of Austria, and launched a jewelry business under their new name.
A few notable pieces by Marianne Ostier are up for auction this month, including this tiara (at Sotheby's New York next week) designed just before Ostier, Inc. was launched. Depicting the Albanian royal crest atop a floral vine and set with about 33 carats worth of diamonds, the tiara went from royal wedding (1938) to White House dinner (1966). The designer once described it as "a decorative and distinctive diamond crown."
UPDATE 4/19/16: Ostier jewels sold way above estimates at Sotheby's today. See my captions for details. This should raise the value for this designer's work going forward, especially for her finest jewels.
That commission is an example of Ostier's fluid way with diamonds and platinum, and evidence of the connections the Ostiers had when they landed in the U.S. Another diamond-and-platinum piece in that auction shows the designer 17 years later, at her Mid-Century Modern peak. Observe the difference.
Here is another early example of the designer's mastery of platinum and diamonds, from the European years: a classic Deco openwork bracelet made in 1930, up for grabs at Sotheby's in December.
It was on American shores that Ostier developed a very different signature style, involving less symmetrical, more organic form – and an equally astonishing mastery of gold.
Here is the piece that put Marianne Ostier on my radar a few years ago: her crazy dramatic "Voodoo" necklace of 18k gold fringe and cabochon emeralds, interspersed with diamond-set platinum. It looks like very luxurious seaweed and must have been quite a party stopper when it debuted. This necklace sold for $22,515 at Skinner, Boston, in 2009.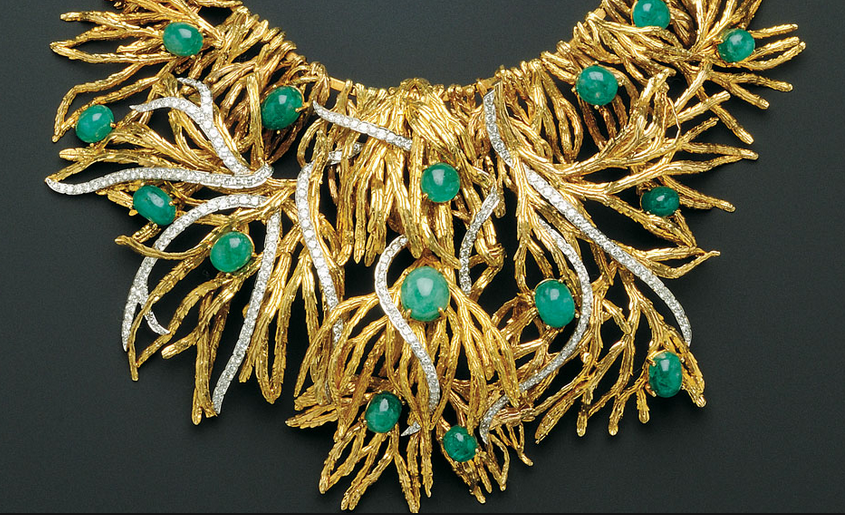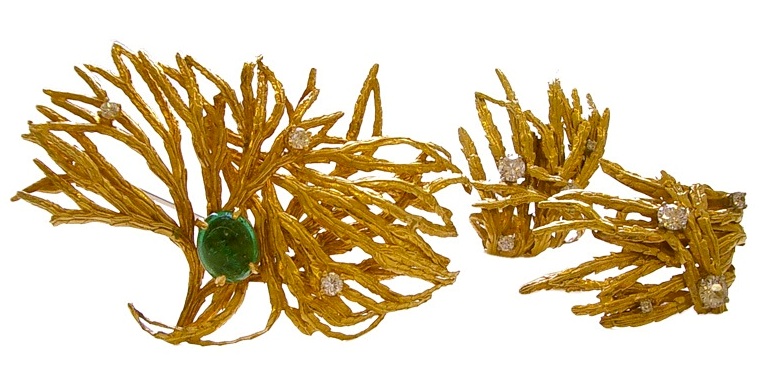 Another collection of Ostier's work is up for sale at Rago Arts next week, and includes examples of her award-winning diamond-in-platinum designs as well as the artsier sculptural gold pieces. Except for the diamond jewels, they carry modest estimates.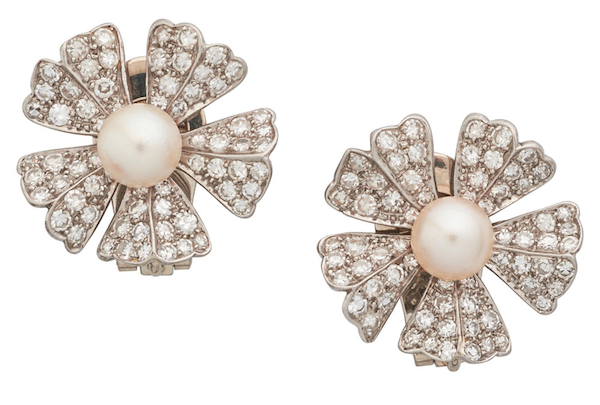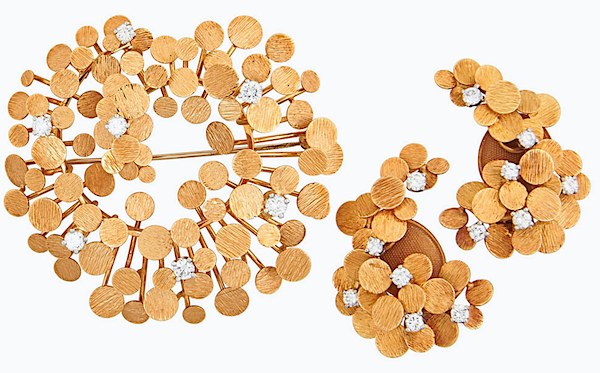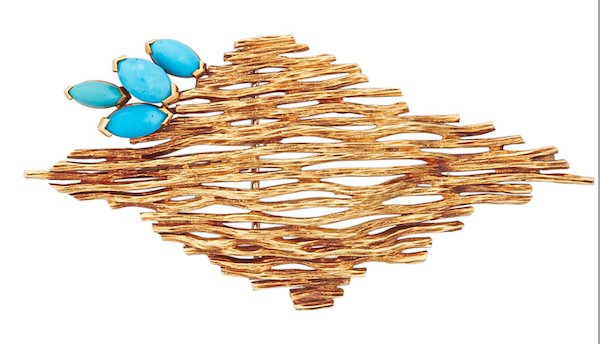 Marianne Ostier jewels on sale at Rago on April 17, top to bottom:
• Bracelet of pink saltwater pearls, platinum, diamonds and pink topaz
• Ear clips of 8mm saltwater pearls, diamonds and platinum, c. 1950, stamped MO
• "Penny" brooch and ear clips of 18k textured gold with diamonds
• Brooch of marquise-shape turquoise and 18k gold, c. 1958
That last piece looks a bit like the Megaletor brooch Georges Braque designed three years later with the goldsmith Baron Héger de Lowenfeld. That final project, just before Braque died, was the only time the famous Cubist designed jewelry.
In 1966, three years after Braque's death, Ostier's jewelry appeared alongside his and Salvador Dali's jewels at a special exhibition at Finch College of Art titled Art in Precious Jewels. Unlike the better-known artists in that exhibition, Ostier was not designing on the side as a celebrity artist. She had managed to maintain her artistic sensibilities – and influence popular jewelry design – while helping to pilot a successful jewelry firm for three decades.
Think you have a piece by Marianne Ostier? Most are marked MO or M.OSTIER. Larger pieces have her entire name spelled out, as you can see on the back of the "Fences" brooch pictured above.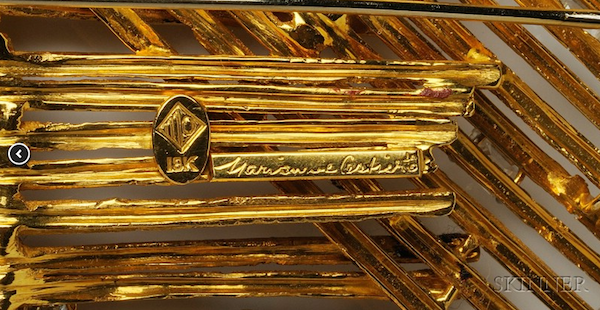 Despite the fact that the Ostiers ran a jewelry business in the heart of Manhattan for decades, Marianne Ostier is not a household name and her jewelry is pretty accessible. (Notice I'm not mining Sotheby's and Christie's Magnificent Jewels catalogs for the bulk of this imagery.) The gold and turquoise brooch (above) is estimated at $800-1,000 and comes with a signed copy of the book Ostier published in 1958, Jewels and the woman: The romance, magic and art of feminine adornment, a mid-century primer on how to wear jewelry.
She is sometimes credited with inventing free-form jewelry. I wouldn't say she invented it, but she certainly pioneered free-form design in fine jewelry and did a lot to popularize the style. She also quietly radicalized diamond and platinum jewelry. She won DeBeers' Diamonds-International Awards many times and was the first lifetime member elected to the Diamonds-International Academy.
Marianne Ostier closed Ostier Inc. after her husband's death, and Park-Bernet Galleries auctioned off the firm's entire inventory in 1969.
Photos courtesy Sotheby's, Rago and Skinner
More women who paved the way:
Related products